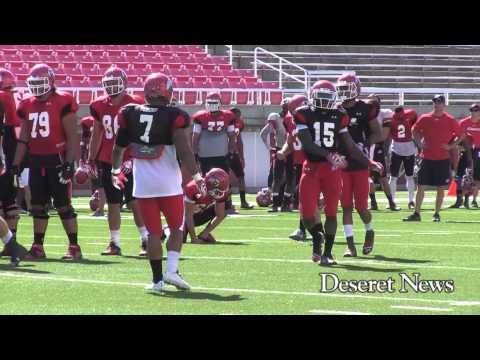 View 4 Items

SALT LAKE CITY — Andy Phillips isn't your typical college football kicker — far from it, as a matter of fact.
The frontrunner for Utah's job doesn't have a lot of experience in the sport. He didn't face his first live action until this spring.
Phillips, though, is an extremely skilled and dedicated athlete. The 24-year-old redshirt freshman spent five years as an alpine racer on the U.S. Ski Team. He's also from a huge soccer family with a brother playing professionally in China and a sister headed to BYU.
"Soccer has kind of been my thing," said Phillips.
Now it's college football.
After spending the past year as a redshirt, Phillips now tops the depth chart. As the Aug. 29 season opener against Utah State approaches, he leads a competition that includes redshirt freshman Jamie Sutcliffe and sophomore Jon Halliday.
Phillips, however, isn't taking anything for granted.
"Absolutely not. Jamie and Jon are working just as hard as I am," he said. "I've got the better of the two the past couple of weeks, just being more consistent."
The consistency has Phillips feeling very confident and looking forward to winning the job.
To do so, he added, would mean a lot.
"I've been here since last summer (2012) just kind of behind the ranks watching Coleman (Petersen) and Nick Marsh — working hard and not really getting much notice," said Phillips. "Now it's nice to finally be kicking consistently and doing my part to help out the team."
So far, Utah coach Kyle Whittingham likes what he's seeing. Phillips is showing great promise.
"He's a downhill racer. You talk about toughness. He's got some wipeouts on YouTube that are unbelievable. He's a warrior in the weight room like Louie Sakoda was and Joe Phillips," said Whittingham. "Typically, your best kickers are tough guys, and they work hard in the weight room and get after it and they're competitive. And he's in that same mold as Louie and Joe Phillips and those guys that have been through here that have been very good kickers."
Phillips is not related to Joe Phillips, but the two have worked together and become close. Joe has shared a lot of tips with Andy since they started working tougher last spring.
Despite Andy Phillips' lack of experience on the football field, he's not intimidated by the challenges that a kicker faces. He credits his experience as a ski racer for easing any anxiety.
"I've skied since I was 2 and raced since I was 5, so I've always had pressure on my shoulders to perform well. Especially once you reach the professional level," said Phillips. "So I mean it's nothing new. It's something that I enjoy. I really like that moment of having that pressure on my shoulders and kind of being in control."
Phillips isn't fretting about having angry defenders trying to prevent him from making his kicks in games.
"You're so in the moment that the only thing you're worried about is looking at the hold and kicking the ball," he said. "So to be honest with you, I don't really see them much unless they're diving in front of my face. I've just kind of got to tune it out."
Phillips admits it's a different feeling, however, and a foreign one at that. He graduated from the Winter Sports School in Park City, which is dedicated to elite athletes, and attended Rowland Hall before that. Neither high school has a football program.
Phillips, thus, caught the bug in a different way.
"It actually all started with a family Thanksgiving football game where my brother and I were trying to beat each other out for longest field goal," said Phillips. "Then all of a sudden a New Year's resolution came that I should make a Pac-12 team and try and be a kicker. So I worked my guts out and (Utah special teams) coach (Jay) Hill gave me an opportunity and I just jumped on it."
Phillips told Hill that he always wanted to play football and was given a shot last fall. He impressed Hill by having a "good pop" on the ball when he connected with it. In the spring, Hill said Phillips went through a period of refinement as they honed in on his technique.
4
comments on this story
"He's a mentally tough kid. I mean, you've got to be right, to go flying down those ski runs 70 miles an hour and the crashes those guys go through. They've got no fear, and he's mentally tough," said Hill. "That's what I love about him. He goes in there and he doesn't have any fear. He just lets it rip."
And things are going well.
"He's a guy that the players love to be around, and so far he's handled pressure situations very good this camp," said Hill, who added that Phillips is starting to earn the respect of his teammates just as Sakoda and Joe Phillips did. "Those are big shoes to compare him to at this point, but I see great things in him, and he's had a heckuva camp."