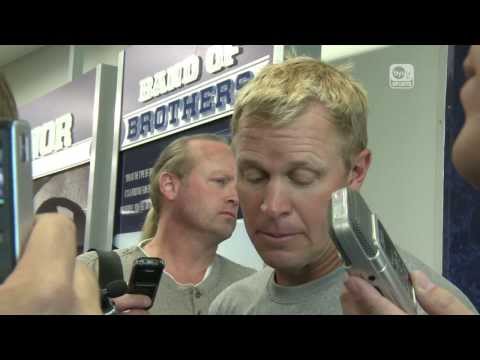 View 2 Items

I think if you asked Kyle Van Noy to play quarterback, he would do it. Our team is very unselfish and they're very mature.

—Defensive coordinator Nick Howell
PROVO — Injuries are an unfortunate part of football, but they do happen and all you can do is adjust and move on.
That was the message conveyed by BYU coaches in the aftermath of starting cornerback Jordan Johnson being lost for the season with an ACL tear.
Johnson's injury happened in an instant, but its lingering effects could last throughout the season.
"He kind of planted his foot funny; (his) leg buckled a little bit; and that was all it took," BYU head coach Bronco Mendenhall said about Johnson's injury.
While efforts are being made to help Johnson, the team simply will try to make necessary adjustments and move on to the next guy.
The next guy at field corner is junior college transfer Robertson Daniel, who had been competing for the starting boundary corner spot.
If the season started today, Skye PoVey would start at boundary corner opposite Daniel. Possible boundary corner starter Dallin Leavitt is expected to miss up to seven days with a strained hip flexor.
Regardless of the status of Leavitt, a true freshman, defensive coordinator Nick Howell likes the experience PoVey brings to the position.
"Skye has a lot of experience and Dallin is still coming along — not that that can't change," Howell said. "I would see Dallin right behind Skye."
Coaches are hopeful for the return of injured senior Mike Hague before the Aug. 31 season opener against Virginia.
Both Hague and PoVey have the experience to play every position in the secondary — possibly even at field corner, according to coaches. Subsequently, their presence is invaluable, which is why coaches will be be extra cautious in monitoring Hague's leg injury.
"I'll probably be more cautious than necessary, even now, because of the value of having another healthy and good player there," Mendenhall said. "Mike can play a number of positions, which really helps. ... Having him back really gives you an equivalent of a different two-deep — just because of one player."
The depth at both corner positions is shaky, at best, considering the health status of both Trevor Bateman (knee) and Sam Lee (back). Injuries have kept both out of practice. Coaches are hopeful Bateman will return soon and that Lee could be ready for the first game of the season, at the earliest, and for game three, at the latest.
To help supplement overall depth at corner, coaches decided to move over slot receiver Eric Thornton.
The 5-foot-10 sophomore had been an emerging player at receiver, but immediately accepted the request to switch positions.
"You play for BYU. You don't play for yourself," Howell said of Thornton's switch. "Why would I think that's not what anybody on our team would do? I think if you'd ask Cody Hoffman that he would come over. I think if you asked Kyle Van Noy to play quarterback, he would do it. Our team is very unselfish and they're very mature."
When Johnson went down, Howell immediately went to work identifying players who could effectively move over and play corner. He found two — one player that's available (Thornton) and one that isn't (star running back Jamaal Williams).
"When we're looking down the roster, and we're thinking of creating depth right there, I'm thinking two guys — Jamaal Williams and Eric Thornton — in regards to the quick switch and the change-of-direction recovery ... and who can actually play that position," said Howell, who knows that Williams won't be switching over to defense.
Thornton, meanwhile, was available.
"It's not in concrete yet, but from what I've seen in two days, if (Thornton) was playing corner and I was recruiting him — he has everything I would look for to recruit a guy."
Since the switch Thornton has undergone a crash course in cornerback play and has been aided significantly by Johnson and others.
"The lights are going to be on late here in the (defensive backs) room late for the next couple of weeks," Howell said. "We're going to be ready and … we're going to play great. ... we'll be ready. I guarantee you that."
Email: [email protected]
Twitter: @BrandonCGurney