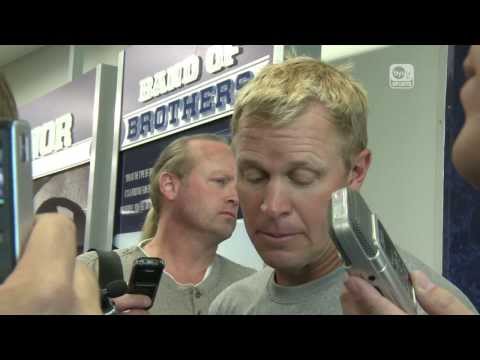 View 4 Items

First off, league wide, practice tempo is being sped up. The name of the game around the entire league is speed and tempo in practice. It's really a simple equation; more plays at game speed equals more opportunities for injuries.

—Dr. David Chao, NFL team doctor
PROVO — Is it possible BYU's offense is going too fast, too hard?
By all indications, the quick-paced offense installed by offensive coordinator Robert Anae is progressing just fine. Maybe too fine.
Almost every time you talk to Anae after practice or watch his staff on the sidelines, they are pushing to correctly align players and decrease the amount of time between plays.
It's not as dizzy a pace as it could be, but it's headed that way.
One goal of this trendy no-huddle attack is to stress the defense, wear it out, and fatigue defenders all over the field.
It may be working too well. Guys are dropping like flies.
It looks like BYU coaches are watching this carefully to see how to manage it. Nobody wants the squad to blow a gasket.
Last Saturday, BYU head coach Bronco Mendenhall and other staff members noted the sound of pads hitting was not up to expectations. In that public scrimmage, the team looked a half-step slow. On Wednesday, Mendenhall limited practice and then shortened practice telling reporters he had concerns over injuries and how tired the squad appeared.
Mendenhall words included injuries, fatigue, losing some momentum, a need for recovery and treatment as reasons to step back. Injuries were not the result of contact but "tempo and overuse."
Now, this isn't out of the ordinary during two-a-days. Bodies simply wear down and guys get tired. But because of Anae's offense, are the Cougars facing something different this fall, something that's producing a little more weariness and a few extra injuries?
"It is a concern," said Mendenhall.
Season-ending ACL surgeries to corners Trent Trammell and Jordan Johnson and season-ending pectorial surgery to nose guard Tuni Kanuch may or may not have been caused by this phenomenon. Nobody can say. Injuries just happen — sometimes from nothing other than bad luck. But it is a fact to anyone witnessing practices that the pace does take it out of players, plenty of them on defense.
Is there a price to be paid physically for going fast and hard?
One would think so. The high-tempo movement is a trend, a gimmick — something out of the ordinary. According to Dr. David Chao, a 17-year veteran NFL team doctor, speed and more reps do bring more injuries due to exposure.
"First off, league wide, practice tempo is being sped up," said Chao. "It's not just Chip Kelly in Philadelphia or Joe Philbin in Miami. The name of the game around the entire league is speed and tempo in practice, which leads to more practice plays and higher chance of injury. Many teams also use multiple practice fields simultaneously thereby increasing the number of practice plays and thus potential injury. It's really a simple equation; more plays at game speed equals more opportunities for injuries."
Mendenhall has been very aggressive in monitoring his practices, often receiving criticism by some fans and media members for scaling back on contact. With the insertion of LDS missionaries and a lack of depth, he's made practices efficient instead of long. He is very protective of players and when he senses sessions don't feel right, he pulls in the reins.
But is this fall a little different?
It is a delicate balance that all coaches go through. Kyle Whittingham is doing the same thing as August heads toward September game times. You test hard and push, create competition, build a depth chart, then pull back and game prep.
This go-fast thing is interesting. Legs are legs. They only have so much fire and spring in them before they stop working at optimum levels and simply tell the body there's nothing left.
You see this in basketball tournaments. Things are fine the first night; legs tire the second; and by the third game, if a team makes it that far, the court is full of dead legs. Recovery can be quick, but having dead legs is a real phenomenon.
By their own admission, BYU coaches say they're preparing players for the equivalent of going an extra quarter per game. Long term, that means about an extra game for every three games played. Roughly, that means between three plus extra games on the season.
Maybe that's an exaggeration, but it would take some serious conditioning, substituting and depth. Not sure BYU has the luxury of the latter. The Cougars aren't Ducks, as in Oregon's flock.
Another observation: This may be the most physically gifted receiving corps the Cougars have ever had. They're tall, athletic and have good speed. Defending them is tough. Going fast defending the tempo of these guys may be more stressful physically than Mendenhall estimated it to be.
Defensive depth at corner is an issue.
If you don't have it, you run on dead legs.
If BYU runs players into the ground, things could get brutal because of the schedule the Cougars face.
"Go fast, go hard" is a nifty phrase.
Doing it is an adventure.
Dick Harmon, Deseret News sports columnist, can be found on Twitter as Harmonwrites and can be contacted at [email protected].