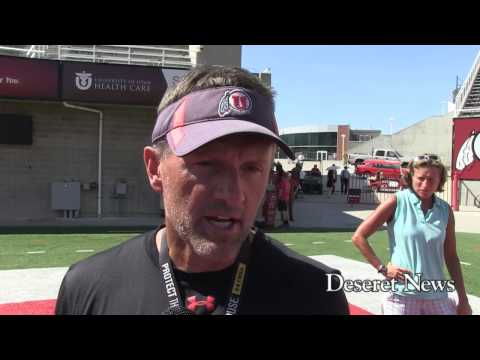 View 2 Items

The unfortunate part of the game is the injury factor. The mechanism can't slow down when a guy gets injured. Everything's got to keep going full-steam ahead — plug the next guy in.

—Utah coach Kyle Whittingham
SALT LAKE CITY — Season-ending foot injuries have sidelined Utah defensive tackle Stevie Tu'ikolovatu and running back Jarrell Oliver.
Tu'ikolovatu, a redshirt freshman, entered the week as a co-leader for a starting position on the depth chart. The former East High star was competing with LT Tuipulotu and Late Heimuli for a spot on the interior line alongside Tenny Palepoi.
Oliver, meanwhile, re-injured a broken foot he suffered last season. The sophomore appeared in four games in 2012 and started against BYU, rushing for 52 yards on 23 carries.
"The unfortunate part of the game is the injury factor," said Utah coach Kyle Whittingham, who added that preparations for the season must move on. "The mechanism can't slow down when a guy gets injured. Everything's got to keep going full-steam ahead — plug the next guy in."
Hand surgery is expected to keep sophomore defensive end Jason Whittingham out of action for 2-3 weeks. Depending on how things progress, he'll likely miss the Aug. 29 season opener against Utah State and be back for the Weber State game on Sept. 7.
The recent rash of injuries comes as Whittingham vows to stop commenting on them. Whittingham told reporters that once the season was two weeks away from starting, he would no longer be giving such updates.
"Today is the last day for injuries," he said Wednesday. "Today is the last day."
ROOM TO IMPROVE: After reviewing film of Tuesday's scrimmage, Whittingham said that the running backs (Kelvin York, Bubba Poole and Karl Williams) were productive and that the defensive line (particularly Seni Fauonuku) played well. Whittingham added that the cornerbacks made plays but had some sloppy technique at times.
The most glaring concern, though, was on offense.
"We've got to get the throw game much, much more productive than it is right now," said Whittingham.
There's plenty of room for improvement. Utah ranked last in the Pac-12 last season with 190.7 yards per game passing.
"Last year our throw game was abysmal," said Whittingham. "Nobody respected it and they're going to have the same mentality this year — the people we play — until we prove them different."
Co-offensive coordinator Dennis Erickson is confident the Utes will turn things around.
"We have got to become better in the passing game. We've got to become better at running routes. We've got to become better at throwing. We've got to be better at protecting," said Erickson. "To me, that's what is going to take us over the top — how much better can we get in the passing game — and we will. There's no question about it."
CARTER NOT COMING: Whittingham confirmed that Tevin Carter, a highly touted safety from Los Angeles Southwest College who signed with the Utes in February, will not be joining the team this fall.
"We were counting on him big time and he was going to fill a void for us," Whittingham said in expressing his disappointment.
Carter did not qualify academically.
EXTRA POINTS: Whittingham said that the focus of camp shifts to game mode and Utah State on Monday. The Utes kick off the season Aug. 29 against the Aggies at Rice-Eccles Stadium. … Tight end Jake Murphy's brother, McKay, is on the camp roster. He's a 6-foot-4, 290-pound defensive tackle. … A private ribbon-cutting ceremony for Utah's new $32 million football facility will be held Thursday.
Email: dirk@desnews.com
Twitter: @DirkFacer