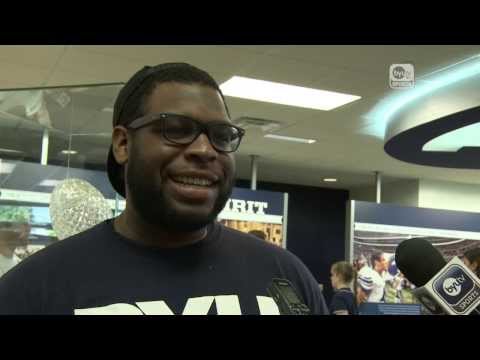 View 3 Items


We're pushing Marques Johnson hard. We're pushing Kalolo Utu hard. And we're pushing (Taliauli) hard. And then we'll sort of sort it out as it goes.

—Bronco Mendenhall
PROVO — Much like the current situation at cornerback, BYU's nose tackle position has looked like a MASH unit lately.
Tuni Kanuch is out for the season with a torn pectoral muscle, while newcomers Kalolo Utu and JonRyheem Peoples are dealing with nagging injuries.
Utu, a junior college transfer, has an injured wrist and will be placed into what coach Bronco Mendenhall defined as a "club" for the next two weeks. Peoples, a true freshman, has a nagging ankle injury.
"He's tried to come back twice, only to reinjure it both times," Mendenhall said of Peoples.
That leaves only Marques Johnson and true freshman Merrill Taliauli at the position. Short of both Utu and Peoples getting healthy — and proving capable at the position — Mendenhall may have to move senior Eathyn Manumaleuna back to nose tackle.
"We'd rather keep (Manumaleuna) at end, if possible," Mendenhall said. "We're pushing Marques Johnson hard. We're pushing Kalolo Utu hard. And we're pushing (Taliauli) hard. And then we'll sort of sort it out as it goes."
NO CLARITY AT KICKER: Mendenhall said that the three-way kicking competition between senior Justin Sorensen and newcomers Vance "Moose" Bingham and Trevor Samson is ongoing.
"I would say that's going to happen all the way, maybe until game week," Mendenhall said. "They're really close."
7
comments on this story
MORE ON THORNTON: Eric Thornton has been receiving a lot of instruction since moving over from receiver to cornerback. A lot of the instruction has come from Jordan Johnson, the player who prompted the switch.
Thornton has little experience at cornerback, but is being told to not focus so much on the details, but to just play.
"Be loose. Don't think too much and just be an athlete," Thornton said of Johnson's advice. "I think sometimes you can get caught up thinking about the coverages ... and you just forget to be a player and to make plays."
Johnson suffered a torn ACL on Monday and is out for the season.
Email: bgurney@desnews.com
Twitter: @BrandonCGurney