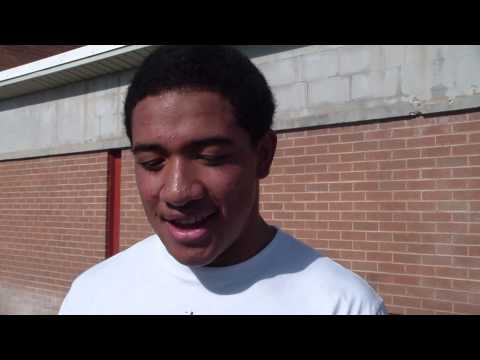 View 10 Items

Part of what we're trying to do here is change the culture and I think those new facilities can go a long way in helping out with that. ... We need a new culture here — a culture of winning — and hopefully that stadium can help inspire that.

—Cody Mallory, Provo High School football coach
PROVO — New football facilities can go a long way toward increasing team pride, and subsequently, improving team production.
That's the hope, at least, of Provo coach Cody Mallory.
Mallory, and his team, have been greeted this season with brand-new facilities — including a $3.2 million renovation to a previously outdated and rundown football stadium. It's the type of stadium that students, alumni, and most importantly, players can take pride in.
"Part of what we're trying to do here is change the culture and I think those new facilities can go a long way in helping out with that," Mallory said. "A stadium certainly can't give you wins or losses by itself, but we're hoping players will now look at our facilities and think 'Hey, those are as nice as any school in this state and I'd love to play there.' We need a new culture here — a culture of winning — and hopefully that stadium can help inspire that."
Winning hasn't come easily at Provo High recently. Mallory took over a struggling program last season, only be hit squarely in the mouth en route to a winless season.
Was it a learning experience for the then first-year coach? Absolutely.
"I obviously made some mistakes and wished I did some things differently looking back, but that's all part of being a first-year coach," Mallory says. "Our concern last year was increasing numbers and we did that by catering too much to players, who weren't totally committed to the program and their desires, and that was my biggest mistake. This year we're doing it different."
Mallory instituted a tougher offseason regimen for his players. Despite losing some players as a result, he feels his team will be better for it.
"Players responded well and really worked hard," Mallory said. "I feel we're much better prepared for this season, as a result. Sure, we lost some guys by not catering as much to what they wanted, but the kids we kept are completely committed to what we do now."
Ironically, the team, despite the defections, maintained its numbers because of an influx of talented underclassmen to the program.
"It's sort of like we're starting over after last season. That's sort of the feeling around here," Mallory said. "We're doing things different — things that I think will benefit us, for not just this season, but for the long haul."
This year Provo will bring back some key contributors from last year, but has some holes to fill — particularly along both the offensive and defensive fronts. Key returnees include Brandon Holden, who will switch from quarterback to play both receiver and defensive back, and running back Spencer Ika.
"I really like our skill-position players and feel that's going to be our strength," Mallory said. "We'll have a new quarterback, but we feel he'll be a great player for us and he'll have a great group of receivers to throw to. The key will be finding five guys who can play effectively on the line."
On defense the team will return all three of its starting linebackers from last season.
"Our linebackers are the heart of our defense and we'll have Brandon Holden at safety, so he'll be the quarterback of the defense this year," Mallory said. "Like on offense, we need to see a lot of growth on the line and we're hopeful we can find guys to step up."
The goal for Provo this year will be simply to win some games and develop a culture of winning.
"We also want to develop great characters in the community," Mallory said. "We want to develop some pride in the program that hasn't been here for a long time. We have some of the best facilities in the state now — facilities that are on par with the top programs in the state — so we definitely feel the pressure to be equal to those facilities, and equal to the best programs in the state. That's the ultimate goal for Provo and I'm confident we can get there, if not this year, then in the near future."
Provo Bulldogs at a glance
Coach: Cody Mallory was the defensive coordinator at Frankfurt High School in northern Michigan before taking the Provo job. He helped Frankfurt to an 8-3 record in his final season.
Offense
(6 returning starters; spread)
Big changes are coming to the Bulldog offense this season. Mallory let go of his triple option last season in favor of the trendy spread system run by the majority of Utah County teams.
"When in Rome, I guess," Mallory said. "We're right across the street from BYU and kids grow up wanting to play like they do at BYU, so we feel like running a system they can relate to and are excited about will help. I don't feel players bought into our offense last year, so I changed it and I think we'll see a lot of success with it."
It takes a good group of receivers to run an effective spread and Mallory likes his group.
"We have three solid playmakers at receiver this year along with (Brandon) Holden, who is going to be great," he said. "We have Travis Heiner, Brayden Hinckley and Isaiah Jones. All of them are dependable and guys we think will make a lot of plays for us this year."
Defense
(5 returning starters; 4-2-5)
Mallory is shaking things up on defense as well, going from a traditional 4-3 base to a 4-2-5.
"We'll rotate our three starting linebackers in throughout games and that should work well in keeping them fresh and active," Mallory said. "Jake Francis and Christian Wendelboe will be our starters and should be great players. Defensive line is where we need guys to step up."
Coach's preseason Region 8 straw poll: Seventh
Deseret News preseason prediction: Seventh
Bottom line: There's no way to go but up for the Bulldogs. Look for them to be more competitive in Mallory's second year. Region 8 may be a bit down this year, which could pave the way for a couple of wins for Provo. A playoff run seems unrealistic for this season, but Mallory is putting things in place necessary for Provo to become competitive in the near future.
Provo coaching history
2012-current — Cody Mallory (0-10)
2008-2011 — Saia Pope (18-24)
2004-2007 — Clint Christiansen (21-22)
1999-2003 — Frank Henderson (17-37)
1995-1998 — David Mills (9-28)
1993-1994 — Ed Larson (6-12)
1992 — Jess Christensen (4-5)
1991 — Duane Johnson (5-4)
1981-1990 — Frank Henderson (77-34)
1979-1980 — Unknown (11-8)
1977-1978 — Dick Henderson (6-12)
1976 — Paul Gillespie (10-2)
1973-1975 — Jack Branin (12-15)
1972 — Bry Lake (10-3)
1954-1971 — Dick Hill (81-71-6)
1943-1953 — Max Warner (39-51-6)
1942 — Glen Simmons (3-2-1)
1939-1941 — Griffith Kimball (16-9-2)
1936-1938 — Unknown (8-13-3)
1923-1935 — Glen Simmons (49-39-7)
1908-1922 – Unknown (14-17)
---
Deseret News First Team all-staters the past 10 years
2009 — Likio Pope, OL
2009 — Maka Unufe, Specialist
2006 — Austin Alder, Specialist
To view second team and honorable mention all-staters through the years, check out the Deseret News All-State Archives.