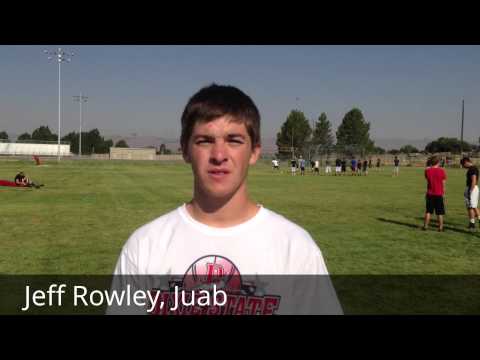 View 15 Items

Note: Juab finished with a 5-5 overall record in 2012 and was fifth in Region 12 with a 1-4 record. It did not qualify for the playoffs.
NEPHI — Last season was realistically a tale of two halves for Juab's football team.
The Wasps were excellent in the preseason, jumping out to a 4-1 record by beating teams like Grantsville and Salem Hills. Once region play rolled around, though, Juab stumbled by losing its first four games, which rendered a season-ending win over Carbon meaningless.
It's a new year, and every small-school 3A team is excited about realignment. However, those late-September and October struggles of a year ago are a bit disconcerting, because several of those teams aren't going away just because of realignment.
Juab stumbled against North Sanpete and Delta down the stretch last season, and those teams are on the region slate again this year. In fact, the Wasps' region slate is arguably just as tough as last season with Manti, Richfield and Canyon View joining the region.
Juab coach Mike Bowring knows that reality as much as anyone, but he and his players also know that buzz saws like Hurricane, Juan Diego and Stansbury aren't waiting in the wings come playoff time either. Those teams have been bumped up to the larger 3A classification, and mentally Bowring said that reality can't be overstated.
"It's nice to be able to know you have a chance," said Bowring. "I've noticed it's given our program a little spark, and I'm sure it's given everyone a shot in the arm."
First Juab needs to get to the playoffs, which won't be easy with a fairly inexperienced team. Bowring, however, believes the talent is there to make a run at the region title.
"That's the thing I love about high school sports: People always step up and fill positions. By the time we get into region games, we hope they're filling in and doing the job we need them to," he said.
That's exactly what Bowring is hoping from the quarterback position as he's handing the starting job over to junior Nick Robins instead of last year's QB, Jeff Rowley. Bowring said it was a very difficult decision, but going with Robins at starter helps strengthen up two positions as Rowley will now start at slot back.
"They both have strengths, and that's what makes it tough. But we have to look at what's best for the team," said Bowring.
At 6 foot 4, Robins is a talented pure pocket passer that's getting some initial interest in some colleges because of his arm strength.
Last season Rowley completed 52 percent of his passes for 2,117 yards, 23 TDs and 12 interceptions, and the coaching staff is obviously hoping for even bigger things from Robins.
That's certainly not unrealistic with the experience in front of him. Nick Wohlforth, Jake Hatfield and Riley Owens are all returning starters on the offensive line. Ethan Phillips has enjoyed a strong summer as well and could emerge as another starter on the O-line.
With the season just a little more than a week away, one of the biggest focuses for Bowring and the coaching staff leading up to the opener at Millard is consistency.
Throughout the various camps that Juab participated in this summer, the defense usually held its own on first and second down, but third-and-long became a real "nemesis," according to Bowring. He said it's important that the defense be more disciplined and get off the field on third downs when the games really start to count if Juab hopes to be competitive near the top of the new 3A South region.
Juab Wasps at a glance
Coach: Mike Bowring is entering his 10th season at Juab with a 69-33 record. Prior to moving to Juab, Bowring was the head coach at Monticello for seven years and he won a state championship in 2001. Bowring is a graduate of San Juan High School.
Offense
(5 returning starters; Spread offense)
Dalton Harmon led Juab in rushing last year with 462 yards and seven TDs, and he's back this year despite temporarily transferring to Maple Mountain High School. His experience gives Juab a nice rushing threat, and should help keep defenses honest instead of focusing entirely on stopping the pass. Brandon Smith is another player who will see some carries this year. Nick Robins takes over at QB for the Wasps, and he has a strong arm that will definitely lengthen the field. Juab's top four receivers from a year ago graduated, but Brandon Morgan, Chance Carlton and Kyler Nielsen hope to step into those roles this season.
Defense
(3 returning starters)
Juab allowed nearly 30 ppg last season, which ranked in the bottom half of 3A and was a big reason it failed to make the playoffs. With only three returning starters, the coaching staff is counting on fresh faces to make the defense a strength. The secondary could end up being a strength. Dedric Davidson returns at defensive back after leading the team with six interceptions a year ago, including picking off two against Grantsville in Week 2. Morgan and Carlton were part-time contributors at the varsity level last year, but they'll be counted on much more heavily this season. Harmon was one of Juab's leading tacklers at linebacker last season, and even bigger things are expected of him in 2013.
Coaches preseason 3A South straw poll: Second
Deseret News 3A South prediction: Third
Bottom line: Juab's string of making the playoffs eight straight years came to a disappointing end in 2012. Expect the Wasps to be back in the playoffs in 2013. Robins is a talented QB who will help the team be more productive offensively, and the defense should be better too. With three of five regions games at home this season, there's no reason Juab should only win one region game . As for the playoffs, Juab is frequently mentioned by the rest of the coaches in the new 3A as one of the six or seven teams capable of winning a state championship.
Juab coaching history
2003-current — Mike Bowring (68-34)
1999-2002 — Will Biesinger (18-25)
1992-1998 — Paul Messersmith (48-26)
1991 — Alan Sperry (3-6)
1988-1990 — Raymond Nielsen (4-21)
1985-1987 — Fenton Broadhead (8-18)
1976-1984 — Lee Scott (35-54)
1971-1975 — unknown (24-25-2)
1967-1970 — Dennis Hansen (18-19)
1964-1966 — LeRoy Davis (1-23)
1962-1963 — Verl Shell (2-14)
1960-1961 — unknown (1-15-1)
1959 — Cary LaComb (3-4)
1957-1958 — unknown(4-11)
1956 — Marcus Garrett (2-6)
1955 — unknown (0-6)
.....
Deseret News First Team all-staters the past 10 years
2010 — Elias Brooks, LB
2008 — Jordan Bainter, OL/DL
2008 — Jameson Izatt, OL/DL
1
comment on this story
2008 — Cody Keisel, FB/LB
2008 — Chandler Street, RB/DB
2007 — Kade Brough, OL/DL
2007 — Jordan Jones, QB/DB
2006 — Tyler Davidson, WR/LB
2006 — Landon Nielson, WR/DB
2006 — Todd Watts, OL/LB
2005 — Shane Blackett, QB/DB
2005 — Kyle Callaway, OL/DL
2005 — Trent Stowell, OL/DL
2004 — Trevor Jones, RB
2004 — Matt Howard, RB
2004 — Kellen Nielson, WR
2004 — Jordan Guillory, OL
To view second team and honorable mention all-staters through the years, check out the Deseret News All-State Archives.
Follow Deseret News prep editor James Edward on Twitter @DNewsPreps