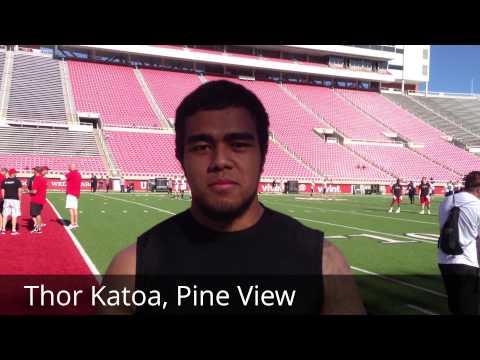 View 19 Items

Note: Pine View finished with a 7-4 overall record in 2012 and tied for fourth in Region 9 with a 3-3 record. It lost to Spanish Fork 26-21 in the 3A first round.
2012 Pine View statistical recap
ST. GEORGE — After graduating a 2,100-yard rusher and four offensive linemen from last season, it's back to the drawing board for the Pine View Panthers.
Not so fast, says coach Ray Hosner.
There will definitely be a transition period without running back Prentiss Miller, but Pano Tiatia has the potential to make it a very quick and painless one.
"I don't think we miss a beat. I'm excited about having him. To be honest, he's probably one of the best backs we've had in a long time," said Hosner.
He's certainly the most decorated.
Tiatia is a six-time Junior Golden Gloves national champion, and earlier this summer added a gold medal at the Victory Tournament in Ukraine.
The same toughness and work ethic Tiatia takes into the ring, the 5-foot-8, 195-pounder carries with him onto the football field. In the only game Tiatia received a heavy workload as a sophomore last season, he carried the ball 27 times for 121 yards and three touchdowns against Bear River. Miller also rushed for 140 yards on 18 carries that day.
Those gaping holes were opened by a senior-laden Pine View offensive line last season, but only Germo Fierro is back. Hosner is cautiously optimistic he has the players capable of filling those vacancies, and if it pans out that way, Pine View will be right in the think of the 3AA South region hunt.
The Panthers finished fourth in Region 9 last year, but Hosner was very impressed with the way his players battled through adversity.
"It was a great year. I was proud of them; they dug deep. We had a few injuries, and they just battled and battled and battled, and we were young," said Hosner.
The most notable injury was to quarterback Kody Wilstead, who missed a month after suffering a serious ankle injury in week one. The Panthers were 2-3 without him — even though an East loss later became a forfeit win — but they were 4-2 after his return.
The two losses were nearly as impressive as the four wins. In Wilstead's second game back, he had Pine View on the verge of beating undefeated Hurricane before losing in overtime. In the playoffs, Hosner's team was a play or two away from upsetting Region 12 champ — and 3A runner-up — Spanish Fork in the 3A first round.
Wilstead has bulked up to 218 pounds heading into his junior year, and Hosner believes he's capable of having a special season with his three leading receivers back from a year ago.
Pine View relied heavily on Miller last year, and therefore didn't throw too much, but Colton Miller (272 yards), Cason Prisbrey (207) and Jack Bangerter (199) are all back.
Defensively, Pine View will lean heavily on standout linebacker Thor Katoa. As a junior, he racked up 73 tackles and two sacks, and he's a talent most of the in-state colleges are looking at.
If Pine View can fill in the defensive pieces around Katoa, particularly on the defensive line, it should be able to slow some of the offensive juggernauts in league play like Dixie and Hurricane.
Pine View Panthers at a glance
Coach: Ray Hosner is entering his 13th season as Pine View's head coach with a career record of 101-37. He's a graduate of Jamison Madison High School in New York.
Offense
(5 returning starters; Spread offense)
Quarterback Kody Wilstead missed 4 1/2 games with injury last year, but still threw for 1,120 yards and 13 TDs as a sophomore. He's bulked up to 218 pounds since last season, and he's arguably one of the best QBs in Class 3AA this season. Question marks at offensive line could impact his productivity, though. Germo Fierro is the lone offensive line starter back from last season, but Hosner is confident Cory Kamachi, Harrison Goebel, Hona Tiatia and Ray Fuane can pick up the slack. If they do, Pano Tiatia could be in line for a fantastic season at running back.
Defense
(4 returning starters)
Pine View ranked in the top 10 in scoring defense in 3A last season, surrendering a little less than 22 ppg. That was only good enough for a fourth-place finish in Region 9. If it hopes to compete for the region title, getting more stops will be vital. A strong linebacker corps and an experienced secondary give the team a chance. Thor Katoa and Kaden Creager will anchor the strong linebacking corps, but the secondary is where the strength lies. Jaden Ah Quin and Triston Duran both return with two years of starting experience in the secondary, while Jack Bangerter, Colton Miller and Dylan Draper also gained some experience last season.
Coaches preseason 3AA South straw poll: Fourth
Deseret News 3AA South prediction: Third
Bottom line: Some programs are just happy to make the playoffs, but that's never been the case at Pine View — even after the opening of Desert Hills shrunk enrollment. Pine View is certainly capable of competing for the region title this year if Wilstead stays healthy and Tiatia is as good as advertised. Two games in late September may ultimately define the Panthers' season as they host Dixie and Desert Hills on back-to-back weekends. Wins could put them in the driver's seat for the region title, while losses could put a playoff berth in jeopardy.
Pine View coaching history
2001-current — Ray Hosner (101-37)
1998-2000 — Sark Arslanian (16-12)
1994-1997 — Wade Turley (14-22)
1992-1993 — Bill Jacobsen (7-10)
1989-1991 — Chris Brockman (11-16)
1985-1988 — Jim Johnson (26-13)
1983-1984 — Wes Christiansen (5-13)
.....
Deseret News MVPs the past 10 years
2005 — James Lark, QB
Deseret News First Team all-staters the past 10 years
2012 — Prentiss Miller, RB
2012 — Logan Stott, OL
2012 — Wesley Moeai, DL
2011 — Jake Arslanian, WR
2010 — Will Bangerter LB
2009 — Kaden Hosner,DB
2008 — Kevin Moss, OL
2008 — Adam Bangerter, LB
Comment on this story
2008 — Justin Ence, DB
2007 — Nick Marinko, QB
2007 — Robert Evans, WR
2007 — Riley Dias, Specialist
2005 — Jesse Ence, RB
2005 — David Foote, WR
2005 — Derek Buchanan, TE
2005 — Mic Snyder, DL
2005 — Nate Harris, LB
2005 — Carter Mees, DB
2005 — Riley Stephenson, K
2004 — James Lark, QB
2004 — Carson Seegmiller, WR
2004 — Riley Stephenson, K
2003 — Matt Black, DL
To view second team and honorable mention all-staters through the years, check out the Deseret News All-State Archives.
Follow Deseret News prep editor James Edward on Twitter @DNewsPreps