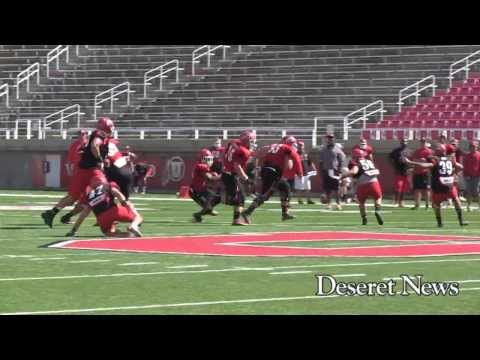 View 2 Items
Dre'Vian Young is turning heads in fall camp. The true freshman running back made the most of his time on the field Tuesday, taking the last run of the scrimmage more than 60 yards to the house.
It was one of several good runs Young made. Following the scrimmage, Young's teammates and coaches had high praise for him.
"You can't help but be, wow!" assistant coach Dennis Erickson said. "He made plays. He found the end zone in a lot of different ways. He probably ran 100 yards to get 50, but he's pretty impressive."
"Based on what he did today, you've got to continue take a look at him," head coach Kyle Whittingham said, "but again, it was against the threes, so it's all relative. He certainly did some things today to warrant some more reps with the twos."
"It definitely caught the coach's eye," quarterback Travis Wilson said.
Landon Hemsley is the sports web producer for DeseretNews.com. Email: lhemsley@deseretnews.com. Twitter.com/EarlOfHemsley