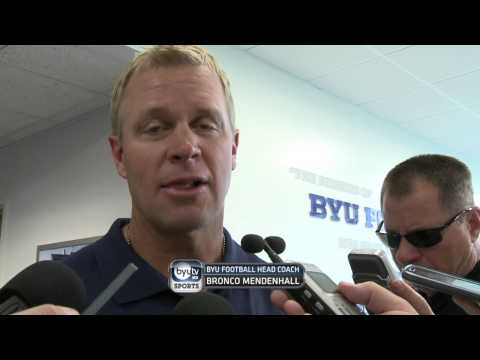 View 3 Items

PROVO — Dallin Leavitt, singled out as one of the bright spots in BYU's fall football camp, injured his hip in Tuesday's morning practice session, according to BYU football spokesman Brett Pyne.
Leavitt's injury is still undergoing an evaluation and reports have not been given to Cougar coaches at this point. Freshman defensive lineman Tuni Kanuch, who injured his pectoral muscle, will have surgery and miss the season, according to Pyne.
Leavitt's injury is described an injury to his hip. A family member who spoke to Leavitt, said the player believes he will be OK but needs some tests to be sure. Pyne said late Tuesday afternoon an injury update on Leavitt and others may not be out until Wednesday
Leavitt took to social media Tuesday afternoon and said through Twitter that he is fine. That tweet has since been deleted from Leavitt's account, @D_Lowe11.
Regardless of Leavitt's status, his health and that of BYU's other cornerbacks is quickly becoming a key, if not the most important aspect of fall camp.
Bronco Mendenhall's defense has had three cornerbacks seriously injured or leave the program since spring, if you count baseball player Jacob Hannemann, drafted by Major League Baseball.
Leavitt, a talented freshman, was a bright spot in a very thin BYU secondary and has been playing corner with the first and second unit. His injury came one day after starting junior Jordan Johnson tore his ACL in Monday's practice.
The Cougars lost potential starting JC corner Trent Trammell after he injured his ACL and was lost for the season in one of BYU's first practices of the spring. Sam Lee, another JC transfer corner in camp, has been nursing an injury this summer. Seniors Mike Hague and Skye PoVey have been injured during fall camp.
Dick Harmon, Deseret News sports columnist, can be found on Twitter as Harmonwrites and can be contacted at [email protected].