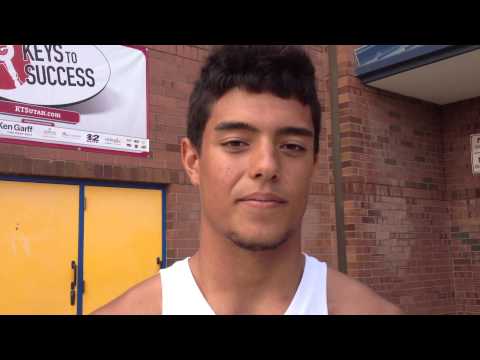 View 8 Items

TAYLORSVILLE — When Alex Lehauli runs onto the football field in a few weeks, the Taylorsville senior will do so with more confidence than he's ever had.
"I feel way more prepared than I did in my previous years," said the senior, who plays quarterback, linebacker and fullback for the Warriors. "There were countless things that went wrong last year. But we have new coaches, and they are fantastic. They are what we needed. They actually help us individually, not just as a group, specialize in our positions."
The players and coach believe that confidence comes from two things — hard work in the offseason and better training at each position.
"The biggest different is being here a whole year," said head coach Rod Wells. "Not showing up in June and trying to get things going."
The first order of business was establishing a viable offseason training program.
"You don't win football games in August," Wells said. "That's how I feel. You win football games in January through August."
He said the team had to divide into two groups in order to be able to accommodate the 80 student-athletes who wanted to participate in the offseason weight lifting sessions. "Our weight room only accommodates 32 kids, so we went to two shifts," he said. "But that's a good thing. We also did speed training and some other things. The commitment level was great. These kids have a little bit of swagger now. They've earned that. They've earned the right to compete. They've learned what it means to earn something."
He said he didn't need to change his expectations.
"They expect more because they've earned it," he said. For instance, when Wells arrived last summer he started an Iron Warriors program, which recognizes certain levels of athletic accomplishment.
"Last year we had three," Wells said. "This year we have nine. Last year we had one kid run under 4.5 — Emilio Salvador. This year we had six, and two ran under 4.4."
While the times are hand-held, he said the point is that the hard work is paying off in tangible ways.
The only big change to Wells' program was the addition of two new assistant coaches on the defensive side of the ball — former Jordan High assistants Pala and Junior Vaituu.
"They bring a tremendous amount of knowledge and expertise," Wells said. "They bring excitement to the kids with the things they're adding."
Lehauli said understanding at a deep level what is being asked of them has given them new hope and a greater desire to be committed.
"This is the first year that our offseason has been 100 percent football," Lehauli said.
Senior safety and quarterback Dominik Toluono said the team didn't just focus on the physical aspects of the game.
"We've done a lot of mental work," he said. "I'm proud of the work we put in this year. A lot of guys have come out and showed what they have."
Emilio Salvador, senior wide receiver, said they approach each practice or workout with a very specific mindset.
"You've got to practice like you're the worst team out there, and you've got to work harder than anybody else," he said. "If you think you're the best, you're not going to get any better."
Salvador said much has changed under Wells, even though he's only been at the helm of the program for 14 months.
"Lots has changed," he said. "I love (Wells) to death. He's one of the best coaches I've had in any sport. He's real humble, and he makes you a hard worker at everything you do." Wells said he believes he gets more from his players by keeping everything positive.
"These kids know they're not just meat to us coaches," he said. "The coaches who are here want to be here, and we're in sync. We believe we get more out of them if you love them. We don't coach out of fear, and I think that's a big thing."
Warriors at a glance
Coach: This is Rod Wells second year as a head coach. He only managed a 1-9 season, but didn't take over the program until eight weeks before the season began. A graduate of Bear River High, he played football at the University of Utah.
Offense (7 returners; spread offense)
The offense will be led by Alex Lehauli, who will play a variety of roles including quarterback and fullback. Senior Dominik Toluono and Tristinn Martinez will both spend time at quarterback as the Warriors try some different offensive looks. Emilio Salvador is quick and athletic and will be a favorite target at wide receiver.
Defense (6 returners)
Seniors Dallin Huntington and Leroy Ripley will anchor the team's defensive line, while many of the team's top athletes, like Salvador and Toluono, spend time in the secondary. The biggest change may be on the sideline with the addition of a new defensive coordinator, former Jordan assistant Pala Vaituu, and his brother, Junior. Pala Vaituu will also act as assistant head coach to Wells.
Coaches preseason Region 2 straw poll: 4
Deseret News Region 2 prediction: 4
Bottom line
The Warriors have the talent to really turn a corner this season, and now it appears they have the coaching as well. The players said they're more confident because they've worked harder and learned more about the technical aspects of each position than ever before. The attitude is positive and the mood optimistic as the Warriors look poised to have one of their best seasons in a decade.
Felt's Facts for Taylorsville High School
All-time record: 96-214 (32 years)
Region championships: 1 (1999-co)
Playoff appearances: 10
All-time playoff record: 3-10
State championships: 0
State championship record: 0-1
Most played rivalry: 27 meetings with Kearns dating back to 1981. Taylorsville leads 15-13. Meet on Aug. 23.
Felt's Factoid(s): Warrior Isaiah Tafua (1998) is one of just eight players to return a fumble 99 yards.
Taylorsville coaching history
2012-current — Rod Wells (1-9)
2009-2011 — Jonny Matich (2-28)
2004-2008 — Scott Henderson (6-43)
1998-2003 — Brad Molen (32-31)
1996-1997 — Mark Clinton (12-8)
1988-1995 — Randy Tuft (17-55)
1981-1987 — Doug Bills (26-40)
.....
Deseret News First Team All-Staters the past 10 years
(None)
To view second team and honorable mention All-Staters through the years, check out the Deseret News All-State Archives.
Twitter: adonsports
Email: adonaldson@deseretnews.com