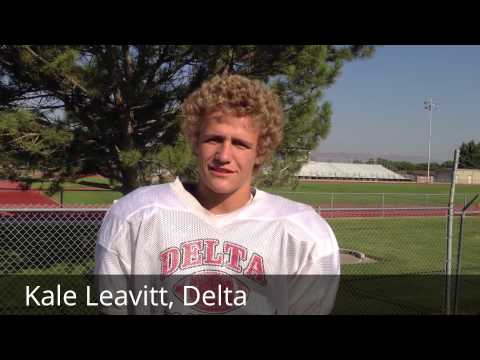 View 12 Items

We've always been known as a hard-nosed, scrappy football team that will go out and hit you all game long. We may not win every game, but by the end of the game everybody realizes they played us.

—Russ Fowles
Note: Delta finished with a 3-8 overall record in 2012 and tied for second in Region 12 with a 3-2 record. It lost to Hurricane 38-0 in the 3A first round.
DELTA — Russ Fowles has only ever known one way — the Delta football way.
He attended Delta High School, won a state championship with Delta as a senior in 1985 under coach Dean Fowles, and was an assistant under former coach Russ Henrie for several years.
Now that he's taking over as varsity head coach, expect that Delta tradition to remain status quo.
"I've been involved in the program since I was in high school, so I understand Delta football," said Russ Fowles. "We've always been known as a hard-nosed, scrappy football team that will go out and hit you all game long. We may not win every game, but by the end of the game everybody realizes they played us.
"I don't think anybody's afraid of us 'cause we're always small, but we will come to hit and that's the tradition I hope to continue."
That tradition took a bit of a knock last season as the Rabbits posted a 3-8 record, their worst mark since going 3-6 in 2002.
Heading into the 2013 season, Delta is confident in a bounce-back year as the playing field has been leveled somewhat with the UHSAA splitting 3A into a large and small classification.
Last season Delta was bounced from the playoffs by 3A juggernaut Hurricane, 38-0. The year before it lost to Cedar 28-6 in the quarterfinals. Back in 2010 the Rabbits did very well to advance to the 3A semifinals with wins over American Leadership and Desert Hills, but it was promptly crushed by Hurricane in the semis, 38-7.
"It's wore on us year after year. We always knew we were going to run into a meat saw at the end. ... We don't physically match up with those teams," said Fowles.
"I look at what we have in our classification. There are some really good teams, and I see six or eight teams that could actually win it. If we get on the right night and play well, we have a chance to win possibly. There's a little excitement about that."
Delta definitely isn't the favorite after last season's struggles. In fact, the coaches didn't even vote Delta into the Deseret News preseason top five rankings.
Fowles believes the Rabbits are certainly capable of surprising some people.
A big reason for the optimism is his familiarity with the team. Last season Fowles ran the JV offense for the Rabbits, and with only four varsity returning contributors, most of this year's starters will be players Fowles coached a year ago.
"I have confidence in them and they have confidence in me, and I think that will lessen the growing pains that are inevitable with a new coaching staff," said Fowles.
Those growing pains could be minimal as well because of what Fowles said is great team unity.
"I think we have a good senior class. We have good senior leadership. They like each other; they get along; they're OK with any of them being successful; and I think that's probably our strength: our unity," said Fowles.
A big reason for that unity is Kale Leavitt. He's one of four returning starters on each side of the ball this season, and he's shown tremendous leadership throughout the summer.
Last season Delta started the year 0-5 and never really recovered. This season the schedule is just as tough, which will make for a very interesting August and September as the new coaching staff tries to get the program back on track.
Delta Rabbits at a glance
Coach: Russ Fowles is entering his first season as head coach at Delta High School. He's a graduate of Delta High.
Offense
(4 returning starters; Inverted wishbone offense)
Bracken Lovell takes over quarterback, and the junior has great footwork and has the potential to be a strong rusher. The biggest concern heading into the season offensively is the offensive line, as Saxon Day is the only returning starter. Hunter Fowles will be a newcomer at center, and coach Fowles — also his father — said he has to have a strong year. If he does, running backs like Kale Leavitt, Riley Nielson and Morgan Bogue could all end up having great seasons. Bogue is the top returning rusher from a year ago having gained 214 yards on 32 carries.
Defense
(4 returning starters)
Wrestling coach Jason Thomas takes over as the defensive coordinator this season, but Fowles said most of the changes will be cosmetic in nature. He does, however, expect the defense to be better nonetheless. Leavitt and Nielson were among Delta's leading tacklers last season, and they're both back this year at linebacker. Parker Whiseant played sparingly at linebacker last season, but he'll take on a much larger role this season. Day and Tanner Nielson will anchor the defensive line.
Coaches preseason 3A South straw poll: Third
Deseret News 3A South prediction: Second
Bottom line: Realistically, it can't get much worse after a disappointing 3-8 season last year in which Delta could never develop any consistency. Then again, don't expect anything to come easy this year. The classification change will only make a difference in the playoffs, but first the Rabbits need to qualify and the schedule this year is as tough — if not tougher — than last year. The first two games at Morgan and Millard will reveal a lot about this team and if a bounce-back year is really in the cards.
Delta coaching history
2013 — Russ Fowles
2005-2012 — Russ Henrie (59-35)
1982-2004 — Dean Fowles (161-78)
1979-1981 — Clark (21-12)
1974-1978 — Unknown (45-13)
1971-1973 — Bill Brown (20-12)
1970 — Jim Porter (7-2)
1968-1969 — Brent Rock (20-6)
1967 — Myers (5-3)
1965-1966 — Jim Porter (24-1)
1957-1964 — Robert Horlacher (48-22)
1956 — Joe Martinez (3-4)
1954-1955 — Jim Durrant (7-9)
1950-1953 — Bruce Osborne (16-13)
1947-1949 — Nephi Schwab (9-12)
1946 — Reginald LeFevere (0-4)
1942-1945 — F.G. "Frosty" Richards (9-13)
1941 — Mr. Anderson (5-2)
1939-1940 — Howard Schaub (10-6)
1936-1938 — Jay Tolman (13-5)
1931-1935 — Unknown (12-8)
1928-1930 — Joe Snow (11-2)
Comment on this story
1924-1927 — Unknown (9-7)
.....
Deseret News First Team all-staters the past 10 years
2011 — Gerry Banda, OL
2011 — Colin Christensen, DB
2010 — Dallin Henrie, OL
2010 — Hadley Myers, LB
2009 — Nick Nissen, OL/DL
2009 — Derek Peterson, RB
2008 — Dayton DeLoach, DB
2007 — Curt Eliason, DB
2006 — Dallin DeLoach, LB
2006 — Jason May, LB
2004 — Jacob George, OL
2004 — K.C. Rawlinson, DB
To view second team and honorable mention all-staters through the years, check out the Deseret News All-State Archives.
Follow Deseret News prep editor James Edward on Twitter @DNewsPreps