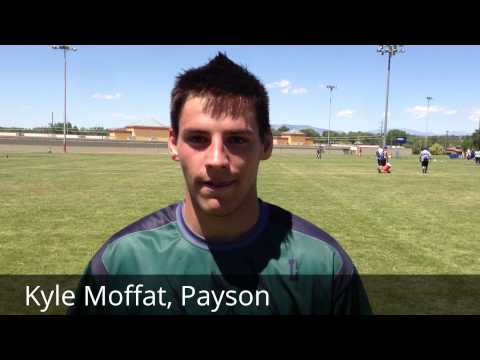 View 15 Items

We have a lot of kids who are tough and competitive. We have a lot of athletes. This group of kids is not intimated by the competition.

—Payson coach Jeremy Chapman
Note: Payson finished with a 4-7 overall record in 2012 and tied for second in Region 12 with 3-2 record. It lost to Desert Hills 48-21 in 3A first round.
2012 Payson Lions statistical recap
PAYSON — Last October, Payson's football team got a glimpse into the future — and it wasn't pretty.
Facing Desert Hills in the opening round of the 3A playoffs, Payson struggled to compete and was beaten soundly, 48-21. A year later, Payson has been lumped into the same region as the Southern Utah schools, and unless the program has made the necessary strides in the offseason, similar score lines could be the norm every Friday night.
However, as daunting as facing Hurricane, Desert Hills, Dixie, Pine View, Snow Canyon and Cedar in the new 3AA South region seems, coach Jeremy Chapman genuinely believes his team is up for the challenge.
"I think of all the teams I've coached, this is the team I'd want to face that challenge. We have a lot of kids who are tough and competitive. We have a lot of athletes," said Chapman. "This group of kids is not intimated by the competition."
The Lions relish the opportunity, and that's why Chapman is so optimistic. As encouraging as it is to have seven defensive starters and six offensive starters back, Chapman said it's their love for the game of football that's more exciting.
When asked about his excitement for the upcoming season, player Kyle Moffat said, "I want to get out and hit some kids."
"I think it will really help our team overall. Yeah we have to travel a little bit, but it's only going to make us better playing better teams," said Moffat.
Moffat in particular is one of the reasons Payson's fifth-year coach believes his team can compete.
"There won't be a kid more athletic than Kyle Moffat on the football field in a game we play. He is as explosive as they come," said Chapman about his three-year starting receiver and defensive back.
Moffat finished with 361 receiving yards and four TDs last year.
Junior receiver Preston Little is also back after leading the team with 529 receiving yards and seven TDs. All of that production came in the final six games of the season after he sat out the first month with a dislocated elbow suffered in week one.
"He's our most dynamic receiver — big, strong, fast, mean," said Chapman. "Even if he wasn't making a play himself, it opened up things for other people just with his size and athleticism."
It will take a lot more than just good skill position players to succeed down south, and for a change Payson can boast about lineman too.
Seniors Derek Johnson and Henry Clinger, and junior Brian Hoschour are all returning starters on the offensive line, and they'll anchor a group that will scrap and fight on every down.
Incredibly, Payson scored just five rushing touchdowns all of last season, but a veteran line could help improve that troubling trend.
The biggest question mark facing Payson is at quarterback with the graduation of three-year starter Devan Judd.
Sam Reynoso and Easton Smith are the front-runners to win the job. Both saw minimal varsity time last year, and even though both had low completion percentages and threw interceptions, a year of grooming for the job should certainly help.
At the end of the day, Chapman said logistically the new region presents numerous problems, which he hopes are all ironed out by the start of region play. On the field, he expects big things from his team.
"We get a chance to compete against good teams. We believe we're a good team, so just keep doing what we're doing and believe in what we're doing," said Chapman.
Payson Lions at a glance
Coach: Jeremy Chapman is entering is fifth season as head coach at his alma mater. He's amassed a record of 16-25 in those four seasons.
Offense
(6 returning starters; Spread offense)
A year after averaging just 19 points per game, Payson is counting on several offensive returning starters to increase that production. Without it, the Lions will likely be the lone team from the 3AA South region that misses the playoffs. Three returning starters on the offensive line is a great foundation to work with. Running back Phill Perez hopes to benefit from that experience. The tailback is small, but he's a playmaker if he's given space. Payson, however, is a pass-first team, and standout receivers Preston Little and Kyle Moffat are certainly the go-to guys.
Defense
(7 returning starters)
Payson faced two 3A teams that ultimately advanced to the 3A semifinals last season— Spanish Fork and Desert Hills. Those two teams scored 45 and 48 points respectively. A product of those struggles was youth, but with seven returning starters that shouldn't be as big a concern. At the heart of the defense is junior linebacker John Harmon. As a sophomore last year, he led the team with 129 tackles. He was one of several sophomores who made major contributions, and he is someone who has a very high ceiling this season as a result.
Coaches preseason 3AA South straw poll: Seventh
Deseret News 3AA South prediction: Seventh
Bottom line: Despite all the positivity coming out of Payson, the new region is going to be extremely difficult. The team went 3-2 in Region 12 last season, and the collective competition in Region 9 is vastly superior. The Lions don't have to wait long to see how they measure up to the new challenge. They open region play in week four by hosting Hurricane and then travel to Desert Hills for a playoff rematch in week five. It's unrealistic to expect them to win either game, but if they're able to compete, that could bode well later in the season in more winnable region games.
Payson coaching history
2009-present — Jeremy Chapman (16-25)
2007-2008 — Jared Woolstenhulme (6-15)
2003-2006 — Colby Knight (8-33)
2001-2002 — Jamal Willis (3-17)
1997-2000 — Rick Robbins (11-26)
1988-1996 — Bart Peery (26-52)
1984-1987 — David McKee (13-22)
1981-1983 — Bob Cook (6-22)
1956-1980 — Jim Durrant (137-96-8)
1941-1955 — Don Fuller (70-44-12)
1940 — Unknown (1-5-1)
1939 — Vern Waldo (3-5)
1936-1938 — Unknown (6-9-7)
1934-1935 — Stan Wilson (3-8-1)
1928-1933 — Unknown (26-11-4)
1927 — Mr. Wooley (3-2)
1922-1926 — Unknown (12-8-4)
1921 — Hugh Sutton (4-2)
1920 — Unknown (0-2)
1919 — Dixon Kapple (5-1-1)
1918 — Ray Monson (1-1)
1916-1917 — Unknown (9-2)
1915 — Mr. Cole (2-2-1)
1909-1914 — Unknown (6-8)
Deseret News First Team all-staters the past 10 years
(None)
To view second team and honorable mention all-staters through the years, check out the Deseret News All-State Archives.
Deseret News prep editor and Real Salt Lake beat writer.