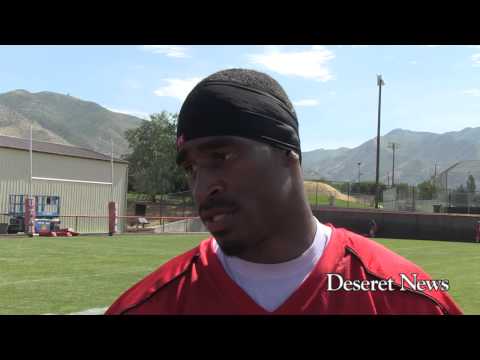 View 13 Items

Once you get the rhythm down, I think it's good and last year we didn't have that. It was kind of out of rhythm in between quarterbacks. So once we get the rhythm down we'll be straight.

—Kenneth Scott
SALT LAKE CITY — Triple digits. That's what Utah wide receivers Dres Anderson and Kenneth Scott have in mind for the upcoming season. The juniors would like to combine for 100 receptions.
"At least. We've just got to make big plays for our team," said Anderson, who added that it's all about having the confidence to do so. "We've got to go out there with a swagger and every time we step on the field just know that when the ball comes our way that we're going to get it no matter what — contested balls, free balls, just catch everything."
A year ago, Anderson and Scott had 36 and 32 receptions, respectively. Upping the combined total to at least 100 is just fine with Utah coach Kyle Whittingham.
"If that's the case, that's great," he said. "Because we need them to be more productive than last year. We didn't get enough production in the throw game."
Utah averaged just 190.7 yards per game passing in 2012 with 16 touchdowns and nine interceptions.
While noting that it wasn't just the receivers at fault, Whittingham said if the Utes are going to improve on last season's 5-7 record, then they have to throw the ball a lot better.
"It was a team-wide thing. We weren't good enough on offense. The receivers didn't do our part, some of the other position groups maybe didn't do theirs as well as they should, either," said passing game coordinator and receivers coach Aaron Roderick. "So now we're just focusing on doing our job as a part of the collective whole. But last year is over. We're going forward."
Anderson and Scott, who have both been in the program since redshirting in 2010, are leading the receiving corps.
"They've both been in the program for four years now and so they know exactly what's expected of them," said Whittingham.
Both are determined to get the Utes back to a bowl game. Scott said he thinks about last year's miss every day. It's also on Anderson's mind.
"That hurts the most. Utah has been known for winning bowl games. Not just for getting there but winning them," he said. "So not even making it to one, that's heartbreaking for our whole Ute Nation. So we never want to put our team in that predicament again."
As such, word of their goal to combine for 100 catches caught Roderick off-guard.
"I don't know where that number came from. In fact I've talked to them about just winning games," he said. "But we do what to have a bunch of catches from those guys. I wouldn't really put a number on it, but we need production from them."
While noting the need for more big plays and an increase in explosive plays, Roderick said Anderson and Scott have always been leaders. Both players are on the verge of graduating as juniors — Anderson is a mass communication major, while Scott is enrolled in family and consumer studies.
"They're kids that do everything we ask them to do. They really work hard and they're great guys," Roderick said. "They've always been leaders. They just didn't have experience to really demonstrate it, and now I think they've played enough ball that hopefully this year we're going to see some great things out of them."
Quarterback Travis Wilson has high expectations for the duo.
"Kenneth and Dres have been doing outstanding this whole offseason and this whole beginning of fall camp," he said. "I'd love to give them both 100 receptions for this year. So they're definitely going to be some main targets for me, and I'm really excited to have them."
Wilson is especially impressed with their leadership and approach to the game, making sure others follow suit and do the right things.
"They've definitely taken ownership of that whole wide receiver corps," said Wilson.
Scott considers it a brotherhood, of sorts — especially with Anderson.
"So if Dres makes a big play, I'm happy for him. That's like a brother of mine," he explained. "It's the same vice versa. We all want to see each other do good, and that's the main thing about it."
Getting everyone on the same page, though, might be a challenge with a deep pool of quarterback candidates competing with Wilson for the starting job. Sophomore Adam Schulz and a trio of freshmen — Brandon Cox, Conner Manning and Micah Thomas — are also in the mix.
Anderson, however, insists there won't be any trouble adapting to whoever ends up getting the job.
"We get a rhythm with everybody," he said. "We throw with them all summer. It's no problem getting a rhythm down with the quarterbacks."
Scott sees it as kind of a same thing only different situation because ball placements vary a bit because of a quarterback's height or what hand they throw with.
"Honestly all you've got to do is get the rhythm down," said Scott. "Once you get the rhythm down, I think it's good and last year we didn't have that. It was kind of out of rhythm in between quarterbacks. So once we get the rhythm down we'll be straight."
Utah had three different starting quarterbacks last season — Jordan Wynn, Jon Hays and Wilson. Consistency has been an issue in recent years. The Utes haven't had a starting quarterback start and finish a season since Brian Johnson in 2008.
"It's important because you want to be consistent with whoever's out there but we just lacked execution (last year). If we had came out and executed better, I'm pretty sure we would have done a lot more," said Anderson. "We would have come out with a lot more wins, especially with the close games. This year is going to be a big change, and we're not worried about that any more."
A more up-tempo, fast-paced offense, Anderson said, will help keep the rhythm going this season. As long as plays are made, he thinks it'll be more explosive and get opposing defenses tired.
Scott said the offense has been simplified to make it faster and keep the defenders off balance.
Both players are also excited about the addition of co-offensive coordinator Dennis Erickson and his impressive body of work. Anderson considers it a great thing and Scott appreciates the insight and advice offered by the veteran coach.
All said, the receivers are eagerly looking forward to the upcoming season.
"We can't wait," said Anderson.
Besides Anderson and Scott, senior Anthony Denham is listed as a starter on the latest depth chart. Other receivers to watch include junior Andre Lewis and senior Sean Fitzgerald, as well as redshirt freshmen Brian Allen and Delshawn McClellon.
Email: dirk@desnews.com
Twitter: @DirkFacer