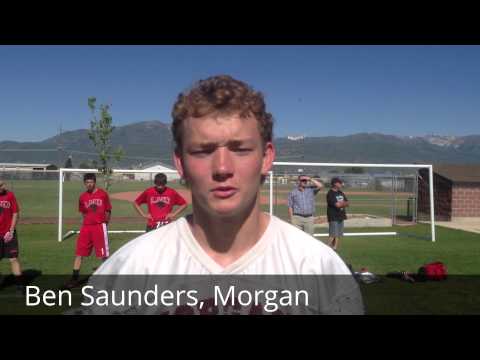 View 20 Items

I like the fact we're aligned with schools more our size. I think we'll be a little more competitive during playoff time, I hope...

—Morgan coach Kovi Christiansen
Note: Morgan finished with a 7-5 overall record in 2012 and was second in Region 11 with a 5-1 record. It lost to Spanish Fork 33-23 in the 3A quarterfinals.
MORGAN — You'd be hard-pressed to find a football program more excited about realignment than the Morgan Trojans.
They were eliminated from the playoffs by Hurricane three straight years from 2008 to 2010, and then eliminated by Spanish Fork in 2011 and 2012.
Hurricane and Spanish Fork were both bumped up in the latest UHSAA realignment, and Morgan coach Kovi Christiansen is indeed grateful.
"I like the fact we're aligned with schools more our size. I think we'll be a little more competitive during playoff time, I hope," said Christiansen.
There's still plenty of tough teams in the new 3A for the Trojans to contend with, but instead of being a middle-of-the-pack 3A team like in years past, this year they're a legit state title contender.
Christiansen has called upon some former players to help make that a reality as Morgan seeks its first football state title since 1997.
Many athletes in Morgan play two or three sports, which makes it impossible for them to lift weights as often as Christiansen would like in the summer. This year he's enlisted the help of Chance Porter and Dayton Smith — players on Morgan's 2008 semifinal team — to put the Trojans' players through an intensive cross-training program.
"They're going to play hard 'cause they're Morgan kids and they have that kind of ingrained in them, but we'd like them to be a little tougher," said Christiansen.
That's particularly the case on the offensive line.
Outside of two-year starter Kyle Stapley, the line is riddled with question marks.
"We're going to spend most of our fall to get our linemen aligned out. In the past we've been deep for us as far as linemen goes, but we only have one returning starting lineman," said Christiansen.
Adding to the uncertainty is a new offensive line coach. Chad Crossley — a 2008 first-team all-stater — takes over for retired coach Mike Matteo.
Returning starting quarterback Ben Saunders should help ease that uncertainty. Even though he's got competition for the starting job in the form of Northridge junior transfer Tyler Kelsey, Saunders is the clear front-runner for the job.
A year ago Saunders completed 58 percent of his passes for 1,080 yards, 11 touchdowns and just three interceptions.
"Having a year of experience will be really good for us," said Christiansen. "He's just a competitor. He's going to bring it. He makes pretty good decision and throws a good ball. He usually doesn't get us in trouble with his decisions."
Saunders was a contributor on Morgan's state championship basketball team earlier this year, and he believes that winning mentality can transfer to football.
"It's one of the greatest feelings in your life. I think carrying it over to football it will boost our confidence more. I really think that we can do it this year," said Saunders.
Saunders, Matt Murdock and Bridger Streadbeck were all on that championship basketball team.
A healthy Kade Carrigan will certainly help in that championship pursuit. The fullback rushed for 474 yards last season, but missed more than a month with a hip injury suffered against Bear River. He eventually returned for the quarterfinal game with Spanish Fork, but he was by no means 100 percent.
Grantsville is the only team from the old Region 11 that's lumped in with the Trojans in the new 3A North region. Morgan was 3-1 against Grantsville over the past four seasons, and was 6-0 against all the other new 3A teams it faced the past four seasons.
That's a big reason Morgan could have a bull's-eye on its back all season.
Morgan Trojans at a glance
Coach: Kovi Christiansen is entering his seventh season as Morgan's head coach with a career coaching record of 45-24. He's a graduate of Lovell High in Wyoming.
Offense
(5 returning starters; Double Wing-T offense)
Kyle Stapley is a two-year starter on the offensive line, but he'll be surrounded by varsity rookies this year as Morgan breaks in four new starters around him. How quickly the new unit gels may ultimately determine if Morgan stays at No. 1 throughout the season. Kade Carrigan is back at fullback, while Matt Murdock will see an increased workload in the backfield as well. Ben Saunders is a returning starter at quarterback, but he's been pushed by junior transfer Tyler Kelsey. How well Kelsey progresses this summer may ultimately determine if Morgan's coaching staff feels confident enough to start Saunders on defense too.
Defense
(6 returning starters)
With four of its leading tacklers back from last season, it's easy to see why coach Christiansen is excited about this year's group. Collectively they're a bunch of "short, quick kids," but their coach hopes that makes them better tacklers because they're low to the ground. Carrigan and Christian Elton are both back at the hybrid linebacker/safety positions, while Stapley will help anchor the defensive line. Murdock is a returning starter at safety.
Coaches preseason 3A North straw poll: First
Deseret News 3A North prediction: First
Bottom line: A year ago, huge question marks on the offensive line would've rendered Morgan a middle-of-the pack 3A team. With realignment, and the reality of teams like Juan Diego, Hurricane, Spanish Fork and Desert Hills out of the mix, suddenly it's the focal point of state championship conversations. Even though the Trojans haven't won a state title since 1997, they've certainly been an upper-tier 3A team the past decade, and it's no surprise that they're the team to beat in the new 3A.
Morgan coaching history
2007-current — Kovi Christiansen (45-24)
1997-2006 — Renn Hoopes (81-33)
1994-1996 — Mike Grajek (19-10)
1990-1993 — Blaine Monkres (32-9)
1988-1989 — Steve Coburn (13-6)
1985-1987 — Jan Smith (113-59-1)
1984 — Dave Christiansen (5-4)
1972-1983 — Jan Smith (113-59-1)
1971 — Richard Rodak (3-6-1)
1969-1970 — Brent Thorne (9-11)
1967-1968 — Joe Dilworth (11-7-1)
1962-1966 — Bob Wilson (15-24)
1961 — Bob Wilson/Don Johnson (2-6)
1958-1960 — Don Johnson/Don Guest (7-11-1)
1957 — Jack Raymond (0-6)
1950-1956 — Kent Murdock (12-19-1)
1949 — Tally Stevens (3-3-1)
1947-1948 — Garth Bellston (10-3-4)
1946 — Francis Porter (5-4-1)
1941-1945 — Fred Bohman (8-22-1)
1939-1940 — Bill Cowley (10-2-2)
1929-1938 — Wes Schwab (19-24-3)
Comment on this story
1928 — I.L. Peterson (1-2-1)
Deseret News First Team all-staters the past 10 years
2012 — Lantzen Toomer, Specialist
2011 — Boston Saunders, DL
2010 — Tad Sargent, RB
2009 — Jordan Wamsley, SP
2008 — Jake Kinsey, DB
2008 — Chad Crossley, OL
2005 — Alan Tucker, QB
2005 — Mike Rose, DB
2004 — Derek Wiscombe, DB
2003 — Jeff Manning, RB
2003 — Blake Preece, OL
2003 — Joe Wiscombe, DB
To view second team and honorable mention all-staters through the years, check out the Deseret News All-State Archives.
Follow Deseret News prep editor James Edward on Twitter @DNewsPreps