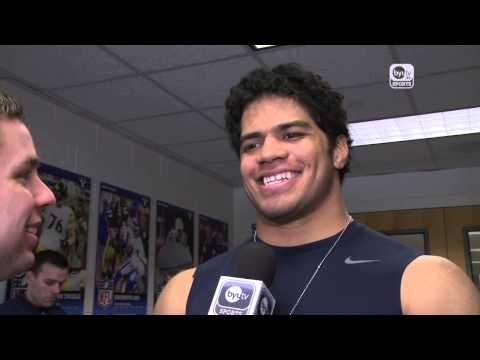 View 5 Items

My family is my first priority and always will be. If it was just me — no way I would have transferred. I loved it at Oregon State and still miss a lot of the things there.

—Uani Unga
PROVO — Just because Uani Unga says he has no regrets, doesn't mean his college career has been easy.
A little more than two years have passed since Unga transferred to BYU from Oregon State, and nothing has been given to him since he arrived in Provo. The 6-foot-1, 233-pound senior left a cushy scholarship — and a starting spot on the team — to walk on and pretty much start from scratch.
After a year on the scout team and another year as a backup, Unga has earned a starting role at the critical Mike linebacker position.
"It's been a lot of hard work, a lot of frustration at times, but I think all of it is going to pay off," Unga said. "But no, it certainly hasn't been an easy thing."
Unga left Oregon State simply because his wife wanted him to. After logging significant playing time as a freshman and sophomore at Oregon State, the Kahuku, Hawaii, product had little to no desire to leave Corvallis, Ore.
He believed, however, that his wife's desire to be closer to her family overrode his personal preferences.
"When you get married you don't make decisions just for yourself," said Unga. "My family is my first priority and always will be. If it was just me — no way I would have transferred. I loved it at Oregon State and still miss a lot of the things there. It's a great program and I had a lot of success there."
Few understand how difficult it can be for walk-ons — particularly walk-ons with a newborn child who had a taste of the scholarship life previously.
It was certainly difficult for Unga.
"You have your own locker room that isn't as nice — it's sort of murky — and you obviously have to pay your own way," he said. "It's something that can either break you or it can sort of put a chip on your shoulder. For me, I guess I used it as motivation."
Unga was also inspired by seeing how his new coach, Bronco Mendenhall, catered to walk-ons.
"I really had no idea how coach Mendenhall treated walk-ons before I got to BYU, but I learned that he rewards his top walk-ons with scholarships a lot, so that certainly helped inspire me to keep working," he said.
Unga's hard work paid off, literally, when Mendenhall informed him last January that he would be receiving a scholarship.
"It was a great moment for me, and it made me work even harder, I think," Unga said of being granted a scholarship. "Now it's about proving that I was worthy of that scholarship now that I have it."
So far, so good, in that regard.
Unga came out of spring practices as the clear leader at Mike linebacker, and hasn't let up since.
"Uani has really done just about everything we've asked of him," said position coach Paul Tidwell. "He's a hard worker and he really has become a leader for this defense."
Unga will be asked to take over for Uona Kaveinga, who provided stellar play at the spot last season. Like Kaveinga, Unga isn't a talker, but leads by example.
"I think he has a presence about him and he's earned the respect of his teammates — much like Uona did," Tidwell said. "He's not a very vocal guy, but he practices hard, and his teammates, and myself, have a lot of confidence in him."
Tidwell believes Unga has all the tools to man the most important position of a 3-4 defense effectively.
"He's good in space; he's good laterally; and he's put on good weight to take on blockers and stop the run," Tidwell said. "It's going to be tough to match what Uona gave us last season, but I really like what I've seen from Uani so far."
As for Unga himself, he's poised for a strong finish to his improbable career at BYU.
"There were a lot of times I'd regret leaving Oregon State, but I don't have any of those regrets anymore," he said. "I've come to love BYU, the mission of BYU football, the coaches, and I'm going to do my best to play as best I can to finish out. We made the right choice to be here — no doubt now."
Email: bgurney@desnews.com
Twitter: @BrandonCGurney