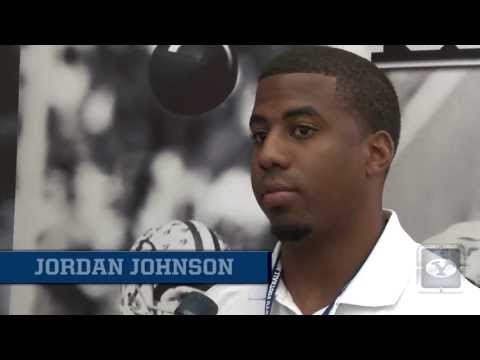 View 2 Items

PROVO — Already thin in the secondary, BYU's defense was dealt a devastating blow Monday.
Starting field cornerback Jordan Johnson suffered a season-ending knee injury during the morning practice session. An MRI revealed an ACL tear that will require surgery.
Johnson, a junior who started 12 games last season, is the latest cornerback the Cougars have lost.
Junior college transfer Trent Trammell also sustained a season-ending knee injury on the first day of spring practice in March. Freshman Jacob Hannemann opted to forgo his college football career when he was selected by the Chicago Cubs in the third round of last June's Major League Baseball draft.
Last season, Johnson recorded one interception and a team-high 15 pass breakups.
So what are BYU's options with just a few weeks until the season-opener at Virginia?
Prior to knowing the severity of Johnson's injury Monday — it was announced later in the day — coach Bronco Mendenhall talked about the cornerback position, explaining that junior college transfer Robertson Daniel and true freshman Dallin Leavitt were vying for the starting boundary corner spot opposite Johnson.
"One player that is battling really, really hard and is emerging is Dallin Leavitt as a true freshman," Mendenhall said. "His expectations for playing time and his expectations for himself are very high. It's like being an existing junior in the program, expecting to have that role. He had a really strong day. We love Rob Daniels at corner. Those two have done a really nice job."
Mendenhall added that if he had to choose a starter out of Daniels and Leavitt today, it would be Daniel, because of his speed.
In terms of attitude and approach, Mendenhall compared Leavitt to former BYU star wide receiver Austin Collie.
Now, the Cougars could be looking at Daniel and Leavitt, two newcomers, as the starting cornerbacks when the season begins.
Meanwhile, senior Mike Hague and junior Skye PoVey, who have been injured, are working to get healthy.
"I think we'll get both of them back," Mendenhall said.
Another cornerback candidate, juco transfer Sam Lee, has not been practicing due to a back injury.
ANOTHER LOOK: As usual, Mendenhall and his staff watched film of last Saturday's scrimmage at LaVell Edwards Stadium.
His impressions?
"I think our team is more athletic and deeper than what I had noticed," Mendenhall said. "The skill players in particular offensively, the depth is what showed up to me. The kicking game is improving and defensively, the execution is getting better and better."
O-LINE UPDATE: Offensive coordinator Robert Anae and offensive line coach Garett Tujague were not pleased with the performance of the O-line Monday morning.
The offensive linemen stayed after practice participating in conditioning drills.
JC O-lineman Edward Fusi has yet to join the team as he finishes up academic work in order to qualify academically.
"Hopefully we'll have him out soon," Mendenhall said.
The coach again said that the two newcomers on the offensive line that have impressed him are freshman Brayden Kearsley and JC transfer D'Ondre Wesley.
Those two are head and shoulders above the rest in terms of performance to this point," Mendenhall said. "I'm also encouraged by Thomas Shoaf, a freshman."
51
comments on this story
GETTIN' ZIGGY WITH IT: Mendenhall said he and his team watched former Cougar Ezekiel "Ziggy" Ansah's pick-six in his NFL debut last Friday night.
"We showed it in a team meeting and the players went crazy. Right after it happened, we were having a Thursday's Hero celebration and my secretary, Carey (Hoki), had it on her phone and showed me. I was happy he got an interception for a touchdown, but it didn't surprise me. He had the oxygen going already. Our team knew that might be his last play of the game because it takes him a while to get in shape. We were laughing about that."