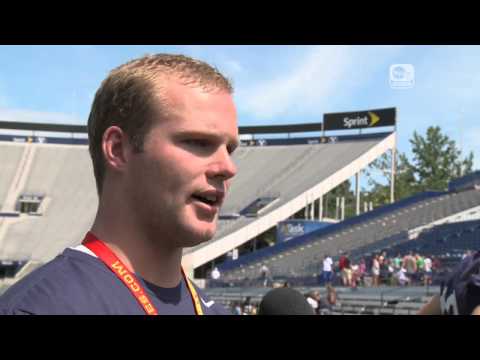 View 2 Items

It's a relationship where there is competition and everyone is fighting for a spot, but you are also put in a kind of role as coach.

—Justin Sorensen
Will BYU's kickers be a strength or liability?
Well, the group, led by senior Justin Sorensen, appears to be much improved after one week. Coaches will have choices.
Football kickers are kind of like putters and free-throw shooters.
It's a mind game.
They all work off an element of confidence, flow, feel, touch, vibes, rhythm, aura and mood; they need a little bit of the stuff that kept Henry David Thoreau thinking at Walden Pond.
In practices, kickers and punters hang around the fringe, trying to keep limber with their heads on the task at hand until coaches call for them to run onto the field, pick a spot and kick. They trade stories and philosophies and are acute witnesses to what's going on where guys are in an organized fight. They have plenty of time to think, contemplate angles, elevations, wind speed and whose girlfriends are attending practice.
They can save games and win games, but can easily cost a team games, too. They can be tough guys or meek as kittens. They can walk on the field with a swagger or shuffle off in a funeral walk. They are always on the cusp of heroism or becoming the goat. They have been hoisted in the air and carried off the field. And they've been ignored on the sidelines; recipients of an awkward, empty tap on the helmet after a miss by a quick passing teammate or coach.
This is the world of Sorensen, the much-heralded strong-legged phenom from Bingham High.
I caught up with Sorensen and the junior college transfer kicker from Fresno City College, Trevor Samson, after Saturday's BYU open scrimmage. They were standing together watching teammates do interviews, philosophizing.
Earlier, Sorensen had made field goals of 25, 25, 25, 39 and 53 yards. He missed a 38-yarder. Samson kicked field goals of 20 and 25 yards and made all four PAT attempts.
Another kicker, Moose Bingham, made field goals of 20, 20, 33 and 22 yards while missing from 33 and 52. He converted both his PATs.
What they're trying to improve upon is some shoddy kicking from a year ago. Costly misses or lack of confidence in even trying kickers were factors in losses at Boise State and other games.
Sorensen was 27 out of 30 on PATs, made 6 of 10 field goal attempts inside 39 yards and missed both attempts from beyond 40. He never tried anything beyond 50, once his forte. He and punter Riley Stephenson missed a combined five PATs of the 49 attempted.
Sorensen, who is a kickoff artist, never got untracked kicking through the end zone. Thus, there was a kickoff return disparity in 2012, when the Cougars' opponents had 15 more returns than BYU did for a difference of 234 yards (850 return yards compared to 616 for BYU).
Thing is, Sorensen had a good excuse. He damaged a disc in his back and it crushed against his sciatic nerve. Suffering from a similar malady this summer, I really feel for this guy. I'm fighting to get a good stance to hit a golf ball, and this guy was out trying to kick footballs 60 yards. He gets a mulligan in my book.
"I haven't felt this good in a very long time," said Sorensen. "Feeling good makes all the difference in the world."
Sorensen has faith he's going to be OK, and he likes working out with a trio.
"I feel great about our kicking game. I feel great physically for the first time in my career. I think it's great that there are three of us," he said.
Then he got into that kickers thing, that there's great comfort in having a village. You know, to experience things together, as a group. To talk.
"I think we all benefit from each other being there," said Sorensen. "It's a relationship where there is competition and everyone is fighting for a spot, but you are also put in a kind of role as coach. We're coaching each other and discuss how to get better. It makes the whole kicking game better."
Sorensen said from not kicking at all in the offseason leading up to 2012 to kicking every day the past two months, it has made him "unbelievably confident" in the season — his words.
What about Samson?
"He's the man," said the senior. "Trevor likes it here. He's got the highest score in the Book of Mormon class so far. He's been a great asset to the team and he's been very helpful to me, asking my why I'm doing this or that, telling me something might be a problem and to try something out. I'm glad to have him and it should be better from here on out."
Samson said he's enjoying Provo, his Walden Pond.
"It's going great," he said. "I'm enjoying being here for about a month. We are only trying to get better, and the competition will only help." Samson made 85 percent of his field goals in junior college, plus he handled kickoff duties.
Will BYU's kicking game be better in 2013? It needs to be. All those go-fast drives have to end up with something, if not TDs.
It must help that Sorensen is healthier and he has competition and support.
And he can always talk things over with his fellow kickers. You know, ponder life and the deeper matrix of the game.