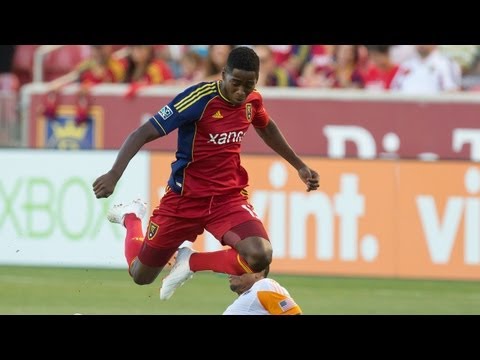 View 26 Items

We got the result I think in a little bit different way tonight than we typically do. I think it's really important as you enter this stretch and you start to enter the playoffs you have to feel you can win in multiple ways.

—RSL coach Jason Kreis
SANDY — Through the years at Rio Tinto Stadium, it's been diamond formation or bust. On Saturday, Real Salt Lake coach Jason Kreis decided it was time to break from tradition.
"Woke up Thursday with a quandary about how to get fresh players on the field and how to get guys who have been really, really good a starting opportunity without changing the spine of the team, so to speak," said Kreis. "It just dawned on me, 'Let's try that 4-3-3 thing again.'"
The deviation worked on the road at Dallas and Toronto earlier this season, and it paid dividends again Saturday as Real Salt Lake snapped a three-game league winless streak with a workmanlike 1-0 victory over a strong Houston squad.
The win snapped a four-game unbeaten streak for Houston.
Afterward Kreis said he thought his players did "OK" in the new formation — particularly Joao Plata and Olmes Garcia in their wide attacking positions — but he was pleased to see the players grind out the result in difficult circumstances.
"We got the result I think in a little bit different way tonight than we typically do. I think it's really important as you enter this stretch and you start to enter the playoffs you have to feel you can win in multiple ways," said Kreis.
In years past RSL didn't really have the necessary depth to play a 4-3-3 formation, but with players like Plata, Garcia and Robbie Findley it certainly does.
It's a formation the players really enjoy playing as well.
"I thought it was great. Ned (Grabavoy) and (Kyle Beckerman) in there do such a good job keeping the ball and it gives Javier (Morales) a little bit more freedom to move from side to side and show up in dangerous spots," said defender Tony Beltran.
Just like last year's match with Houston, the game's only goal came in the form of a penalty kick. After conceding a 93rd-minute penalty kick and losing in Houston 1-0 last season, Real Salt Lake was certainly happy to be the beneficiary of a favorable call this time around.
In the 36th minute, Houston's Adam Moffat barreled over Garcia while trying to win a header in the box, with the ref quickly calling a foul. Alvaro Saborio calmly stepped over the ball and buried the penalty kick, his ninth MLS goal of the season and 11th in all competitions.
The goal came just three minutes after Plata hammered a shot from distance off the crossbar.
Despite the 1-0 lead, RSL stuck with its 4-3-3 formation throughout the second half, and even though it got stretched at times, it held on for its first shutout since a 3-0 win at Dallas on July 13.
"I think you have to adapt a little bit to what you have, and it maybe threw them off a little bit as well and they changed their shape as well. I think we feel pretty comfortable right now playing either," said Grabavoy.
A Houston formation change forced midfielder Brad Davis to shift more centrally. Year in and year out Davis sends in some of the most dangerous crosses into the box in MLS, but he was largely a non-factor because of the formation.
Despite holding on to the shutout, there were certainly some anxious moments in the second half as the visitors pushed for an equalizer. In the end, RSL avoided giving up another stoppage-time goal to preserve the win.
"I feel like the guys put a special effort forth to make sure that happened," said Kreis.
With the victory, Real Salt Lake moved into sole possession of first place in the overall MLS standings, two points clear of Sporting Kansas City. It came into the day tied with New York, but the Red Bulls lost 2-0 at Columbus.
The victory also helped RSL open up a five-point cushion over Vancouver in the Western Conference.
Real Salt Lake returns to action next Saturday when it travels to Los Angeles to face the Galaxy.
Deseret News prep editor and Real Salt Lake beat writer.