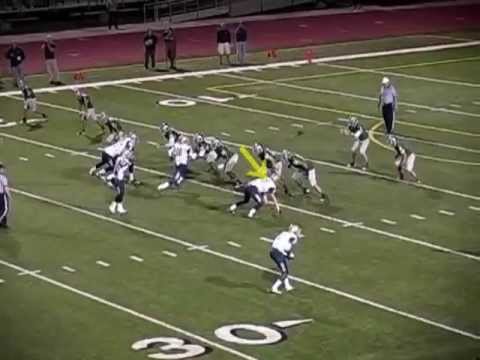 View 2 Items

If BYU didn't exist I'd definitely go to Boise State. BYU just offers everything and I really have a great relationship with coach (Bronco) Mendenhall and with coach (Kelly) Poppinga. They're not just great coaches, but great men, who live like you're supposed to live.

—Tyler Cook
PROVO — BYU's 2014 recruiting class is shaping up nicely.
The program recently scored two new commitments, bringing its total to 12 for 2014.
On Thursday, it was outside linebacker Tyler Cook who pledged to sign with the Cougars. His commitment was followed up by running back prospect Cedric Dale, who committed to coaches following BYU's open scrimmage Saturday afternoon.
Cook is a 6-foot-3, 220-pound prospect from Vista Murrieta, Calif. He held offers from Boise State, San Diego State, Vanderbilt, Miamia (Fla.), Arizona and a host of others at the time of his commitment.
"I just love BYU, the coaches, just everything," Cook said. "It's a great place to play football, but it's also a great place to attend school and that's why I chose them although I really like and admire the other programs that offered me."
Boise State was Cook's second choice, but the Cougars edged out the Broncos due to their unique LDS environment and coaching staff.
"If BYU didn't exist I'd definitely go to Boise State," Cook said. "BYU just offers everything and I really have a great relationship with coach (Bronco) Mendenhall and with coach (Kelly) Poppinga. They're not just great coaches, but great men, who live like you're supposed to live. They're coaches you don't just learn football from, but you learn how to be a better person learning from them. That's what BYU has over other programs."
BYU also has a No. 3-ranked defense from a year ago that attracted him to the program.
"I'd watch all their games on ESPN and I love that I can play on ESPN while I'm there," Cook said. "I'd watch Kyle Van Noy and I love that I'll likely play the same position as him when I'm there. It's just perfect for me — the system, the school, the coaches, the players. It's clearly the best choice for me."
Cook has followed, and even helped influence, BYU's recruiting behind the scenes since being offered earlier in the year. In March, he had made up his mind to commit to BYU, but waited until his parent's anniversary on Aug. 8 to commit.
"It was tough keeping it a secret, but I really wanted to let them know of my decision on that date," Cook said. "I've become real close with other BYU commitments like Fred Warner and Sione Takitaki and I've even become friends with Damien Mama. Hopefully we can get him to BYU as well."
Cook is LDS, and plans to finish out his eligibility before exploring opportunities to serve a mission.
Dale is a 5-foot-8, 170-pound running back prospect who could also play defensive back at the next level. He held offers from North Texas and Texas Tech at the time of his commitment, according to scout.com. He was offered as a running back by BYU.
We'll have more on Dale, and his commitment, when he becomes available for comment.
Email: bgurney@desnews.com
Twitter: @BrandonCGurney