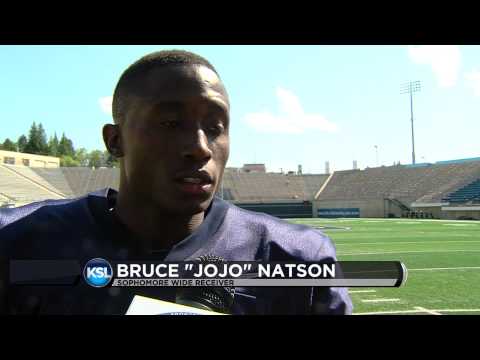 View 3 Items

LOGAN — Shortly after a Utah State football practice, head coach Matt Wells sought out one of his players. "You keeping on the weight?" Wells asked.
"Yes, sir," wide receiver Bruce 'Jojo' Natson replied.
Natson worked hard during the offseason to add 15 pounds to better deal with the day-to-day toll of being a college football wide receiver. Even after bulking up, Natson still measures in as the smallest player on the Aggies' 2013 team. Coming into camp at 5 foot 7 and 151 pounds, even kicker Nick Diaz has a 30-pound advantage on him.
"Still the smallest guy on the team, but with a big heart," Natson says with a smile.
Hailing from Boyd Anderson High School in the Ft. Lauderdale, Fla., area, Natson made a name for himself with his commitment to the game and by being hard to tackle. Instead of seeing his size as a liability, Natson's used it to his advantage. Big defenders have to come down to his level to try and tackle him, and by the time they do he's changed direction and is running away before they can get a hand on him. Hard-hitting Aggie safety Maurice Alexander says Natson is the guy he least likes to see coming his way with the ball in practice because he can never quite get ahold of him.
Amid wide-open battles at every wide receiver position, Natson looks to be a sure-fire bet to start as a slot receiver for the Aggies on opening day. With his speed and versatility, the sophomore gives Wells plenty of interesting options, including him occasionally lining up in the backfield.
"(Natson) is an electric player," Wells said. "He can stop and start on a dime. … You can't hem him up in a phone booth. He's playing with a lot of confidence right now. We look for him to have a great year."
Quarterback Chuckie Keeton has had no problems finding Natson during fall camp. The water bug wide receiver is a frequent target for Keeton, and for good reason. Not only is he dangerous when he gets the ball in his hands, but Wells can't remember the last time he dropped a catchable ball.
Natson, for his part, enjoys having Keeton throw the ball to him.
"Mine and Chuckie's connection is getting better and better each practice," Natson said. "Over the summer I told him, 'Now that Matt (Austin) and Chuck (Jacobs) have left, I want to be one of those go-to guys.'"
Jokes about his size have been coming in from teammates since he was the smallest kid in Pop Warner ball and, barring a very late growth spurt, aren't likely to stop anytime soon. They don't bother Natson though, as he continues to work on becoming a big-play guy for the Aggies.
"They all know that I can play, that I have heart," Natson said of his teammates. "They can trust me to make plays. They know that I can be that guy."
Kraig Williams is a 2010 Utah State University graduate and regular Deseret News sports blogger. He can be followed on Twitter @DesNewsKraig.