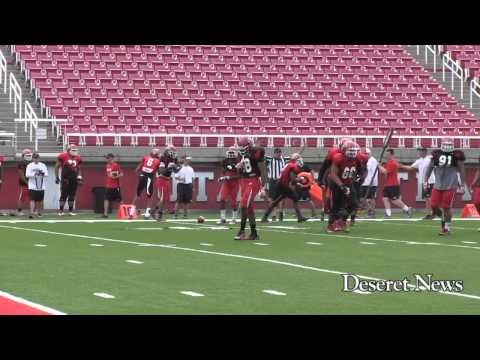 View 2 Items

Today they came out with more resolve and more focus on that and it got done.

—Utah coach Kyle Whittingham, on the team picking up its tempo
SALT LAKE CITY — A day after being criticized for not doing so consistently, the Utah Utes picked up the pace in their first fully padded practice of preseason camp.
"I think we're starting to understand the tempo aspect of it and what we're after. It's not easy to play fast," said Utah coach Kyle Whittingham. "It sounds cool ... but the bottom line is it's tough."
Besides having to be in great shape, Whittingham noted that players need to dig down and push themselves to sustain the speed of things.
"I think we're just starting to learn that and figure it out," he said.
Friday's tempo, Whittingham continued, was nowhere near good enough.
"We talked about that," he said after Saturday morning's practice at Rice-Eccles Stadium. "Today they came out with more resolve and more focus on that and it got done."
Co-offensive coordinator Dennis Erickson told reporters that things got better as practice progressed.
"It's totally opposite of what happened yesterday," he said. "But that's how football is. That's how fall camp is. You have your ups and downs."
Such is the case as the Utes work on speeding things up.
"If you're going to play fast it comes at a price. It's just not something cool to say," Whittingham said. "If you're going to do it, you are going to get tired. You've got to be willing to push yourself in practice. So when game time comes you're in shape and ready to handle it."
ROSTER ADDITIONS: The medical disqualifications of Reshawn Hooker and Moses Folauhola, along with other moves like offensive lineman Carlos Lozano's decision to leave the team, have opened up some roster spots in camp.
"We were able to call in a couple of extra walk-ons from the bullpen," said Whittingham, who mentioned three additions to the roster — former Timpview defensive end Pita Taumoepenu, former Cottonwood offensive lineman Lo Falemaka and former Brighton linebacker Alex Whittingham.
— Taumoepenu, who originally committed to BYU, has been cleared to practice and is in the process of gaining eligibility to play in games.
— Falemaka is a grayshirt who was brought in early to play.
— Whittingham is the coach's son, recently returned from an LDS Church mission. He hasn't played since injuring his knee in the first series of the opening game of his senior year in the fall of 2009.
"It's been awhile," his father acknowledged. "I love to have him on the team. He's got to earn his way like everybody else. He's going to start from square one and he's got to work his way up. It's all on him."
Whitttingham, who coached his other son Tyler at Utah from 2009-11, said Alex will be treated no different than anyone else on the team.
EXTRA POINTS: The Utes will take Sunday off and resume camp Monday with another double day. The first scrimmage is set for Tuesday. ... Senior linebacker Brian Blechen, who has been slowed by tendinitis, saw some live action in the morning. "He was better today," said Whittingham. "I've got to watch the film to make sure, but it looked like he was moving a lot better and he played more snaps today, which was a good thing." ... Whittingham said that defensive end Filipo Mokofisi is a very promising freshman. He is getting some reps with the first unit on occasion when senior Trevor Reilly is held out of live work. ... Cornerback Reggie Porter, a redshirt freshman, is a guy that Whittingham said has taken a step forward in recent days.