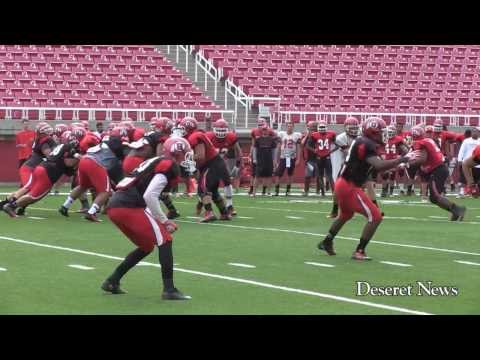 View 2 Items

You have to be physically and mentally tough. This is a very, very tough position to play. No one made anyone play quarterback. You choose to do it.

—Brian Johnson, former Utah quarterback and current Utes co-offensive coordinator
SALT LAKE CITY — So, is there a secret to starting and finishing a season as the starting quarterback at the University of Utah?
It's been a quite a while — four campaigns, to be exact — since someone has been able to do it.
And that guy — Brian Johnson — capped things off by leaving the Louisiana Superdome in New Orleans with the Most Outstanding Player trophy after leading the Utes to a 31-17 upset win over Alabama in the Sugar Bowl.
"You have to be physically and mentally tough. This is a very, very tough position to play," said Johnson, who is now Utah's co-offensive coordinator and quarterbacks coach. "No one made anyone play quarterback. You choose to do it. So I think you kind of know that going in and that just kind of goes along with the territory. But it's more about just being physically and mentally tough in my opinion."
Staying healthy, however, is the No. 1 thing.
Johnson knows it's been an issue for the Utes in recent years. It's added to the degree of difficulty over the past two seasons as the program has moved from the Mountain West Conference to the Pac-12.
"It's hard on an offense when you play multiple guys a year at that position. It's the most important position in all of sports in my opinion," Johnson said. "So to get some continuity back there and have a guy start and finish this season is definitely a goal."
And with a deep stable of young quarterbacks now in the program, the chances of having someone do it again appears to be a strong as ever. Sophomore Travis Wilson, who appeared in all 12 games last season (including the last seven as the starter), headlines a group of competitors that includes sophomore Adam Schulz and freshmen Brandon Cox, Conner Manning and Micah Thomas.
"We've got to get more consistency and overall production out of that position. We haven't had that since '08," said Utah coach Kyle Whittingham. "Since Brian Johnson was our quarterback, we haven't had a guy who has played the position how we need it played from start to finish of the season due to injuries and things that have gone on.
"We just haven't got that," he added. "We've got to get that if we're going to be any good at all."
The ongoing competition in camp, Johnson noted, is making everyone better. Whittingham said all five quarterbacks are headed in the right direction and each brings a different skill set to the table.
"We evaluate every single thing they do every day, everything is charted, it's all quantified statistically," said Whittingham. "We're doing everything we can to decide what the pecking order is going to be once we get to that point."
Right now, though, it's Wilson's job to lose as camp enters a stage of more live work. Both coaches note that he's being pressed by the others.
"It's a great competition," said Whittingham. "But, like I've said, as the days tick by we've got to start to narrow our focus and narrow the scope to who gets those reps."
Finding another quarterback like Brian Johnson, though, won't be easy. Whittingham praised Johnson's "great leadership" and decision-making, adding that the former Utah quarterback was "just a winner."
This year's group, Whittingham said, is still learning.
12
comments on this story
"They're all just sophomore and freshmen and Brian really, really came into his own his senior year. So they don't have the experience that Brian had in '08," he explained. "But they've got to do it. They've got to learn quick because one of those guys is going to be the guy."
It's a role, however, that can carry great rewards as Johnson can attest.
"There's no better feeling. (The position is) very unique in a sense that you get to experience the highest of the highs and the lowest of the lows as well," said Johnson. "It's a very unique experience and it I think it really helps you develop into a man."