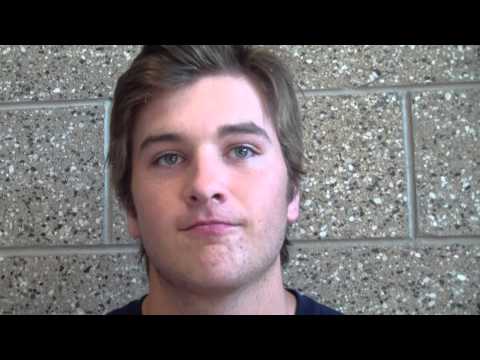 View 10 Items

OREM — Orem football has been on a steady rise since Tyler Anderson became head coach in 2011.
In Anderson's third year, the Tigers are predicated to rise to the top of newly formed Region 7.
Region coaches dubbed Orem the preseason favorite in a straw poll — a designation not familiar to a program that has lived in the long shadow of Timpview for the last decade and a half.
"We have some expectations here, but our own expectations are what matters and we feel we have a chance to be a good football team," Anderson said. "It's a tough, new region, so we're going to have to improve and strive to be better every week to win region. But that's certainly our goal."
Timpview stayed in Region 8, while Orem will take on familiar foes, such as Timpanogos and Mountain View, along with relatively unfamiliar foes, such as Olympus and Skyline, in Region 7.
"It's an interesting region and we're excited to take on some Salt Lake teams," Anderson said. "I think Skyline and Olympus are great programs. Murray has been down a bit, but they should be better. And then Corner Canyon, that's a complete unknown there. I'm just glad we're hanging on to rivalries against Timpanogos and Mountain View."
Orem simply wants to keep improving, as it's done in each year Anderson has been coaching. In 2011 it made the playoffs, and last season it made the quarterfinals before being bounced by Highland.
So, what's the next step?
"We want to get to Rice-Eccles and be there at the end. That's the goal right now," Anderson said. "I like how we've kept improving and I think we have enough guys returning in key spots that we could exceed what we've done in the last two seasons."
Nolan Gray, who led the state in receiving last season, will be front and center in Orem's spread offense, which has been one of the state's most prolific. Gray tallied a state-high 1,514 receiving yards to go along with 83 receptions and 17 touchdowns.
"Nolan is a great receiver and a team leader for us," Anderson said. "We know that if we need a play, we can get him the ball. He's a bigger guy. He's real good in the air, but he's also a lot faster than people realize. He's set to have another big year and has worked hard to improve."
Anderson cites his skill positions, particularly his wideouts, as the team's strengths and it's not just due to Gray. Parker Overly and Nic Anderson both return after productive seasons in 2012.
The big question mark on offense is at quarterback, where Anderson will have to replace Taylor Camp, who threw for 3,480 yards last season.
"Right now it looks to be Taylor's brother Tucker, who is just a junior, but he's looked real good working out and he's learning the offense really well," Anderson said. "We haven't completely decided who will start yet, but I think Tucker is doing well and I'm confident he can be the guy."
"We feel comfortable with Tucker and we're confident he's going to be the guy," said Gray. "We have a great group of receivers, a great running back and a solid offensive line, so yeah, we're ready to go and I think we could have a real good year and make a run for the championship."
On defense the Tigers look strong up front, but have some question marks in the secondary.
"That's probably the biggest concern for us right now," Anderson said. "We need to find guys to step up and play really well at defensive back. I like our front seven, and I'm comfortable there, so if we can get good play from our defensive backs it will go a long way."
Orem Tigers at a glance
Coach: Tyler Anderson enters his third year as head coach, where he's compiled a 13-10 overall record. He previously coached at Harmony High in Florida for four years, compiling a 23-24 record. Before that he was a head coach at Tooele from 2000-03, finishing with a 28-17 record and leading Tooele to a state title in 2002.
Offense
(7 returning starters; spread)
It's not just stellar receivers that make up Orem's potent offense. The Tigers return a promising running back and some very good strength along their offensive front.
"I like our line a lot and we have some good returning talent there with three guys coming back," Anderson said. "We have James Wadsworth at running back, who started for us last year as a sophomore, so we like the potential we have to run the ball and you obviously need a solid offensive line and we think we'll have that."
Defense
(6 returning starters; 4-3)
Orem's expected strength along its front seven should play well against run-heavy foes like Olympus and Skyline in region.
"We have guys like Alfeleti (Tuuhetaufa) and some others on defensive line who will be real solid," Anderson said. "Austin McGiven will be our leader at linebacker, but we return all three linebackers, so that will be a strength."
Coaches preseason Region 7 straw poll: First
Deseret News Region 7 prediction: First
Bottom line: Orem seems poised to make a deep run in the state playoffs and should take Region 7 — if Tucker Camp can prove an adequate replacement for his brother Taylor at quarterback.
Depth will be a concern for the Tigers, but if they stay relatively healthy, fans can possibly expect to attend games at Rice-Eccles Stadium in November.
Orem coaching history
2011-current — Tyler Anderson (13-10)
2002-2010 — Bob Steele (48-52)
2000-2001 — Alex Jacobson (15-8)
1989-1999 — Paul Clark (74-39)
1985-1988 — Thomas Rabb (31-11)
1980-1984 — Steve Downey (27-22)
1977-1979 — (unknown) (21-11)
1971-1976 — Tom Molen (33-23-2)
1969-1970 — Charlie Dine (17-5-2)
1954-1968 — Udell Westover (105-31-5)
1949-1953 — Glenn Zimmerman (27-13-1)
1929-1948 — Don "Sanky" Dixon (56-48-11)
.....
Deseret News First Team all-staters the past 10 years
2012 — Nolan Gray, WR
2011 — Cole Payne, WR
2008 — Jordan Egbert, TE
2007 — Tucker Lamb, LB
2006 — Tom Steele, LB
2006 — Nate Killpack, K
2005 — Ryan Freeman, OL
2005 — Zeke Wily, DL
2004 — Ryan Freeman, OL
2003 — Mark Freeman, OL
To view second team and honorable mention all-staters through the years, check out the Deseret News All-State Archives.