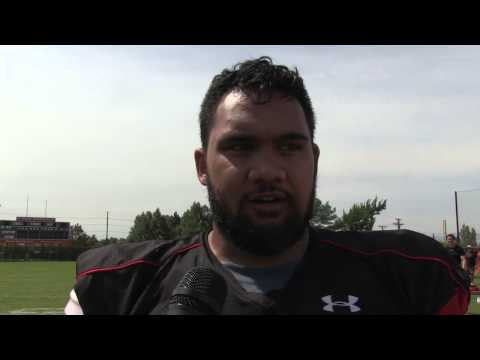 View 3 Items

Tenny's really good. He's just as good as Star ... Star and I were close and I love him, but Tenny can bring the force with him.

—Utes DE Nate Orchard
SALT LAKE CITY — Utah defensive tackle Tenny Palepoi draws some pretty high praise from defensive end Nate Orchard. He compares Palepoi to former teammate Star Lotulelei.
"Tenny's really good. He's just as good as Star," Orchard said. "Star and I were close and I love him, but Tenny can bring the force with him."
Now that Lotulelei has moved on to the NFL's Carolina Panthers, Palepoi has stepped into the spotlight on Utah's defensive line. The former Skyline High and Snow College standout is poised for a big senior year with the Utes.
While noting that Orchard's comments about Palepoi represent a "bold statement," Utah coach Kyle Whittingham said that the 6-foot-2, 300-pound lineman is a very good player who had an excellent spring. He's trained hard and made himself into a "much more physical and in-shape guy" since arriving on campus in 2012.
Palepoi appeared in all 12 games last season (starting two) and made 21 tackles with two sacks. His role is expected to increase dramatically this year.
"Star Lotulelei is a great player, and if Tenny can become that type of player then that's going to be good for us," Whittingham said.
Palepoi readily accepts the challenge of trying to set the tone up front.
"I try to lead by example, especially being an interior guy," he said.
And it's all about disrupting opposing offenses.
"That's something that he did a lot every game," Palepoi said. "And so I'm just trying to do the same thing."
As has been the case for the past several years, Utah's defensive line has found a way to reload. Palepoi noted that the Utes have a lot of depth at the position with ones, twos and threes all working into the rotation.
Those topping the depth chart early in camp include Palepoi at one tackle spot with senior LT Tuipulotu and junior Ses Ianu battling for the other starting position. Orchard, senior Trevor Reilly and sophomore Jason Whittingham lead the cast at defensive end, where a vacancy was left by Joe Kruger's early departure to the NFL.
Despite it all, Orchard is confident Utah's defensive line can be "just as good or better" than last season.
"We have skill all over the place," he said.
7
comments on this story
The current depth chart includes sophomore Viliseni Fauonuku and freshman Stevie Tu'ikolovatu at tackle, as well as senior Thretton Palamo and redshirt freshman Hunter Dimick on the ends.
Like Orchard, Palepoi also sees a bright future along the defensive line. The key, he explained, is shortening the learning curve for the younger guys. And that is something the Utes are working on.
"We're going to be all right," said Palepoi, who believes everything will be in place well ahead of Utah's Aug. 29 season opener against Utah State. "It'll be ready, more than ready."
Email: dirk@desnews.com
Twitter:@DirkFacer