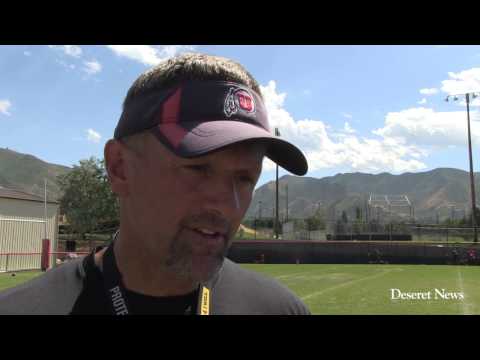 View 2 Items

I don't care when football ends for you — whether it's after high school, after college or after 10 years in the NFL — it's tough for everybody when it ends.

—Kyle Whittingham, Utah football coach
SALT LAKE CITY — Utah coach Kyle Whittingham acknowledged that it's always tough to have a player disqualified medically. On Thursday, the Utes lost two — sophomore safety/linebacker Reshawn Hooker and redshirt freshman defensive end Moses Folauhola.
"I don't care when football ends for you — whether it's after high school, after college or after 10 years in the NFL — it's tough for everybody when it ends," Whittingham said. "(It's) particulary tough when you've got a kid who had so much potential and had so much going for him and then just to have it taken away. But you've got to move forward."
Hooker entered camp on the depth chart at stud linebacker but was moved to safety and was making progress before suffering a concussion. Multiple concussions led to his forced retirement as a player. Folauhola was sidelined for a non-concussion related ailment.
Not being able to be on the field, Whittingham noted, is hard on the player, their parents and everybody.
"But the positive is they're still going to get their education paid for and that's the main reason they are here is to get the education paid for," Whittingham said. "They both plan on staying in school and finishing their degrees, which is the ultimate objective."
Clarence Smith, a defensive back from Arizona who was going to "grayshirt" and enroll in January, is replacing Hooker on the roster. Whittingham said they'll probably bring someone else in over the next couple of days to replace Folauhola.
READY OR NOT: The Utes have their first double day of camp on Saturday. They'll practice with full gear in the morning and helmets and shorts later in the day.
When asked if the team was ready, Whittingham said it has to be.
"There's no choice," he replied, adding that camp must move forward.
After Friday's practice, Whittingham said that the newness of being on the field has worn off and that the "dog days" of camp have arrived.
Improving the tempo of the offense will be an area of focus. Whittingham and the staff weren't happy with the pace in live-action work. Whittingham called it the most disappointing aspect of Friday's practice.
ABOUT BYU: When asked about the BYU uniform situation and the use of "Honor," "Spirit" and "Tradition" on the back instead of names for homecoming, Whittingham wasn't up to speed about the happenings at his alma mater.
"What uniform thing?" he responded before a reporter explained what the Cougars have planned. "Whatever floats their boat. I don't pay attention to that."
Whittingham then added a "no comment" with an accompanying: "I have absolutely no interest in that."
Email: dirk@desnews.com
Twitter: @DirkFacer