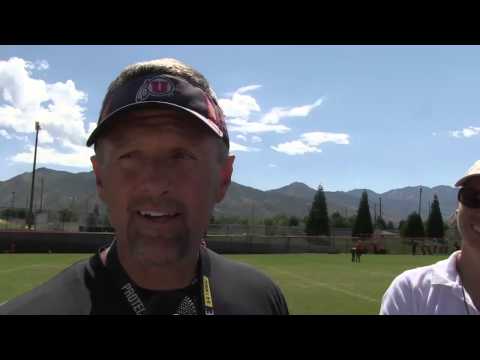 View 2 Items

Whatever floats their boat.

—Kyle Whittingham, Utah football coach
SALT LAKE CITY — Utah head football coach Kyle Whittingham didn't have much to say about BYU's jerseys when asked about it at camp on Friday, mainly because he hadn't heard of what happened.
When asked about the proposition of removing the BYU players' names from the jerseys, Whittingham said he hadn't heard anything about what had gone on in Provo. He said lots of teams remove names from jerseys, offering a flat "Whatever floats their boat."
As reporters explained that player names would have been replaced by the words "Tradition," "Spirit" and "Honor," Whittingham listened intently. He then declined to comment on the matter, saying, "OK. No comment on that. I have absolutely no interest in that."
After BYU announced Thursday afternoon that player names would be replaced for the entire 2013 season, fans, media and players, former and current, widely criticized the decision. Less than six hours later, BYU announced player names would be replaced for the homecoming game only on Oct. 12.
Whittingham graduated from BYU in 1981 as a linebacker. He went on to play in the USFL for two seasons and was part of the L.A. Rams replacement team in 1987. He was hired as Utah's coach in 2005 following the departure of Urban Meyer to Florida.
Landon Hemsley is the sports web producer for DeseretNews.com. Email: lhemsley@deseretnews.com. Twitter.com/EarlOfHemsley