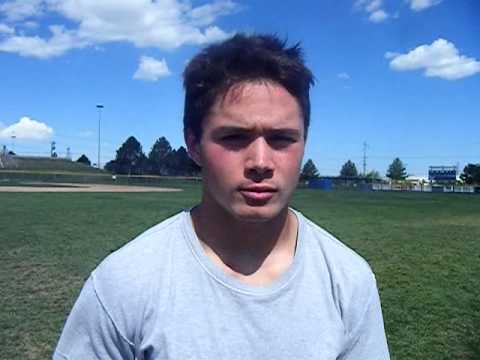 View 12 Items


There were a lot of things that weren't carried on after Wes Wilcken left. This school has a great football tradition. When everybody thinks of Hunter High, they think of a tough football team.

—Hunter coach Scott Henderson
WEST VALLEY CITY — As the fourth coach in three years to lead the Hunter football team, Scott Henderson's first order of business wasn't conditioning, player positions or offensive schemes.
It was building trust.
The longtime prep coach had just a few months to convince the teenagers that they should commit to him because he planned to be their leader for the long haul.
While he reassured them verbally, he believes it was his actions that convinced the boys to believe in him. Both players and coach said that trust allowed them to have a much better season than anyone expected with a 7-3 record and a region title.
He comes early, stays late and shows up every day — even when they don't.
"I'm here to stay," he said. "I love hunger. I'm just glad to be here, and I'm blessed to be here. I'm here 12 to 15 hours a day."
Henderson is anywhere and everywhere Hunter football is, including Little League games, but he also preaches that the players need to take the discipline they learn on the field into their homes, classrooms and the community.
"If you make bad choices, you will get caught," he said. "It's just a matter of when. Nobody gets away with anything. You know within yourself as a human being whether you're doing right or wrong. If you make great choices, you'll have great responses."
His efforts, his presence has built a bond between him and the players. That trust has allowed him to begin to do what everyone at the school, in the community and on the team hoped he would do.
"It's about re-establishing the tradition here at Hunter," he said. "There were a lot of things that weren't carried on after Wes Wilcken left. This school has a great football tradition. When everybody thinks of Hunter High, they think of a tough football team."
The players grow up dreaming of the day they become part of that tradition.
"We're bringing back smash-mouth football to Hunter," said senior defensive end and right tackle Riley Mulitalo. "We're returning Hunter back to it's real tradition, and that's pounding it down everybody's throats."
Nathan Uhi, a senior defensive back and running back, said the tradition is back and this year the goals are higher. "We're just going to try and stay humble and stay hungry," he said.
Despite their success in the regular season, both coach and players said they still have something to prove this year.
"After last year's early departure from the playoffs, we have a sense of unfinished business," said Henderson. "That next week after the playoffs, the kids were in the weight room and you could see it."
The players said their biggest regret is getting too comfortable with success. This year, they said, they won't make that same mistake.
"I think we could have choked right there at that last game," said Tavita Taluteoli, a sophomore left tackle and nose guard. "I think we could have had Fremont."
Added senior offensive lineman and fullback Bishop Le'I, "We took Fremont too lightly, and we got it handed to us."
Senior defensive back and running back Valu Rupu said the team can accomplish its goals by not taking anything for granted — not even the next play.
"We need to come out here every day at practice and compete," Rupu said. "We need to play every play like it's our last."
Wolverines at a glance
Coach: Scott Henderson starts his second year this fall and earned a 7-3 title in his first season. He's coached football for 18 years, including as an assistant in 2004 when Hunter won the 5A state title. He's a graduate of Cedar and SUU.
Offense (7 returners; Power I offense)
Hunter is smaller on the line than it's been in years. But Henderson said speed and athleticism will make up for lack of size. The Wolverines plan to stick to their roots and run the ball a lot, and with a stable of talented, tough running backs, they will be very good at it. Nathan Uhi, Sione Lapuhao, Bishop Le'I, Himinai Tausinga and Valu Rupu will play various roles in the running game. Senior Stone Togiai will lead the team's offense at quarterback, and he'll look for his brother, Noah, at tight end.
Defense (5 returners)
Many of the key players on offense will make noise on Hunter's defense. This is where the team's toughness will show. The defense is led by senior defensive end Riley Mulitalo, senior defensive end Sione Lapuhao and sophomore nose guard Tavita Taluteoli.
Coaches preseason Region 2 straw poll: 1
Deseret News Region 2 prediction: 2
Bottom line
The Wolverines are smaller but believe athleticism, speed and toughness will make up for the loss in girth. Line play will be key for the team as the ability to move the ball on the ground is the team's bread and butter. They may not be flashy, but Henderson has convinced the players that the ground game is glamorous. Hunter will contend for the region title again this season.
Hunter coaching history
2012-current — Scott Henderson (7-3)
2011 — Les Hamilton (3-7)
2008-2010 — Dustin Pearce (19-15)
1999-2007 — Wes Wilcken (67-32)
1994-1998 — John Lambourne (40-15)
1990-1993 — Mike Fraser (18-13)
Deseret News Mr. Football recipients
2003 — Ray Feinga, OL
1998 — David Fiefia, RB
Deseret News MVPs the past 10 years
2003 — Tauni Vakapuna, RB
Deseret News First Team All-Staters the past 10 years
2010 — Ului Lapuaho, OL
2009 — Laau Tanuvasa, RB
2006 — Ray Mulitalo, DL
2005 — Pauli Latu, DL
2005 — Soni Sotele, SP
2004 — Matt Asiata, RB
2003 — Ron Tongaonevai, OL
2003 — Ben Ama, DL
2003 — Travis Judd, LB
To view second team and honorable mention All-Staters through the years, check out the Deseret News All-State Archives.
Twitter: adonsports
Email: adonaldson@deseretnews.com