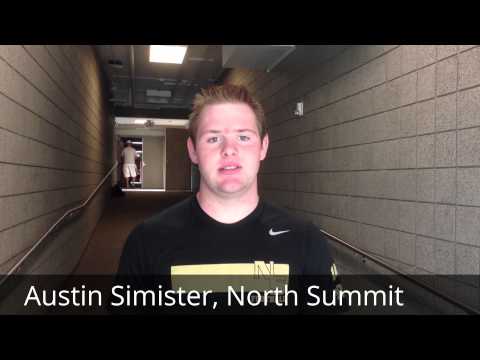 View 11 Items

COALVILLE — This is a big school year for North Summit High School.
The North Summit School District is celebrating its 100-year anniversary in 2013, and many festivities are planned, including numerous homecoming events leading up to a Sept. 6 game against Gunnison.
Those on the football team know a performance similar to last season just isn't good enough for a centennial celebration.
"Our kids are very aware," said North Summit coach Devin Smith.
Even though the school has been around for 100 years, this season marks the 87th year for the football team. It has a very proud tradition with seven state championships — including two as recently as 2007 and 2008 — and 21 region championships.
Last year, however, the program dealt with significant injuries throughout the year and posted a disappointing 2-8 record.
"It was way disappointing. I wish we could've done better, but this year is going to be much better," said North Summit's Austin Simister.
Things began to unravel early for the Braves, who didn't have much depth to begin with. In the first quarter of last year's opener with Beaver, starting quarterback Ben Stephens was knocked out of the game with a broken thumb. Stephens was able to return two weeks later, but only as a running back.
The injury thrust sophomore Ryan McMichael into the starting QB role the rest of the season, and it was an overwhelming experience early on. In his first two games he complete just 5 of 23 passes for 45 yards. He got better as the year wore on, and North Summit should benefit from that experience in 2013.
"Ryan McMichael is a hard worker, does whatever is asked of him. He's a good athlete, and even though he'll only be a junior, he's emerging as a real good leader. He can throw it; he can run the option," said Smith.
Even though McMichael is one of only three offensive returning starters, Smith said the offense needs to find a way to be more efficient this season.
"There were times we would do a fairly good job on defense, but we couldn't get anything going on offense, and eventually our defense would wear out," said Smith.
North Summit will try some different looks out of a triple-option offense to increase that efficiency, along with throwing the ball more with McMichael.
Cason DeForest may ultimately emerge as McMichael's receiver of choice as he's a big target that defenses will have a difficult time defending.
If the offense improves as the coaching staff hopes, North Summit could be a contender in 2A. Manti and Emery have been bumped up to 3A, and they've been replaced in the 2A North region by American Leadership, Layton Christian and Summit Academy. With Gunnison returning very little in the way of experience, North Summit will likely be favored in every region game except against South Summit and Millard.
"(Realignment) creates more of an equal playing field as far as enrollments in schools. Wherever they tell us we're going to play we're going to line up and play and give them our best shot, but just as far as numbers it's much more manageable when you take the Mantis out," said Smith.
Buoyed by small but strong junior and senior classes, Smith is counting on a bounce-back year worthy of a centennial celebration.
North Summit Braves at a glance
Coach: Devin Smith is entering his third season as head coach at his alma mater, and he's put together an 8-13 record in his first two seasons.
Offense
(3 returning starters; Triple option)
North Summit ranked near the bottom of 2A in scoring offense, but the team is confident in a bounce-back season. Seniors Austin Simister and Brenz Staples are returning starters on the offensive line, and coach Smith believes he has quality players to surround them with. QB Ryan McMichael is the team's other returning starter. Trevor Hale was a starter at linebacker last year and part-timer on offense, carrying the ball 40 times for 188 yards. This year he'll take on a much larger roll at fullback. Carson Richins will also get plenty of carries at running back. Several other skill-position players who focused exclusively on basketball last season should help improve the team's depth.
Defense
(3 returning starters)
North Summit surrendered 30 ppg last season, which led the coaching staff to change defenses in the offseason. Coach Smith believes once all the kinks are worked out, the Braves will be a much better defensive team. Staples and Simister are returning starters on the defensive line, while Robert Anderson and Hayden Lewis also expect to make increased contributions on the line. Juniors Baltazar Martinez and Jason Lowe could emerge as strong outside linebackers to complement Hale. Richins played a fair amount at linebacker last year, but he's shifting to safety this season.
Coaches preseason 2A North straw poll: Third
Deseret News 2A North prediction: Third
Bottom line: If North Summit can stay healthy, a strong bounce-back season is inevitable, especially in the new region. Much of that potential falls on the shoulders of quarterback Ryan McMichael. He took his lumps as a sophomore last year, but big things are expected this season. If North Summit plays to its potential, it could easily finish third in the 2A North region, but an upset of either South Summit or Millard and a potential top-two finish in league will be difficult to attain.
North Summit coaching history
2011-current — Devin Smith (8-13)
2000-2010 — Jerre Holmes (74-53)
1999 — Steve Carlsen (1-8)
1995-1998 — Earl Blonquist (13-27)
1994 — Travis Crittenden (3-6)
1993 — Van Hutchinson (8-3)
1987-1992 — Rick Harrison (48-20)
1985-1986 — Earl Blonquist (5-15)
1983-1984 — Bill Brown (10-11)
1982 — Scott Summers (2-7)
1969-1981 — Earl Blonquist (99-44-3)
1962-1968 — Ernest Jacklin (37-26-5)
1958-1961 — Raynor Pearce (12-18)
1957 — Bob Sanchez (5-2-1)
1953-1956 — Benny Kilpack (20-13-3)
1952 — Ken Bearden (1-6)
1951 — unknown (1-6)
1950 — Don Snow (1-5-2)
1949 — Ralph Olsen (1-7)
1948 — Floyd Biddolph (0-6)
1946-1947 — unknown (5-6-1)
1945 — Ed Jensen (5-3)
1931-1947 — unknown (41-49)
1930 — "Silky" Knudsen (4-2-1)
1926-1929 — unknown (13-14-2)
.....
Deseret News MVPs the past 10 years
2008 — Deven Holmes, QB
2007 — Dallin Donaldson, RB/DB
Deseret News First Team all-staters the past 10 years
2012 — Ben Stephsn, RB/DB
2011 — Braden Brown, RB/DB
2010 — Courtney Orgill, RB/LB
2008 — Caden Richins, TE/DE
2008 — Colby Richins, RB/DE
2008 — Wyatt Richins, OL/DL
2008 — Stevin Sommerville, RB/LB
2008 — Bryer Trussell, WR/DB
2007 — Caleb Adams, FB/DL
2007 — Deven Holmes, QB
2007 — Colby Richins, LB
2007 — Drew Robinson, TE/DE
2007 — Chandler Woolstenhulme, LB/OT
2006 — Dallin Donaldson, RB/DB
2006 — Kamren Garfield, QB/DB
2006 — Nathaniel Richins, RB/DB
2004 — Curtis Louder, RB
2004 — Grant Stoddard, OL
2004 — Justin Bagnell, LB
2003 — Ben Morrill, DB
To view second team and honorable mention all-staters through the years, check out the Deseret News All-State Archives.
Follow Deseret News prep editor James Edward on Twitter @DNewsPreps