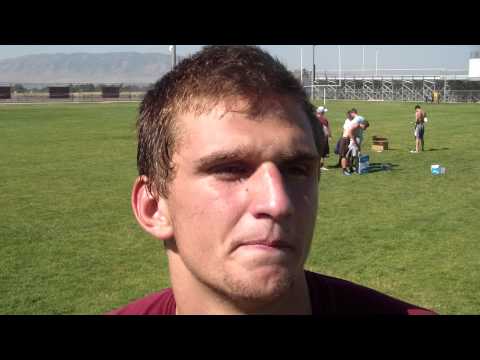 View 11 Items

HIGHLAND — It's a new season and there's a new coach in town, but the expectations for the Lone Peak Knights remain the same.
New head coach Mike Mower inherits one of the state's hottest programs, which is just two years removed from winning a state championship. Expectations run high at Lone Peak, as evidenced by region coaches picking the Knights to finish first in a league straw poll.
"It's not an easy thing to take over for a great coach like Tony McGeary and try and maintain what he built and maybe even improve on it a bit," Mower said. "Coach McGeary did so much for this program and it's a tough responsibility to follow him up — that's for sure. But I love the challenge and I love the opportunity."
McGeary resigned in the offseason amid allegations of rules violations, and the reins were turned over to Mower, who had been serving as defensive coordinator at Lone Peak. Having coached under McGeary and being intimately familiar with the program obviously has been beneficial.
"You couldn't ask for a better coach to learn from," Mower said. "Everything I need to do to keep this program playing great football — it's all been done before and I've been able to see it."
While players miss McGeary, they're thankful Mower is the one replacing him.
"Coach Mower is just one of the coolest guys — he was one of my favorite coaches last year because he's always upbeat and he just loves the game of football," said quarterback Baron Gajkowski. "I don't think you could have a better quality in a coach. He just loves the game."
Lone Peak will rely heavily on Gajkowski, who proved to be one of the more electrifying playmakers in the state last season. As a junior Gajkowski ran for 1,155 yards and 13 touchdowns along while throwing for 2,204 yards and 19 touchdowns.
His production and play earned him the nickname "Little Chase" in honor of Chase Hansen, who was named Mr. Football by the Deseret News in 2011.
"Baron is everything you'd want in a quarterback and I wouldn't trade him for anyone in the state," said Mower. "I really can't say enough about the kid and how he handles himself both on and off the field. He's exactly the type of player and the type of person you want leading your team. Having players like Baron in the program — well, it's just a huge blessing for me as a coach."
Gajkowski will make due without many of the playmakers who starred last season, but the cupboard certainly isn't bare. The program returns at least three starting offensive linemen from last year and some promising talent at both receiver and running back.
"You can't replace a talent like Talon Shumway and the other guys that were here, but we have several kids who have good hands and who run good routes," Mower said. "Baron was obviously our best runner last season, but we need to find another guy to take some of the pressure of running off him and to augment his skills."
Lone Peak has traditionally had a prolific offense, and Mower isn't too concerned about offensive production this season with Gajkowski at the helm. Defense, however, is an area where the team needs to get better.
"That's really been the focus for us early on," Mower said. "We simply need to be a better defensive team than we've been the last couple of years. We want a new enthusiasm on that side of the ball and we're focused on getting fundamentally better."
The heart of the defense looks to be the D-line, which returns talents like Austin Kruger and Daniel Auelua.
"It's important to be strong up front on both offense and on defense and we think we will be," Mower said. "The defense has been through a lot of changes lately, but I think we have a good system in place and I'm expecting strides there this year."
Making strides in Region 4 won't be easy and Mower knows his team will have to bring it every week to match its lofty preseason expectations.
"The new teams coming in — Westlake and Herriman — are going to fit right in with the tough teams we have every year here in region," Mower said. "I expect Pleasant Grove to be really good. American Fork is tough. Riverton is always tough. And then you have Lehi. I believe Lehi is going to be as good as they've ever been, so it's definitely going to be a challenge every week in this region."
Lone Peak Knights at a glance
Coach: Before becoming head coach, Mike Mower served as an assistant at Lone Peak for three years. He previously coached at American Fork for 23 seasons.
Offense
(5 returning starters; spread)
Mower and offensive coordinator Gary Sheide have something new in store for defenses this season, but they're being careful not to tip their hands.
"It's all about augmenting our running game to take pressure off of Baron (Gajkowski), but that's all I'm going to say," Mower said. "We're excited about some of the new things we're doing, but yes, we're obviously going to rely heavily on Baron. How couldn't you rely on such a great talent?"
Defense
(5 returning starters; 4-3)
Lone Peak will feature a solid defensive front, but also looks strong in the backfield. Much is expected from Matt Criddle, who will play at one corner position.
"Matt has worked hard and is one of the leaders on defense for us," Mower said. "He has very good speed and we maybe want to use that speed a bit on offense as well to stretch the field. Linebacker is a concern, but we have some guys we feel will step up and replace some of the great players we had there last season."
Coaches preseason Region 4 straw poll: First
Deseret News Region 4 prediction: First
Bottom line: Chase Hansen led Lone Peak to a state championship in 2011 and now Gajkowski will attempt to do the same. It won't be easy, as it will be a huge challenge to replace the talent Lone Peak lost at receiver. With an offensive line and defensive line that both look solid, the season will likely rest on how effective the receivers and other skill-position players prove to be. Should the team match last year's production in these areas, a run for a state championship is very realistic.
Lone Peak coaching history
2013 — Mike Mower (0-0)
2008-2012 — Tony McGeary (51-13)
1997-2007 — Monte Morgan (86-51)
....
Deseret News Mr. Football recipients
2011 — Chase Hansen, QB
Deseret News First Team all-staters the past 10 years
2012 — Talon Shumway, WR
2012 — Josh Buck, LB
2011 — Connor Humphrey, WR
2011 — Curtis Taufa, LB
2011 — Micah Hannemann, DB
2011 — Zach Saunders, SP
2009 — Kyson Flake, LB
2006 — Preston Yates, OL
2005 — Jordan Stephan, DB
2004 — Mavrick Auelua, DL
2004 — Doug Mulliner, Lb
2004 — Jason Long, DB
2003 — Jared Hamilton, DL
2003 — Michael Jensen, DB
To view second team and honorable mention all-staters through the years, check out the Deseret News All-State Archives.