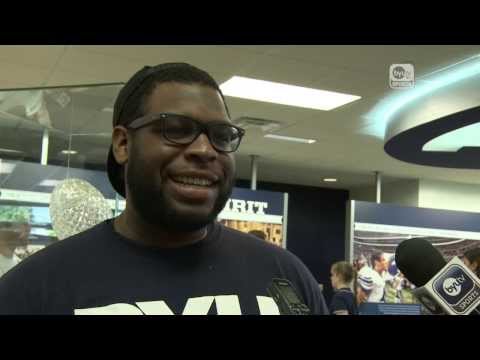 View 2 Items

I want to help the defense and that's my motivation, more than anything. After spring I sort of made a pact with Tuni (Kanuch) and we decided that we were going to go 100 percent in everything and that's what we're trying to do this fall.

—BYU defensive tackle Marques Johnson
PROVO — Following spring practices, BYU defensive lineman Marques Johnson was taken to task.
He's since responded.
The 6-foot-2, 308-pound junior has been one of the better stories so far this August during fall camp, and has the inside track to start at the critical nose tackle position this season.
Johnson's performance comes on the heels of an unspectacular spring that left coaches fretting about the position. Throughout media day, coaches and players voiced concern about finding an effective replacement for graduated defensive tackle Romney Fuga.
At the time, they offered few insights about whom that replacement would be.
Enter Johnson, who apparently listened to his position coach about working extremely hard during the offseason.
"We simply told Marques, like we do all our players, where they stand and what we'd like to see them improve after spring," said defensive line coach Steve Kaufusi. "You never know how they'll respond. You can't force them. You just tell them and hope for the best. Fortunately Marques — well, he responded and he's looking good."
Johnson has seen the vast majority of first-team reps at nose tackle during fall practices and doesn't have plans to let go of his starting spot any time soon.
"I want to help the defense and that's my motivation, more than anything," Johnson said. "After spring I sort of made a pact with Tuni (Kanuch) and we decided that we were going to go 100 percent in everything and that's what we're trying to do this fall."
Johnson is a junior college transfer who, unlike a lot of JC transfers, didn't compete for a spot immediately. Injuries and some acclimation kept him in the background — unable to contribute like he wanted.
Johnson admits to perhaps not working as hard as he could have in the past. But now, with a clear goal in mind, he's working as hard as ever.
"I want to be there for Eathyn (Manumaleuna) most of all and let him play defensive end, which is where he wants to play, and where he'll be best for us," Johnson said. "I want to do it for the coaches, all my teammates and just for the program. I love it here at BYU and I want to give back. That's my motivation."
FALLING BEHIND: A big frustration for Kaufusi, and the other defensive coaches, has been a rash of minor injuries that have kept Kalolo Utu, JonRyheem Peoples and Kanuch on the sidelines.
"We're going to need a lot of guys there competing and all of those guys are now behind Marques at nose tackle," Kaufusi said. "I want to get them out there, see what they can do, but I can't yet. Yes, it's very frustrating, but it is what it is."
Second-team reps at tackle have largely gone to true freshman Merrill Taliauli so far this fall.
SORTING OUT THE END POSITIONS: With Manumaleuna appearing set to take one defensive end position and Bronson Kaufusi the other, coaches are now intent on finding effective backup options. First on the list appears to be sophomore Remington Peck.
"Remington understands the position," Kaufusi said. "He's improved since he's been here and he'll help us this year and he helped us last year. He still needs to work on getting a little strength, but he's reliable."
Other end options include Theodore King and converted tight end Austin Holt, who recorded a sack during Wednesday's practice.
"Austin just needs to work on his leg strength and get used to the position," Kaufusi said. "(King) didn't have a good spring, so he just needs to show us and prove to us that he can be counted on. He needs to be more physical and he is showing the desire to work hard this fall, so I think it will come."
As for his son, Bronson, who has received a large amount of hype this spring, Kaufusi quipped, with a smile, "He just needs to shut up and go to work. He's excited and he's ready, but yeah, just stay healthy, keep on working and he's going to be fine. He hasn't done much out there yet and he knows it, but ... let's just say he has the potential to be really good."
Email: bgurney@desnews.com
Twitter: @BrandonCGurney