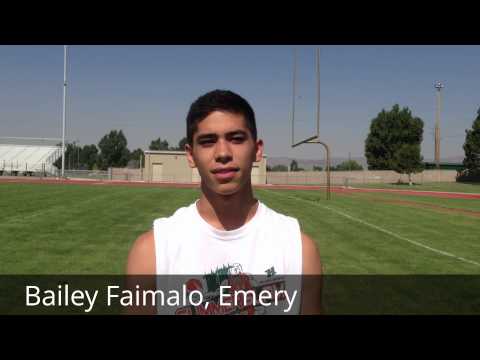 View 16 Items

Note: Emery finished with a 7-4 overall record in 2012 and was fourth in 2A North with a 4-3 record. It lost to San Juan 56-13 in the 2A quarterfinals.
2012 Emery Spartans statistical recap
EMERY — There will always be challenges for 2A teams jumping to 3A, but for Emery, the circumstances this season couldn't be better to take that leap.
After back-to-back seasons of starting primarily sophomores in 2011 and then juniors in 2012, Emery is loaded with talent and varsity experience as it embarks on the new challenges that await in the 3A North region.
"We have a lot of experience, and I think the kids for the most part know what they're doing," said Emery coach Jim Jones.
For the Spartans, they're hoping that experience makes a difference in closing games out this season.
Emery lost four games last year to arguably the four best teams in 2A: Manti, South Summit, San Juan and Millard. In three of those four games it either led or was tied at the half.
In Week 3, Emery led eventual 2A champion Manti 14-0 at halftime but lost 15-14.
In Week 6 it was tied with Millard 14-14 at the half but fell apart in the second half and lost 41-21.
In Week 8 the Spartans led South Summit 27-20 early in the third quarter but again collapsed in the second half and lost 55-34.
"We were really good last year, but still a bit young and we got wore down as the year went on," said Jones. "We had a hard time stopping some of the better teams physically, but I think the added year of maturity with these kids I'm banking on to be the difference."
Defensively is where Jones hopes the added year of maturity makes the biggest difference.
"For us, defensively going into this year, we have to be able to stop the run. We have to be more physical. We have to be more aggressive," said Jones.
With seven returning starters on defense — including the entire defensive line — there's no reason Emery shouldn't be better on that side of the ball. If that's indeed the case, coach Jones' team should have no problem competing in 3A because it can move the football.
Last year Emery averaged 35 points per game, and eight of those offensive starters are returning, including the entire offensive line.
The Spartans must replace quarterback Spencer Labrum, but senior Bailey Faimalo might end up being an upgrade. He has solid athleticism and leadership abilities.
Faimalo played receiver last year and hauled in 20 catches for 344 yards and six TDs. All growing up through, Faimalo played QB.
"He's a pretty athletic kid, so we're excited to see what he can do at quarterback," said Jones. "He's a playmaker — that's his big strength. He's a basketball player; he's a point guard. He makes things happen. He has a good arm; he throws the ball well."
Emery must also replace leading rusher David Dyer (837 yards), but between Jared Shakespeare, Marco Mota and Tanner Lake — who combined for 1,563 yards and 24 TDs in 2012 — that shouldn't be a problem.
Emery Spartans at a glance
Coach: Jim Jones is in his second stint as Emery's head coach. His second stint began in 2006 and he's amassed a 39-38 record in those seven seasons. His all-time record in 25 years is 164-111. Jones is a graduate of San Juan High School.
Offense
(8 returning starters; Jet offense)
Any coach would be thrilled to have five returning starters on the offensive line, and that's exactly what Emery has in 2013. Duncan Thomas and Zac West are the leaders of the group, while Derrick Dawes, Slayde Childs and Carson Healy are all really good too. The Spartans averaged 35 points behind that offensive line last year, and new quarterback Bailey Faimalo hopes to continue that productivity this season.
Defense
(7 returning starters)
The same five starters who return on the offensive line are also returning contributors on the defense. Stopping the run wasn't really Emery's strong suit last year, but that will need to change for the Spartans to compete against increased competition in 3A. Childs was the leading tackler among the group last year, and even bigger things are expected this year. Emery must replace the bulk of its linebacking corps from a year ago, but with Dawes and Marco Mota, it has a good foundation to build from.
Coaches preseason 3A North straw poll: Fifth
Deseret News 3A North prediction: Fourth
Bottom line: With the same core of players the past two years, Emery has improved each season. Regardless of the jump to 3A, that trend should continue this season as the team leans heavily on a great group of returning starters. Three of Emery's first four games are on the road, but all are winnable. Week 5 will be the ultimate measuring stick for this team when it hosts 3A's top-ranked team, Morgan. That game will likely set the tone for the rest of the season, which Emery hopes ultimately results in a playoff berth.
Emery coaching history
2006-Current — Jim Jones (second stint, 39-38)
2003-2005 — Kevin Reynolds (5-26)
1987-2002 — Jim Jones (106-63)
1985-1986 — Greg Cook (10-10)
1983-1984 — Dean Nelson (3-15)
1978-1982 — Layne Moody (13-34)
1976-1977 — Unknown (4-16)
1974-1975 — Paul Clark (6-12)
1972-1973 — Bob Steele (1-16)
1971 — Unknown (6-3)
1970 — Stilson (8-3)
1967-1969 — Unknown (15-13)
1965-1966 — Ray Butcher (8-8)
1963-1964 — Douglas Hunt (8-9)
Deseret News First Team all-staters the past 10 years
2012 — David Dyer, RB/LB
2011 — Cory Cox, RB/LB
2007 — Wade Bohn, OL
To view second team and honorable mention all-staters through the years, check out the Deseret News All-State Archives.
Follow Deseret News prep editor James Edward on Twitter @DNewsPreps