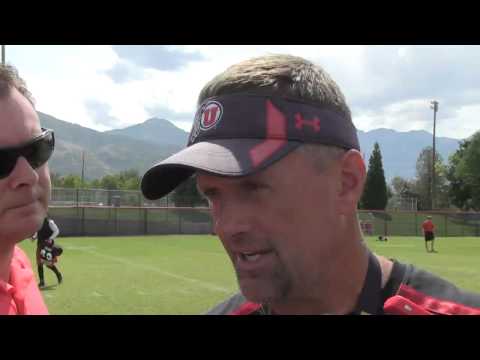 View 3 Items


SALT LAKE CITY — Multiple concussions have ended the playing career of Utah sophomore Reshawn Hooker. The latest injury occurred Wednesday as Hooker was making progress after making a position switch from linebacker to strong safety.
Hooker opened training camp as the backup to Brian Blechen on the depth chart at stud linebacker. However, uncertainty about junior college transfer Tevin Carter's academic status prompted a position switch for Hooker.
Injuries limited Hooker to three games last season as a freshman. He made 14 tackles, including six in his collegiate debut against USC.
The 6-foot, 220-pounder from Fontana, Calif., plans to remain in school on a medical scholarship and eventually graduate from the University of Utah.
BEST PRACTICE: Utah coach Kyle Whittingham really liked what he saw on the field Thursday morning.After saying the camp session was "very good," Whittingham upgraded his evaluation to "without a doubt, the best practice of camp." Not a big statement, he admitted, only four days into camp.
Even so ...
"We got a lot of work done," Whittingham said. "Guys were working hard and it really was very positive."
LIKE A HURRICANE: Junior linebacker Gionni Paul, a 6-foot-2, 230-pound transfer from Miami, is making an impact with the Utes.
"If he's eligible he is going to be a major factor for us," said Whittingham, who noted that they've been told there's a slight chance it's possible if the ongoing NCAA investigation of the Miami football program allows immediate transfers. If not, Paul will redshirt and run scout team this fall and then have two seasons of eligibility with the Utes.
Paul, who is from Lakeland, Fla., left Miami for undisclosed reasons in January. He appeared in 17 games (starting seven) over the past two seasons — recording 65 tackles. Prior to signing with the Hurricanes, Paul was listed as the No. 22 linebacker in the national by rivals.com.
BLECHEN'S BATTLES: Senior linebacker Brian Blechen's battle with tendinitis has the standout defender playing at only about 60 percent.
"He's still hurting. He got a few reps in today. It's kind of a double-edged sword. The more you do, the sorer it gets," said Whittingham. "But he's got to get some work done if he's going to be ready to play. We're trying to manage that situation the best we can."
Although it hasn't been addressed it, Whittingham noted that Blechen has a redshirt year available and it could be used if nothing improves in the coming weeks.
29
comments on this story
EXTRA POINTS: Offensive lineman Carlos Lozano, a 6-foot-6, 380-pound junior, has left the team. He's been replaced on the 105-man camp roster by walk-on defensive back Mike Kirby. ... Whittingham said that senior cornerback Keith McGill, who made a nice interception at the end of practice Thursday, has dropped five pounds and needs to lose only about five more to accompany his transition to cornerback. ... Utah's first double day is set for Saturday, following a single session and the completion of the NCAA's "acclimatization period" on Friday.
Email: dirk@desnews.com; Twitter: @DirkFacer