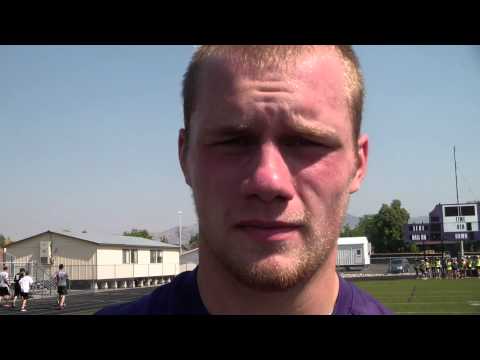 View 12 Items

LEHI — Competition is tough in Region 4 and no one knows that better than Lehi.
Although the Pioneers have shown improvement under coach David Hastings in his two years as head coach, becoming truly competitive in region has proven to be a monumental task.
"The region we play in is brutal, but that's where we're at and we like it here. We like proving ourselves against the best," Hastings said. "I believe we're improving, and I believe we're making the necessary strides here to compete in region — and it starts this season."
Lehi finished 2012 with no region wins, but with convincing victories over both Payson (55-17) and Viewmont (45-6.) While two wins isn't impressive on paper, it's a major improvement over what Hastings inherited two seasons ago.
"I took over a program that hadn't won a game for two years, so changing the attitude and the culture here has been a challenge, but I really think we're getting there," Hastings said. "Simply winning games was a big step, but now we need to make the next step, and that's winning region games."
Lehi will be posed against a reshuffled Region 4 that lost powerhouse Bingham, but includes tough-outs such as Lone Peak and Pleasant Grove.
"We lost Bingham, but I honestly think our region maybe got even tougher with the additions of Westlake and Herriman," Hastings said. "That's one more team in region, so it makes it that much tougher to make the playoffs."
Hastings will field what he describes as a "solid" junior and senior class that has impressed in workouts leading up to the season. The group doesn't include a lot of returning starters, but enough players with game experience for the coach to be optimistic.
The group will be led by running back Ryan Absher, who led the team in rushing last season, with 1043 yards and six touchdowns.
"Getting Ryan back is big for us, and we expect him to lead the way for us again in the backfield," Hastings said. "He played in the secondary for us, and we'll rely on him a lot there. He's a very good player for us."
Absher has started since his sophomore season as have Derek Hastings and Deryke Terrell, both of whom will be leaned on heavily for leadership.
"Derek has really hit the weights hard, and every year it seems I have to move him around, but he should be very good for us this year as should Deryke (Terrell)," Hastings said.
Derik Beeston will take the reigns at quarterback, where he'll lead Lehi's power double-option attack.
"We like to run the ball here, and it will be the same this season," Hastings said. "We're definitely a power team, and we'll have a lot of guys running the ball out of the backfield again."
To be an effective power team you need big and powerful parts to push around an opposing defense. Hastings feels his team has made the necessary strides to present a more powerful and potent team in the offseason.
"Voluntary weight-lifting was a lot better this offseason than it's ever been," he said. "Guys showed up a lot, and it shows out there when we're practicing. I've never seen players dedicate themselves more to working out since I became head coach here, so that's exciting and promising. Hopefully we can start winning some games in region now, but, like I said, it's going to be very tough."
Lehi Pioneers at a glance
Coach: Hastings is entering his third year at Lehi and is 4-16 in his two years as coach. Originally from Idaho, he has extensive coaching experience there.
Offense
(Double-wing; 5 returning starters)
It all starts up front for Lehi and its power offense, and Hastings believes his line will be productive despite losing three starters from a year ago.
"Bracken Stringam and Tanner Willes will lead our line, and both played last year, so that should be good for us," Hastings said. "We're going to come at any team very hard, like we always have, so our line needs to be tough, and we think it will be."
Defense
(Base 4-3 defense; 4 returning starters)
Defensively, Lehi will be led by a lot of the same guys expected to lead the team on offense.
"Guys like Derek Hastings and Ryan Absher will again be asked to do a lot for us this year," Hastings said. "Absher was a very good corner for us last year, and he'll be asked to be just as good this year. Derek will again play a big role for us on defense and on offense."
Coach's preseason Region 4 straw poll: Sixth
Deseret News Region 4 prediction: Seventh
Bottom line: Playoffs probably isn't a realistic possibility for Lehi this season, but continued improvement, and its first region win in five years, most likely is. Hastings has made a career of turning traditional bottom-feeders into competitive programs, and Lehi should continue its improvement this season and for the near future.
Lehi coaching history
2011-current — David Hastings (2-8)
2007-2010 — Derrick Peyton (3-36)
2002-2006 — Joe Hays (22-30)
1998-2001 — Steve Clements (33-13)
1995-1997 — Chad Wilson (23-9)
1989-1994 — Jeff Kilts (27-30)
1975-1988 — Lou Andrus (57-78)
1971-1974 — Lloyd Jacobsen (12-24)
1967-1970 — unknown (18-19)
1960-1966 — Jim Crittenden (42-21-1)
1956-1959 — unknown (14-15-3)
1955 — Joe Crammer (2-5-1)
1951-1954 — unknown (14-15-3)
1944-1950 — Dean Prior (25-26)
1929-1943 — unknown (36-54-9)
1928 — Ross Nielson (2-4)
1925-1927 — unknown (3-11)
1921 — Wallace West (0-2)
1919 — unknown (1-4)
....
Deseret News First Team all-staters the past 10 years
(None)
To view second team and honorable mention All-Staters through the years, check out the Deseret News All-State Archives.