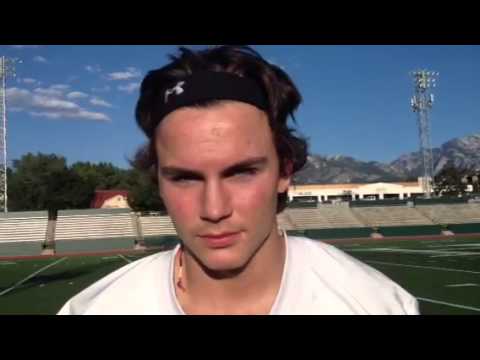 View 2 Items

MIDVALE — The last time Hillcrest's football team won a region title "Ghostbusters," "Gremlins" and "Splash" were in theaters. Phil Collins and Billy Joel were at the height of their popularity. And "Magnum P.I." was one of television's top shows.
Despite decades of mediocrity, this year's Hillcrest Huskies believe they will not only meet the challenges of moving from 4A to 5A, they will make the playoffs — something the program has done just 20 times in 51 years.
"I expect us to be better than we have been in the past," said junior quarterback Tanner Thompson. "We're trying to come in day after day and just work hard. We know we can be better than the 3-7 we've been for the past seven or eight years." With freshmen at the high school for the first time, Huskies head coach Casey Miller said the team has enough personnel to platoon, rather than ask athletes to play both offense and defense.
It's a way to give more teens opportunities to play, but Miller also hopes it leads to more focus and the ability to grind out those tough wins. It also provides plenty of competition for all positions, which usually leads to better play.
"We feel like we've got enough bodies to where, if we get them all out on the field, I feel like we'll win some games that, in the past, we just ran out of gas," he said. "If we win another one or two close games, we've earned a spot in the playoffs. I think we can make the playoffs, and that's my No. 1 goal."
On a particularly hot afternoon, Miller spends a few extra minutes after practice discussing with his players why it is not only important for them to come to every meeting and every practice, but to encourage their friends and teammates to do the same. He said attendance is better, but still spotty as players choose any number of activities — including video games — over practicing.
"We can't be the same old Hillcrest," he said, adding that he's also seeing a shift in the mentality of his players this season. Instead of wishing they could win, they believe they should win.
"We have to stop hoping not to lose and start believing we're going to win," he said. "We have to stop feeling sorry for ourselves and start taking advantage of the opportunities we have." His players said they're tired of mediocrity and have worked harder this offseason than ever.
"If we practice hard, we'll play hard," said first-year receiver Sam Melo. "We're annoying; we don't stop. We'll go until that final whistle." Adds Cade Roemmich, "We'll take it one step at a time, but our common goal is to get to the playoffs." He said he feels platooning has already improved their play.
"I can just focus on my job, and I know if I get good at my job, everyone else will get good at theirs," he said. "It's going to take hard work and trust (to make the playoffs)." Miller said the team lost three games in the fourth quarter last season, including a heartbreaker against Skyline in which they led 35-14 until late in the third quarter.
"I could just see in their heads, 'Oh, my goodness, we're not supposed to be winning!' and Skyline scored three times in the fourth quarter."
Last year the Huskies started 13 sophomores, which will be a huge advantage this season as Miller cites varsity experience as one of the team's greatest strengths.
"We started sophomores everywhere," he said. "Quarterback, four on the O-line, two of the DBs, so they're experienced this year."
He hopes they've matured and have more confidence, something Roemmich confirms is true.
"Last year I was nervous sometimes, but this year, I'm just excited," he said.
Miller hope that translates into confidence that will allow the Huskies to grind out some late-game wins.
Thompson is a talented athlete and can do "just about everything," said Miller. "He's athletic with a strong arm, and he can run or pass. He's gotten out of some real jams." Thompson said it would be a thrill for the entire community to make the playoffs.
"It's nice being in the big leagues," he said of moving to 5A. "We're the underdogs for sure, but if we can surprise some critics … it would be ridiculous. I dream about it — about being that little school that takes down the big powerhouse."
Hillcrest Huskies at a glance
Coach: Casey Miller is in his third season as head coach of the Hillcrest Huskies. The Cyprus and Utah State graduate owns a 6-14 record. He hopes this will be the year that the team earns a winning record.
Offense
(7 returning starters)
Junior Tanner Thompson will lead the shotgun spread offense again this season. He will look to throw to new receiver Sam Melo, as well as Keaton Dallimore. Running back Dillon Nordhoff returns, as does junior lineman Cade Roemmich. The Huskies have athletic skill players and an experienced offensive line, so they should be able to score points this season.
Defense
(7 returning starters)
If the Hillcrest defense comes together, the Huskies should achieve their goal of making the playoffs. They're led by strong safety Cameron Jenson, a junior who started last season as a sophomore. All of the team's defensive backs, as well as linebackers, are back this season.
Coaches preseason Region 6 straw poll: 6th place
Deseret News Region 6 prediction: 6th place
Bottom line: Hillcrest has the athletes to compete in Region 2, but it remains to be seen if they have the mindset. Miller is battling a history of satisfaction with middle-of-the-road results, and it is difficult to change the expectations and commitment level without first having some success. This year's players believe they will be the ones to turn that corner, and Miller believes the timing has never been better. The team has numbers, experience and incredible support from the school and community.
Hillcrest coaching history
2011-current — Casey Miller (6-14)
2005-2010 — Kirk Merhish (15-44)
2000-2004 — Bruce Takeno (29-33)
1993-1999 — Lee Leslie (34-34)
Comment on this story
1986-1992 — Jerry Haslam (25-38)
1978-1985 — Jerry Simonson (49-33)
1975-1977 — Robert Burns (12-16)
1967-1974 — Raynor Pearce (44-32)
1964-1966 — Tom Lovat (11-14-3)
1962-1963 — Mickey Culletson (1-14-3)
.....
Deseret News First Team all-staters the past 10 years
2004 — Zane Beadles, OL
2004 — Robert Takeno, LB
2003 — John Eastman, QB
2003 — Fesi Sitake, DB
To view second team and honorable mention all-staters through the years, check out the Deseret News All-State Archives.
Twitter: adonsports
Email: adonaldson@deseretnews.com