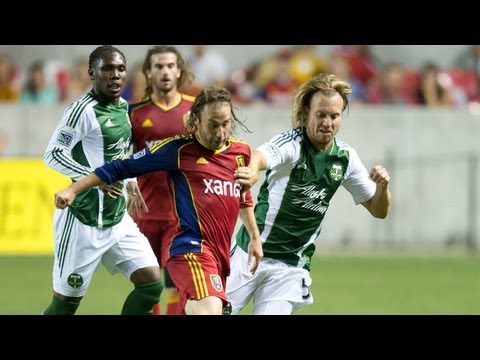 View 30 Items


I think scoring early was big for us, reward ourselves for the momentum we create at the beginning of matches is always important, and I think we've done a pretty job of that lately.

—Jason Kreis
SANDY — When Real Salt Lake went scoreless in its final five games of 2012, including getting shut out at home in a playoff ouster against Seattle, the coaching staff went into the offseason with a simple objective — to find players who could deliver when it mattered most.
From 2008 to 2012, RSL posted an 0-5 record at Rio Tinto Stadium in playoff and cup competitions against top-flight opposition — 0-3 in MLS and 0-2 in the Champions League.
It looks like coach Jason Kreis and general manager Garth Lagerwey succeeded in their offseason objective.
With a spot in the U.S. Open Cup final up for grabs Wednesday night at Rio Tinto Stadium, Real Salt Lake finally performed when it mattered most, scoring early and late on its way to a 2-1 victory over the Portland Timbers in front of 14,742.
"It's huge for the club, huge for the team. I think we really deserve something like this, the guys playing really hard and putting a lot of work in the trainings this year," said goalkeeper Nick Rimando. "Coming up short a couple times in years past, it's good to get back to a final. It's not done yet. Our goal isn't to get to a final; it's to win it."
Prior to Wednesday's triumph, RSL had a miserable track record in similar big games. It was eliminated from the MLS playoffs at home in 2008, 2010 and 2012, and it lost the Champions League final against Monterrey at home in 2011. It also was eliminated in Champions League group play at home last October.
That 0-5 hex is now over, fitting considering that Real Salt Lake also ended its Canadian and Texas hexes this season.
With the semis triumph in the books, Real Salt Lake has a chance to win an even "bigger one" Oct. 1 when it hosts D.C. United in the U.S. Open Cup final.
Kreis acknowledged that Wednesday's victory was nice, but there's unfinished business.
"We've had a lot of really momentous occasions in this building the past several years, a lot of big games that we looked forward to that we did a lot of talking about. … We will see if we can do what we've never done before, which is win one of those … games," said RSL's coach.
The U.S. Open Cup will be part of a busy week for Real Salt Lake in which it plays at Vancouver on Sept. 28 and then hosts Dallas on Oct. 5.
While it did ultimately pull out the victory Wednesday night, RSL did have to sweat out stoppage time. It lost to Kansas City and New York in stoppage time last month, and Portland nearly pulled off a similar comeback in stoppage time.
Portland's Diego Valeri cut his team's deficit to 2-1 in the 90th minute by heading home his own rebound after Rimando stoned him point plank. The Timbers had two more quality scoring chances in the waning minutes, but this time RSL found a way to make the necessary clearances to preserve the victory.
Kreis knows the match could've easily unfolded differently against talented Portland.
"Portland is a very, very good team. I think they caused us lots of problems. They were in and around our penalty box lots of times, and if a bounce goes a foot right or a foot left for them or a bounce breaks their way they probably score multiple goals on us," said Kreis.
RSL set the tone early with Alvaro Saborio heading home a Kyle Beckerman cross in the seventh minute for the 1-0 lead.
Portland had originally cleared Beckerman's corner kick, but only as far as Luis Gil about 25 yards from goal. Gil quickly knocked the ball back out to Beckerman, who spotted an unmarked Saborio near the far post. Saborio headed it up and over Portland's 'keeper for his 10th goal of the season in all competitions.
"I think scoring early was big for us. (Rewarding) ourselves for the momentum we create at the beginning of matches is always important, and I think we've done a pretty good job of that lately," said Kreis.
After falling behind, the Timbers created all kinds of defensive problems for RSL and forced Rimando into a pair of saves. His point-blank save on former teammate Will Johnson in the 40th minute was sensational, and something Johnson no doubt saw more than 1,000 times in training during his five-year career with RSL.
Second-half substitute Joao Plata netted what proved to be the game-winner in the 78th minute as he uncorked a 28-yard blast past diving Portland 'keeper Donovan Ricketts for the 2-0 lead.