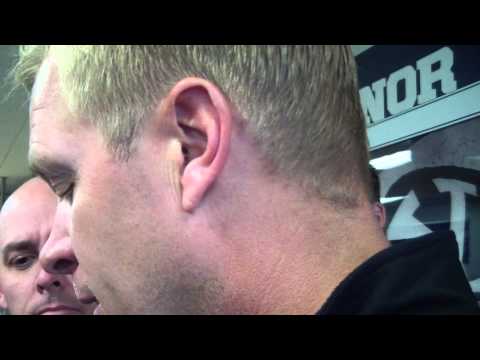 View 2 Items

I think it's coming together well for us, and days like this help us realize that it's going to work if we keep on working at it.

—Ross Apo
PROVO — Wide receivers have been a focus since the start of fall practices, and the position took center stage during Wednesday's concluding team drill.
Whether it was Mitch Mathews getting behind the defense for receptions of 42 and 45 yards or Ross Apo hauling in a 14-yard touchdown pass, the offense dominated.
"It was a lot of fun out there today," Apo said. "You love days when everything clicks or seems to click, but I'm sure the defense will adjust and respond."
Taysom Hill led two touchdown drives and was 5-8 for 117 yards, while Ammon Olsen went 3-4 for 75 yards and a touchdown in his lone set of reps. Olsen capped off his set with a 25-yard touchdown pass to Kurt Henderson.
In between throws, running back Jamaal Williams showed well, galloping for 13 and seven yards on his two carries.
"I think it's coming together well for us, and days like this help us realize that it's going to work if we keep on working at it," Apo said. "The key is to keep on working though and believing in the system. You can't stop."
Apo has his work cut out: Much has been made of Apo coming out of spring training second on the depth chart after starting in each of his first two seasons. It worked as a motivating factor for Apo, but earning his starting spot back won't be easy.
The emergence of Mitch Mathews this spring into fall along with the continued consistency of Skyler Ridley cuts Apo's work out for him quite clearly.
"(Ridley) is so precise and, in fact, some scouts have come in to look at Cody (Hoffman) and kind of left asking 'who was that?' " said coach Bronco Mendenhall. "So he's quick, he's fast, he's tough and he just goes one speed and he never drops the ball."
Regarding Mathews, Mendenhall said, "Mitch probably had the best spring of any receiver we have … he's had a groin (injury) the last few days, but what the receivers are finding out is that if they miss a day they'll be left behind. That group is deep and they're all catching the ball."
Tight end still a mystery: It's unknown to coaches, players and certainly to the media not only who will be taking most of the reps at tight end this year, but how exactly the tight ends will be used. Offensive coordinator Robert Anae is still tinkering in the offense and could use his tight ends split out as inside receivers, as H-backs or in the traditional sense.
"I don't know," Mendenhall said when asked the shape of the developments at tight end. "It's too early to tell. I know you're waiting for more, but I don't know."
Practice notes
• JUCO transfer Edward Fusi is still waiting to be cleared academically and still has some tests to take to become eligible, according to Mendenhall.
• True freshman corner Dallin Leavitt provided the highlight play for the defense when he ripped a would-be touchdown pass away from Ross Apo for an incompletion.
• Converted tight end Austin Holt recorded a sack from his defensive end position during team drills.
• Mendenhall mentioned he's been impressed with both JUCO transfer Robertson Daniel and Dallin Leavitt at boundary corner and expects both to compete hard for the starting spot. "Both are having really nice camps so far. … I like what I've seen from them," Mendenhall said.
Email: bgurney@desnews.com
Twitter: @BrandonCGurney