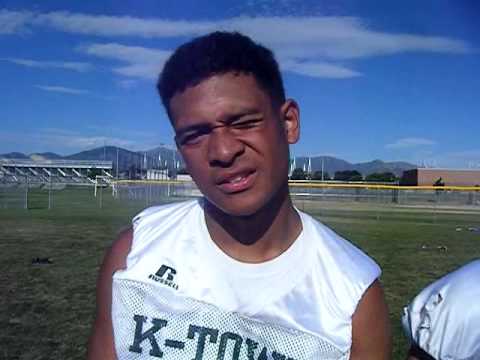 View 8 Items

The little things will add up to big things. If you can stand out here and pay attention, that's an easy thing, then you can learn to play football, which is a hard thing. If you can't handle the little things in life, you're not going to be able to handle being on the field on Friday night.

—Matt Rickards, Kearns High School football coach
KEARNS — Matt Rickards calls out a play and the high school players hustle to their spots, eager to prove their abilities.
Then new Kearns head coach turns his attention to those players on the sideline, ensuring they're watching with hands clasped behind their backs. If they are not, they will do five pop-ups, a punishment that's made more severe by the heat and helmets.
It may seem a petty, pointless exercise, but Rickards, who moved from offensive coordinator to head coach in June, said it's those seemingly insignificant details that really matter.
"The little things will add up to big things," he said, quoting his former high school coach. "If you can just take care of little things, like being to class on time, that's going to affect your grade. If you can stand out here and pay attention, that's an easy thing, then you can learn to play football, which is a hard thing. If you can't handle the little things in life, you're not going to be able to handle being on the field on Friday night."
Rickards took over the program when Bill Cosper had to return to his home state of Texas to care for an ailing family member. Rickards was hired after a month-long interview process and said that the transition has been so smooth, some might not notice some of the changes he's made.
He said his first priority is to teach his players they can't be successful if they don't do the right things in every area of their lives. For example, hitting the weight room hard is only part of what helps an athlete grow stronger.
"I expect them to eat right," he said, admitting that is a significant obstacle for some of the players whose families struggle financially. "The other day we didn't have a very good practice and I said, 'How many of you guys didn't eat breakfast?' More than half of them raised their hands. I know it's a challenge for our kids. Some of these guys, their first meal is they go across the street and they eat free lunch. Today we brought bananas for them."
He told their parents that good nutrition is vital to athletic success.
"I expect them to eat four to five meals a day," he said. "If they're going to compete and train like an athlete, they need to eat and train like an athlete should be training."
Dealing with difficult situations is part of what Kearns coaches teach their players.
"A lot of these kids deal with adversity on a daily basis," he said. "They have to work for their families, to help pay bills and things like that. They're used to having different roles and responsibilities, and we just teach them that it makes them stronger."
He likens life's challenges to a hammer and tells the boys they can choose to be glass or steel. The hammer will shatter glass, but it will shape and strengthen steel.
"We tell them to try to be steel," he said. "We welcome those hard times so we can get better and stronger from it."
The Cougars will have a chance to prove their ability to deal with change and challenges as they return just two offensive starters and move into one of the state's deepest regions: 4A's Region 6. Coaches pick them to finish in the middle of the pack, but Rickards said they're not worried about rankings or records at this point.
"We're just trying to make this practice the best in the nation," he said. "We just want to win the day, the next play, the next 200 feet."
Senior linebacker and tight end Colton Grossaint said a lot of teams are facing tough regions and big changes. That's simply part of high school football.
"Everybody is facing the same adversity," he said. "It's just who has the mental toughness to overcome it."
Grossaint said the emphasis on discipline is the same under Rickards as it was with Cosper, but he does feel the workouts are a little more demanding.
"I think our intensity level is higher," he said. "I still expect to compete in region, for a region championship. I still believe we have that sort of team."
Despite being young, he said the players are working hard, and it's attitude and effort that help inexperienced players find success.
"Everybody's bought into the program," Grossaint said.
Adds senior receiver, running back and cornerback Amone Finau, "We're a hard-nosed team with a lot of athletes."
Rickards agrees, and said that while the team will run the same offense, he's made changes in the defense to highlight the talent of those players.
"We've changed the defense quite a bit," Rickards said, smiling. "We have some special kids who can play, and we're going to take advantage of that personnel."
Cougars at a glance
Coach: This is Matt Rickards' first season as a head coach. He is a graduate of Hunter and he played college football at Weber State.
Offense (2 returning starters):
Only tight end/receiver Colton Grossaint and wide receiver/running back Amone Finau (who is committed to the U of U) are back on offense this season. The team will need to find new chemistry with sophomore quarterback Bailey Floyd, who is the younger brother of last year's starting QB Jordan Floyd. Daniel Tapusoa will play running back with promising junior receiver Sherwin Lavaka sure to make an impact. Lanu Toilolo, senior, and Molofaha Uhi, senior, will anchor both offensive and defensive lines.
Defense (7 returning):
Rickards believes defense will be the team's strength. The Cougars return all of their defensive backs and linebackers. The same athletes that will anchor the offense will likely lead the team defensively. Senior Daniel Tapusoa; Grossaint; and younger brother of Amone Finau, Sione, who is a sophomore, will provide the team with a very athletic linebacking core. Rickards called Grossaint one of the best players in the state and said he is an "unbelievable tackler" who does "everything he's supposed to."
Coaches preseason Region 6 straw poll: 4
Deseret News Region 6 prediction: 4
Bottom line:
The Cougars have a core of talented, experienced athletes. They have high expectations and a lot of mental toughness in their senior class. Their success will depend on how the younger and more inexperienced players develop and come together. Their preseason is tough and their region will be tougher, so the team that welcomes adversity will have plenty of opportunity to prove their mettle.
Kearns coaching history
2013 — Matt Rickards (0-0)
2006-2012 — Bill Cosper (34-42)
2002-2005 — Doug Bills (9-31)
1997-2001 — Marvin Magalei (9-39)
1990-1996 — Mike Sorich (18-50)
1983-1989 — Tom Larsen (29-39)
1980-1982 — Bruce Takeno (5-20)
1978-1979 — Gil Cordova (2-16)
1966-1977 — Frank Klekas (47-69)
.....
Deseret News First Team all-staters the past 10 years
2012 — James Felila, RB
To view second team and honorable mention all-staters through the years, check out the Deseret News All-State Archives.
Twitter: adonsports
Email: adonaldson@deseretnews.com