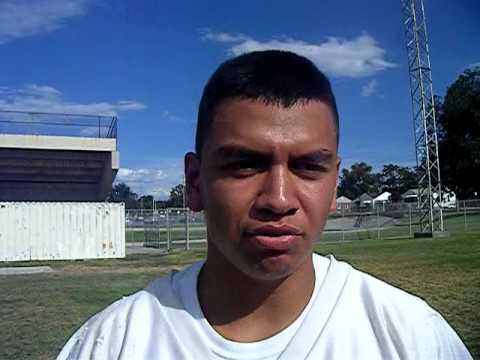 View 7 Items

I can't lie. Our line is going to be our weak spot — on both sides of the ball — this year. Our strength will be our skill players, with Dennis Kamakana and Albert and A.J. Semeatu back.

—Scott Wooldridge, Cyprus Pirates head coach
MAGNA — Whether it's weightlifting or conditioning sprints, the Cyprus Pirates have the same goal whenever they get together.
"Our mantra this year is to compete," said head coach Scott Wooldridge. "We want to compete. Last year, we played teams and we won the games we were supposed to win."
But there were times when the Pirates were on the verge of accomplishing something big and let their doubts get the best of them — like their overtime loss to Granger. Wooldridge said he hopes to change their view of what's possible by making competition something they embrace.
His players said they believe they're capable of competing with the best 4A has to offer, and they'll get a chance to prove that as the Pirates play in one of the toughest regions in any class.
"Our region is the SEC of Utah football," said Wooldridge with a grin. "I think it's the toughest one in the state, even (including) 5A."
The Pirates know they have challenges ahead of them, especially after losing some key players to graduation. The team will play with an entirely new offensive line and mostly new defensive line.
"I can't lie," said Wooldridge. "Our line is going to be our weak spot — on both sides of the ball — this year. Our strength will be our skill players, with Dennis Kamakana and Albert and A.J. Semeatu back."
Wooldridge said the young linemen are working hard, but their progress — and potential — is the team's biggest question mark.
The players said they're not worried about the inexperience on the line.
"Our offensive line is quick," said A.J. Semeatu, who plays running back, receiver and linebacker. "They're getting better. They just need to get a little smarter on the line."
He said they're learning quickly, and once they pick up the plays, they should compete with any team's line.
Senior quarterback Dennis Kamakana III said he has faith in his younger teammates.
"I'm not worried at all," he said. "They've been working hard, and they're not that big. But they've got speed. I think we have a lot of talent here at Cyprus and I think we can compete with anybody."
Wooldridge said the team did well at a camp in Idaho and the Pirates are gaining experience and confidence every day. Kamakana added that many kids have jobs and they've altered their hours or taken the fall off so they can commit to the team.
"We appreciate that," he said. "I expect great things this year. Last year was pretty good at 5-5, but it's still not good enough. We've come out this season and we're working a lot harder than last season. We're doing good things. We've got a couple of new coaches, so we expect great things. We expect to make the playoffs."
Kamakana and the others said a postseason berth would be something the whole community would celebrate.
"But we're just taking it one game at a time," Kamakana said smiling.
Junior center Nathan Nielsen said he feels the line's hard work will show in that first game.
"I'm not really worried about it," he said. "We're going to depend on our speed this year, and I'm expecting good things."
Wooldridge said the Pirates are at a bit of a disadvantage in that they don't have the numbers that some of the schools have. They will start the season with around 70 players, and the starters will likely have to play both offense and defense.
But while that worries coaches, Nielsen said they are preparing for that reality.
"We're conditioning really hard so we can go both ways," he said. "It shouldn't be a problem." Wooldridge said he wants to see the players have faith in themselves, even when faced with tough situations.
"We hope for the best," he said. "Our region didn't get any easier, but we just want to compete all through region play. "
He said the seniors are providing solid leadership and if the team finds the right mentality, it can play with any team on its schedule. The players want teams to know they're not just happy being in the game; they're playing to win.
"We're a humble team," said Albert Semeatu, a senior running back and linebacker. "We're back, and we're here to play and we're here to stay."
Pirates at a glance
Coach: Scott Wooldridge is in his second year as the Pirates' head coach. He led the team to a 5-5 record last year. He went to high school in Nampa, Idaho, and played college ball at Western Oregon.
Offense
(6 returning starters; zone read)
Senior quarterback Dennis Kamakana III and senior running back Albert Semeatu lead a talented group of skill players. Their challenge is to mentor and teach the completely new offensive line. The Pirates have some size, but it will come down to grit and speed as the inexperienced players try to compete against some of the state's best. Wooldridge said the team's young receivers are looking good, and the best attribute of the new starters is their work ethic.
Defense
(8 returning starters)
While there is significantly more experience on the defensive side of the ball, the Pirates have players competing on both offense and defense. Conditioning will be key, and the key contributors will be Semeatu and his younger brother A.J., both of whom will play linebacker. Center Nathan Nielsen will play middle linebacker, while wide receiver Marcus Vigil will play defensive back.
Coaches preseason Region 6 straw poll: 6th place
Deseret News Region 6 prediction: 7th place
Bottom line: The Pirates' goal is to compete every time they take the field. They lost a lot of experience last season, and while they have some talented athletes, their success will depend on three main factors — the play of the new offensive line, the cohesion of the team, and whether the players actually believe they are capable of beating teams like Bountiful, Woods Cross and East.
Cyprus coaching history
2012-Current — Scott Wooldridge (5-5)
2009-2011 — Brian Jacketta (4-25)
2000-2008 — Sonny Sudbury (45-52)
1995-1999 — Dave Peck (20-30)
1986-1994 — Jerry Simonson (34-53)
1979-1985 — Billy Hunter (33-33)
1975-1978 — Don Conrad (17-20)
1973-1974 — Tom Crittenden (5-11)
1966-1972 — Glen Rupp (28-37)
1961-1965 — Howard Condie (14-28)
1953-1960 — Lex McKee (26-39)
1948-1952 — Roy Mercer (31-12)
1945-1947 — Unknown (13-8)
Comment on this story
1944 — Bill Cowley (7-1)
1942-1943 — Unknown (5-8)
1941 — Gus Papanikolas (1-6)
1940 — Ronald Sleator (1-6)
1931-1939 — Russell Magleby (23-37)
1930 — Glen Worthington (3-3)
1927-1929 — Unknown (5-10)
1926 — Mr. Walker (5-2)
Deseret News First Team all-staters the past 10 years
2005 — Henna Brown, DB
2003 — Joe Ellis, OL
2003 — Daryl Brown, DB
To view second team and honorable mention all-staters through the years, check out the Deseret News All-State Archives.
Twitter: adonsports
Email: adonaldson@deseretnews.com