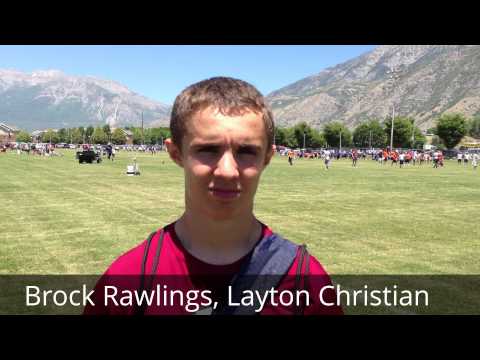 View 14 Items

Note: Layton Christian finished with a 3-7 overall record in 2012 and was fifth in 1A North with an 0-4 record. It did not qualify for the playoffs.
2012 Layton Christian Eagles statistical recap
LAYTON — Former Granger head coach Doyle Holt wasn't looking for a head coaching gig, but when the Layton Christian job opened up, he was drawn to it.
There was just something about the culture of the school that was intriguing. He wasn't turned away by Layton Christian's 3-7 record in 2012, but more drawn to the stringent academic standards of the school.
"I really do like the environment at the school. It's legitimately an academic institution. They're trying to get kids to college, and that was one of my big things at Granger — we were often trying to get kids eligible," said Holt. "Our college placement rate is something like 91 percent."
The challenge for Holt is finding a way to win more than just a handful of the school's football games, which certainly won't be easy with Layton Christian making the jump from 1A football to 2A football.
The Eagles are obviously a small school, and numbers are an issue, but that's even more so at a private school like Layton Christian. Numerous players — including several who are projected starters — have never played football, and Holt had to instruct them on proper pre-snap stances during the first day of team camp this summer.
Even though many of the kids are new to football, they're athletic, which gives the coaching staff a decent foundation to work with.
"Athletically we have some good kids, and we're probably OK at our first one through 1 1/2 kids deep, but after that we go down in a hurry. If we keep everyone healthy I think we'll be competitive," said Holt.
The Eagles will likely be very overmatched in games against teams like Duchesne, Millard and South Summit this season, but as the players' understanding of the game improves Holt is hopeful they'll be competitive in the other games.
Tackling will be key.
"They didn't tackle very well in the past. We need to improve tackling, and we're going to tackle every day in practice, maybe not necessary to the ground, but it's something we're going to concentrate on," said Holt.
Offensively, the two biggest areas of focus heading into the season will be turnover ratio and yards on first down, something he's continually reminded his players about this summer.
"If we end up in third-and-long a bunch in those first few games we're going to get throttled," said Holt.
That was definitely a problem in last year's 42-13 loss to Duchesne, a game in which Duchesne built a 42-0 lead heading into the fourth quarter.
For a young Layton Christian team that only has five seniors, a similar score line is very likely on opening night. However, Holt hopes playing an elite program like Duchesne is an eye-opener for his kids and sets a good foundation for the future.
Layton Christian Eagles at a glance
Coach: Doyle Holt is entering his first year as Layton Christian's head coach. He previously spent two years at Granger in 2009 and 2010, compiling a 4-16 record. He's a graduate of Winslow High School in Arizona.
Offense
(4 returning starters; West Coast offense)
Layton Christian will be running a West Coast offense this year, and Holt would like to see his team run the ball 60-40. The team will likely split time at quarterback between senior Ayan Burton and sophomore Grayson Jackson. Both are great athletes in basketball and baseball, but they have little to no experience playing football. There's a bit of experience on the line to help with the QB transition as juniors Garrett Elmy and Josh Nistler are both returning starters on the O-line. Depth is a major issue beyond them, so it's imperative Elmy and Nistler stay healthy. Marquis Gibson and Jack Chandler will be the primary offensive weapons, and both are a threat running the ball and catching it.
Defense
(4 returning starters)
Coach Holt likes to utilize an aggressive 4-3 defense, or as he says, "bring a little gas." Sam Rockwell will anchor the defense at nose guard, and he's one of the strongest kids Holt has ever coached. Rockwell will likely get double-teamed on every snap, which could free up teammates to make some plays. Gibson and Chandler played a little bit of defense last year, and Holt expects them to be key contributors this season. One player who could ultimately be very important on both sides of the ball is LeRoy Sisnett. The New Zealand native has never played football, but he's an athletic 6-foot-4 kid who can certainly help any small 2A team.
Coaches preseason 2A North straw poll: Seventh
Deseret News 2A North prediction: Seventh
Bottom line: With a new coach, only a handful of returning starters and just five seniors, Layton Christian was always going to struggle in 1A. Now making the jump to 2A, those struggles could be exaggerated. With that said, there are certainly winnable games on the schedule, including a handful in the new 2A North region. If some of the athletic, first-year football players on the team pick up the nuances of the sport quickly, Layton Christian should be able to compete for a playoff spot as a No. 5 or 6 seed.
Felt's Facts for Layton Christian High School
All-time record: 32-56 (9 years)
Region championships: 0
Playoff appearances: 4
All-time playoff record: 2-4
State championships: 0
State championship record: 0-1
Most played rivalry: Ten meetings with three schools, Duchesne, Milford and Monticello, all dating back to 2004. Duchesne leads 9-1, LCA leads Milford 6-4 and Monticello leads 9-1.
Felt's Factoid(s): Eagle Brandon Faison is one of just eight players to return a fumble 99 yards (2011). Teammate Kyle Yockey set a championship game record by kicking an 85-yard punt (2011).
Layton Christian coaching history
2013 — Doyle Holt (0-0)
Comment on this story
2012 — Kitt Rawlings (3-7)
2007-2011 — Will Hawes (21-29)
2006 — Henry Lusk (5-5)
2004-2005 — Sam Russell (3-15)
.....
Deseret News First Team all-staters the past 10 years
2012 — Colin Greenhill, RB/LB
2011 — Brandon Faison, RB/DB
2011 — Colin Greenhill, RB/LB
2011 — Eliyah Mayberry, RB/LB
2011 — Quincy Mason, WR/DE
2010 — Henri Jussila, RB/LB
2008 — Justin Brown, WR/DB
To view second team and honorable mention all-staters through the years, check out the Deseret News All-State Archives.
Follow Deseret News prep editor James Edward on Twitter @DNewsPreps