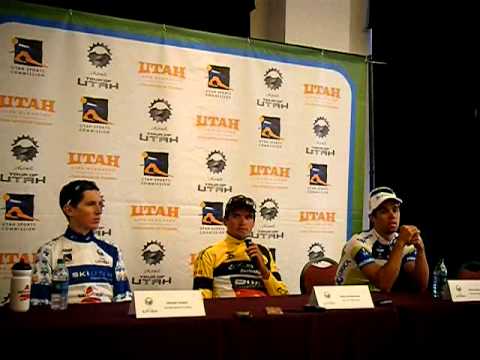 View 14 Items



You can have a plan, but sometimes it's hard to work out. ... Today it worked out. You have to try to take the risk to go for a win.

—Greg Van Avermaet
CEDAR CITY — Greg Van Avermaet may not know how to wear a cowboy hat, but the Belgium cyclist certainly proved he knows how, and more importantly when, to sprint.
"I looked back and saw the gap, and I just kept pedaling, pedaling, pedaling," he said of the final 700 meters of the 112-mile first stage of the Tour of Utah, which he won in 4 hours, 11 minutes Tuesday. "I didn't put my hands up directly because I wasn't sure. I was expecting somebody, but nobody came. So it was good."
Van Avermaet earned both the sprinter's jersey and the overall leader's yellow jersey for his efforts. He accepted a number of prizes for his win, including a cowboy hat presented to him during the podium ceremony by Cedar City Mayor Joe Burgess. Van Avermaet grinned as he took his cycling hat off and put the cowboy hat on his head. Unfortunately, he put it on backward, and Burgess turned the hat around for him, a move that elicited laughter from both the crowd and Van Avermaet.
Van Avermaet, who rides for BMC Racing, said he and his teammates came up with a plan when they rode to the finish Monday.
"It's not a great finish for me because it was downhill," said Van Avermaet. "You can have a plan, but sometimes it's hard to work out. ... Today it worked out. You have to try to take the risk to go for a win."
While Van Avermaet's plan worked perfectly, the plans of ORICA's Michael Matthews did not work out as well. The team, which just raced in the Tour de France, had planned to have Matthews, who finished second, try to beat the other riders in the final kilometers of the race.
"My sprint was good in the finish, but it wasn't properly timed," Matthews said. "There was not much I could really do about it. Greg was just too strong."
Matthews said plans often don't work out as a team hopes.
"That's racing," he said with a shrug. "You can't win every race."
Van Avermaet said he doesn't think he will be able to hang on to the yellow leader's jersey for the remaining stages of the race.
"I think I go for the stage win," he said. "It would be hard for me to get the GC. We have a couple of good guys on our team. ... But it's always nice to start a stage race with a victory. It would be nice to get some other ones."
Two riders left the safety — and relative ease — of the peloton within the first kilometer: Bissell's Michael Torckler and United Health Care's Christopher Jones. They traversed most of the 112-mile course from Brian Head Ski Resort to Cedar City's Main Street (and a 3-kilometer circuit sprint to the finish) by themselves. It made for a brutal day, but both were rewarded with jerseys.
Jones won the most aggressive rider's jersey, while Torckler earned the king of the mountain jersey. Torckler said Team Bissell planned to have a rider in the first breakaway, but when no one made a move, he decided to do so.
"More guys is always better, but it was good," he said. When asked if he would volunteer to lead more breakaways, he said, "If I can recover."
He said he knew the peloton would catch them once they hit the 3-kilometer circuit in downtown Cedar City. Still, it worked out for Jones and Torckler, who each earned something for their efforts.
"We immediately discussed (a plan)," Torckler said of the conversation between himself and Jones. "I was going to take the king of the mountain points and he was going to take the sprint points. Then we split the work between us."
Comment on this story
Climbing is Torckler's specialty, but Tuesday's award was his first big victory since recovering from a hit-and-run accident that left him in critical condition with severe facial and head injuries last June. Just before the car accident, he won the Tour of Borneo's first stage and then the overall victory.
"The first few races back, coming back from an accident, you are a bit nervous," said Torckler, who also had a long rehab after a knee injury earlier in his career. "But I'm pretty comfortable now. This is awesome. I'm stoked." Asked whether he can hang on to the climber's jersey, the 26-year-old New Zealand native said, "I'll give it a go."
Wednesday's stage starts in Panguitch and finishes in Torrey.
Twitter: adonsports
Email: adonaldson@deseretnews.com