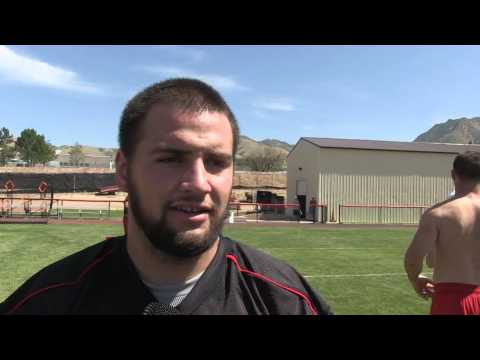 View 7 Items


Really the only badge I'm thinking about is the missing bowl game badge from last year and so is the whole team. So that's still eating at me.

—Brian Blechen
SALT LAKE CITY — Brian Blechen doesn't consider his probable status as the only four-year starter on the Utah football team as a badge of honor.
"No, I wouldn't say that. I mean, really the only badge I'm thinking about is the missing bowl game badge from last year and so is the whole team," Blechen said. "So that's still eating at me. My senior season — I know that's the one I'll remember the most — so we're trying definitely to avenge last year and get back to where we want to be."
Blechen's focus is clear. There's only one thing he wants.
"All I care about is wins right now," said Blechen, who said that his individual goal this season is to not lose one game. He's determined to leave the Utes with their best year since his arrival in 2010.
"That's what I want to do," Blechen said.
The 6-foot-2, 225-pound linebacker/safety from Moorpark, Calif., is coming off a challenging campaign individually. He was suspended for the first three games of 2012 for an undisclosed violation of team rules. It's the only three contests Blechen has missed and not started for that matter in his career at Utah.
What killed him most about it, he said, was that once he returned to action bad things kept happening as far as games and the Utes wound up losing out on bowl eligibility.
"The whole season was a struggle for me just cause all I want to do is win," Blechen said. "So this year, the losses is what I don't want to see, so we'll do what it takes."
One of the games Blechen missed in 2012 was the 27-20 overtime loss at Utah State on Sept. 7 in Logan. The Utes likely would have benefitted from Blechen's skill set in defending USU quarterback Chuckie Keeton.
Blechen acknowledged there were so many little things in that game that could have made a difference. He's looking forward to the rematch Aug. 29 at Rice-Eccles Stadium.
After three years primarily at safety, Blechen is slated to be Utah's starting stud linebacker this season.
"I'm kind of new to 'backer but I know the defense," he said.
Blechen has 203 career tackles (119 solo) with 15 tackles-for-loss, 12 pass breakups, eight interceptions and 3.5 sacks.
Preparations to increase the numbers, though, have been slowed by some nagging injuries.
Utah coach Kyle Whittingham said that Blechen hasn't been able to take many reps in camp thus far because of tendinitis and other issues. A thumb injury slowed things up over the summer.
"He's not been able to do much yet," Whittingham said. "It remains to be seen how quickly he can get himself healthy."
It's anybody's guess, he said, because it's like an overuse type of an injury. To avoid flare-ups, team trainers are handling the situation and managing Blechen's reps in practice.
"He's a guy that's played a lot of good football for us," Whittingham said. "He's a proven commodity, but right now he's hurting."
Blechen, however, has quite a track record and lineage. Whittingham noted that Blechen's grandfather (Bob) played organized football until he was 64 years old.
12
comments on this story
"If he gets as tough as his grandpa, then he'll be out there," Whittingham said, when asked if he thought Blechen would be ready to go when the season starts.
Whittingham describes Blechen, a freshman All-American and two-time Pac-12 all-conference honorable mention selection, as one of the toughest guys on the team.
"He's a football junkie. He loves football. He eats, sleeps and drinks football," Whittingham said. "For him not to be out there, you know he's really hurting."
And in more ways than one after Utah's disappointing 5-7 record last season.
Email: dirk@desnews.com
Twitter: @DirkFacer