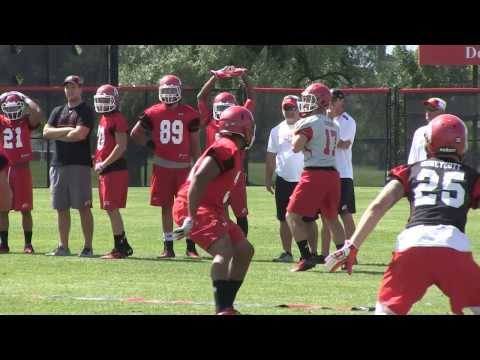 View 3 Items


We've really created what we feel is a healthy situation with competition at just about every position.

—Kyle Whittingham
SALT LAKE CITY — A day after calling the opening day of camp "very average" and "nothing special," Utah coach Kyle Whittingham liked what he saw the second time around.
Whittingham described Tuesday morning's session as more of what he expected — a much better practice with the right attitude and the right mindset.
"The ones and twos were very sharp," Whittingham said. "But the threes still need a lot of work."
After what he described as a good practice from start to finish, Whittingham said that the Utes are making strides when it comes to personnel.
"We've really created what we feel is a healthy situation with competition at just about every position," he said.
Whittingham told reporters that the program is matching up well in the Pac-12 when it comes to competing in the trenches. They're working to do so out on the perimeter as well.
Fitting in: Senior Keith McGill is busy trying to lose his safety weight in his bid to become a starting cornerback. At 6-foot-3 and 205 pounds, McGill is eating less and doing some extra aerobic work after practice to drop some weight.
"He's a great athlete. No question about that," Whittingham said. "He's got speed, he's got size, but he's too heavy right now and he's got to get himself where he needs to be."
McGill, who was an All-America safety in junior college, is taller than the rest of the cornerbacks on the depth chart but weighs 15 more pounds than any of the others. Whittingham said there's a real intense competition across the board at the position. The coaches are hoping to see some separation in the next 10-15 practices among a group that includes McGill, Justin Thomas (5-9, 173), Wykie Freeman (5-11, 179), Davion Orphey (6-0, 187), Reggie Porter (5-11, 190), Hipolito Corporan (6-1, 172), Mo Talley (6-1, 178) and Mike Honeycutt (5-10, 181).
Making an impact: For the second consecutive day, Whittingham mentioned freshman Troy McCormick when asked about standouts in camp. The 5-foot-9, 165-pound running back from Katy, Texas, has impressed coaches with his ability to catch the ball in the backfield — making him a weapon to put in the slot.
While noting that camp is only two days old and the Utes have yet to don full pads, Whittingham said there could be a place for McCormick if he continues on his current course.
Whittingham also said that senior Kelvin York is the No. 1 guy at running back.
"If we played today, he would be our guy," said Whittingham, who added that the other guys are all working hard.
The deep pool of backs, though, don't have a lot of experience — aside from York, who had 60 carries for 273 yards and three touchdowns last season.
York can be an excellent back in the Pac-12, the coach continuned, if he can stay healthy.
"I think he can be a 1,000-yard back for us," Whittingham said.
1
comment on this story
Extra points: Utah practices are going about 20-30 minutes shorter than in years past. Whittingham explained that the Utes are getting more reps in a shorter amount of time. They're also keeping a pulse on things in order to walk the "fine line" between getting work done and avoiding diminishing returns. … The Utes have scrimmages (closed to the public) scheduled for Aug. 13, 17 and 22. … Whittingham said that players like Trevor Reilly, Nate Orchard, Jason Whittingham and Freeman, who were pretty much sidelined in the spring with injuries, have responded this summer and are "moving around real well."
Email: dirk@desnews.com
TwitterL @DirkFacer