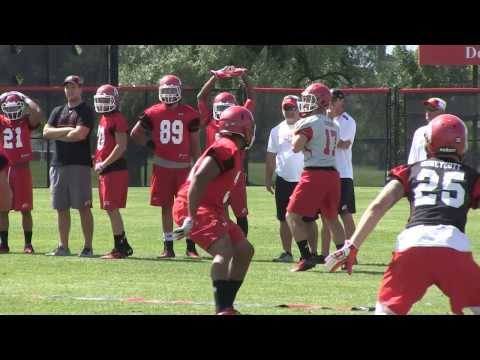 View 2 Items

SALT LAKE CITY — Day two of the University of Utah's fall football camp is over, and according to head coach Kyle Whittingham, it went over much better than day one.
Players arrived to practice earlier, went harder and played better on Tuesday. The overall improvement from day one to day two was encouraging to the coaching staff and to the players themselves.
"I think it was just first day jitters, but today we were definitely in gear for camp," senior linebacker Brian Blechen said.
Among the standouts from Tuesday were those in the receiving group. Kenneth Scott and Dres Anderson said they aim to contribute to the 2013 Utes in a big way by bringing a swagger that was largely absent from the Ute receivers last season.
"Just as long as we combine for at least 100 (catches)," Scott said.
"That's good with us. That would be great," Whittingham said. "Much like the linebackers last year, the receivers underachieved, and they've got to step up and make more of a contribution for us."
"We're like brothers out here, so if Dres (Anderson) makes a big play, I'm happy for him, and the same vice versa," Scott said. "We all want to see each other do good, and that's the main thing about it."
Whittingham also said considering the death of Keio Vaenuku late last week, the Utah fall camp is proceeding well. He said Vaenuku's death may have been a factor in Monday's slow start, but also that the Utes are starting to come around.
"That's not something you can put behind you like that," Whittingham said. "It's something that's on everybody's mind, but by the same token, we've got to be able to move forward and get our work done."
The Utes will reconvene again Wednesday morning for practice. The football season will open on Aug. 29, 2013 when Utah will welcome the Utah State Aggies to Rice-Eccles Stadium.
Landon Hemsley is the sports web producer for DeseretNews.com. Email: lhemsley@deseretnews.com. Twitter.com/EarlOfHemsley