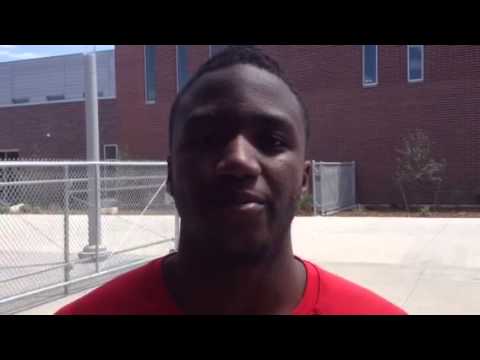 View 12 Items



Everybody thinks we're not going to pull through, but we are. We're going to play high-tempo football and we're going to show other schools we're no joke.

—Kenyon Frison, Granger offensive lineman
WEST VALLEY CITY — Kenyon Frison believes the Granger football program — regardless of its record — has always had talented athletes.
But now they have to prove they can compete mentally.
"Everybody thinks we're not going to pull through, but we are," said the senior offensive lineman who committed to Utah last year. "We're going to play high-tempo football and we're going to show other schools we're no joke."
Added tight end Davion Jones, "We have all of the talent in the world. We just need the right mindset. It's definitely within ourselves."
Losing in the first round of the 5A postseason made the Lancers hungrier to prove they're capable of more than just making the playoffs. Both coaches and players said the team has been even more committed in the offseason and expectations are higher than they've been in a decade.
It doesn't bother them that outsiders may not see what they do.
"They still underestimate us," said Kiti Houma, a senior linebacker. "They think we're still the team that slacks off and is undisciplined. But this is a changed program, a good program." Lancer head coach Cecil Thomas said he pushed the players to expect more of themselves — starting with how they run the team's offense.
"We're going to run multiple formations, no huddle, up-tempo offense," he said. Thomas introduced the players to it last year, and they've worked on it in the offseason. He believes keeping it simple and that enough practice will ensure the players can operate without breaks.
"I just like it," he said of why he made the change in his second year as head coach at Granger High. "I like to play fast. That's what I did in the past, and if you can execute it right, you put the defense in a bind. And that's what I really like about it."
He said the most difficult aspect of moving to a no-huddle offense is making the players comfortable with speed.
"The hardest thing to get out of them is to learn to play fast all the time," Thomas said. "That's going to be the work in progress."
Thomas said the players have "bought into" everything he and the other coaches have asked of them.
"They have a lot of pride in what they're doing," he said. "This is one of the best groups of kids I've ever been around as far as athletically, personality-wise and character-wise. They've really responded to everything we've asked of them on the field and in the classroom." He said several seniors have emerged as leaders, including lineman Marshal Auva'a.
"He's a big-time leader," said Thomas. "He's an every-down player, a hard-nosed kid."
Having players who exemplify what he teaches makes those lessons much easier to learn.
"Everything has changed," said Kylon Pierre, a senior tailback and linebacker. "The coaches, the players, the whole community has changed. We've always had the talent. We just needed the right direction."
While his teammates believe it's the Lancers' line play that opponents will remember the next day, Pierre said it will be their effort.
"We're fast, and we're going to fly around," he said. "This is probably the fastest team anyone plays this year."
Auva'a said the offensive line is big, fast and tough. "We can run more every day," he said. "We get stronger and faster every day." Senior quarterback Zack Ashman said expectations are about as high as they get for a team.
"I feel this team could go all the way to the state championship game," he said. "We're not backing down from any opponent. We just need to focus on getting better every day, and one step at a time, we should get there." Thomas agrees with that assessment.
"If we can get better week to week," the coach said, "then I think we can make some noise at the end."
Granger at a glance
Coach: Cecil Thomas is in his second year at Granger after coaching four years at Cottonwood High. He had a 7-4 record last year and owns a 38-11 record in five years of coaching. A Louisiana native, he played at the University of Utah and coached at Weber in between the jobs at Cottonwood and Granger.
Offense (seven returners; multiple formation, no huddle)
The offensive strength is the size and experience of its offensive line. Anchored by future Ute Kenyon Firson, tackle Hyrum Tapusoa and senior Khyiris Luavai, the line should be formidable against any defense. Quarterback Zack Ashman will run the offense, and he has some talented receivers like Magdi Hakim and tight end Davion Jones, as well as tough, effective running backs like Kylon Pierre and Hakim.
Defense (eight returners)
Linebacker Kiti Houma returns to his boundary school after playing at Highland last season. He and Marshal Auva'a will lead a talented group of linebackers. Luavai will anchor the defensive line and Magdi will see time at defensive back. Pierre will start at corner for the Lancers, who have new defensive coaches this season.
Coaches preseason Region 2 straw poll: 2
Deseret News Region 2 prediction: 1
Bottom line:
The team's success could hinge on how well the players pick up the no-huddle offense. Thomas believes he's simplified it and that the team's commitment to it will make the difference. Granger has one of the biggest, most athletic offensive lines in the state, which will make running the ball a lot easier. Last year, Thomas said the team played a couple of games not to lose rather than playing to win. If the Lancers really do believe they're capable of competing with the state's best teams, there is no reason they shouldn't go deep in the 5A playoffs.
Felts Facts for Granger High School
All-time record: 249-287-5 (55 years)
Region championships: 9 (1967, 1976 co, 1977 co, 1985, 1987 co, 1988, 1989 co, 1995, 1999 co)
Playoff appearances: 26
All-time playoff record: 13-26
State championships: 0
State championship record:0-0
Most played rivalry: 44 meetings with Cyprus dating back to 1958. Granger leads 25-19-1. Last met in 2012
Felt's Factoids: Granger combined with Highland to set a state record for the most points in the shortest time: 33 points in just 55 seconds of game time (5 touchdowns and 3 PATs in the last 0:55 of the third quarter) in 1996. … Lancer Fahu Tahi holds the career rushing yard record, 5,663 set from 1996-98.
Granger coaching history
2012-current — Cecil Thomas (7-4)
2011 — Alex Gehrke (6-4)
2009-2010 — Doyle Holt (4-16)
2007-2008 — Johnny Matich (4-16)
2004-2006 — Richard Grosh (8-25)
Comment on this story
2000-2003 — Dan Eckert (11-30)
1990-1999 — Ray Groth (55-71)
1982-1989 — Mike Fraser (57-21)
1980-1981 — Gordon Hanks (8-12)
1974-1979 — Unknown (30-31)
1973 — Perry Gillette (1-9)
1967-1972 — Ken Griener (32-21)
1964-1966 — Jay Rasmussen (12-12)
1962-1963 — Carl Ebert (2-16)
1958-1961 — Don Rydalch (12-21)
Deseret News First Team all-staters the past 10 years
(None)
To view second team and honorable mention all-staters through the years, check out the Deseret News All-State Archives.
Twitter: adonsports
Email: adonaldson@deseretnews.com