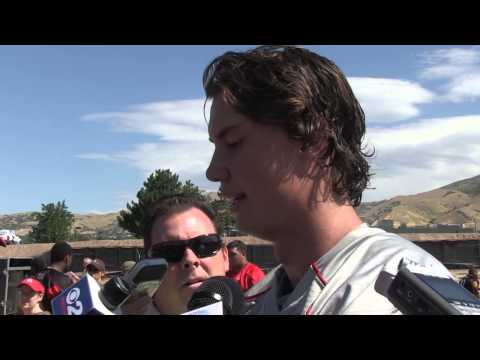 View 2 Items

As the University of Utah football team opened up its fall camp in preparation for the 2013 season, coaches and players agreed that this year's camp will be much more intense than previous seasons.
2
comments on this story
Head coach Kyle Whittingham said his team was not prepared for the speed of the drills for the first day of camp, but he also said the Utes would bring themselves up to speed quickly. He praised quarterback Travis Wilson for his summertime work — namely that he gained weight — and said he was impressed by his team's defensive leaders.
For his part, offensive coordinator Dennis Erickson said he was impressed with the work Wilson did during the difficult 2012 campaign, despite not having yet joined the team. He said he has adapted and learned the new offense quickly and should grow leaps and bounds before the season begins.
The Utes' fall camp continues six days per week every week until kickoff between the Utes and the Utah State Aggies on Aug. 29.
Landon Hemsley is the sports web producer for DeseretNews.com. Email: lhemsley@deseretnews.com. Twitter.com/EarlOfHemsley