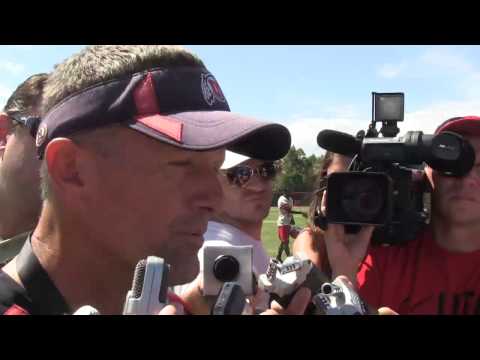 View 37 Items



SALT LAKE CITY — Last week, football seemed unimportant to many of those in the University of Utah football family.
But as the Utes opened fall camp Monday morning, playing football to the best of their abilities will be how those same players pay tribute to the three teens killed in a car accident last Tuesday morning in New Mexico.
Incoming freshman Gaius "Keio" Vaenuku never got the chance to play for the Utes, but he will be on the field this fall in the hearts of the young men who said the 18-year-old's effusive personality quickly made him part of the program.
"At first it was kind of hard, but now I just feel like I'm doing it for them," said freshman offensive lineman Hiva Lutui, who attended high school with two of the three teens killed. "It just gives me another reason to be motivated. We're just going to dedicate this whole season to them."
In addition to Vaenuku, Texas A&M redshirt freshman Polo Manukainiu and 13-year-old Lolo Uhatafe were killed when the car they were riding in overturned on a highway in New Mexico. The boys and another Utah freshman, Selesi Uhatafe, and his father were traveling home to Euless, Texas, for one last visit before fall camp began. Manukainiu is Selesi and Lolo Uhatafe's step-brother, and the family will bury both boys this weekend in Texas.
"Polo and me came to Utah on the same official visit," said Lutui. "It's hard to explain unless you grow up there what it's like growing up there. Looking at it from the outside, you may think you know what it is, but unless you went to Trinity or something, you can't really understand the family environment. The whole city has rallied around them."
Lutui said football now becomes a way to express his affection for his former high school teammates and their families.
"I actually feel motivated by it," he said. "All those boys that were in that ride, they all loved the game of football. I played with two of them, and you know I just want to do it for them."
He hesitates to share something so personal on the sideline of the practice field, but then he smiles.
"I felt them with me," he said. "I felt them just watching."
Woods Cross alum Filipo Mokofisi became fast friends with Vaenuku and said his death was devastating.
"I cried all day when I found out," he said.
Playing football has been a welcome relief.
"It was good just coming back and letting my anger out," he said.
Mokofisi said assistant coach Morgan Scalley told them their grief may be with them for a long time.
"It's not a door that we can close," he said, quoting Scalley, who recruited Vaenuku and Uhatafe. The 33-year-old coach said he's never experienced anything like this as a coach. He said he relies on his faith to deal with the loss and encourages the players to do the same.
He said the team and university will do some things to help the family and honor Vaenuku, but they also need to now turn their energy to helping Selesi Uhatafe.
"His family funeral is this weekend," said Scalley. "That's one thing, in this situation, to understand. God has a plan, and he needs to know we love and support him and that there is no blame. He's a kid with a great personality. He's felt the weight of this thing." Scalley said he was impressed with the support the community offered the families and with the number of Utah players who made the trip to Texas to attend Vaenuku's funeral. For those who didn't go, coaches addressed their grief in meetings. "There is a season ahead of us, and we're going to honor them the right way, and that's by the way we play," he said.
RANKINGS PROVIDE MOTIVATION
Some teams might see being ranked fifth out of six teams as an insult.
But Mokofisi said the fact that Utah was picked to finish fifth in the Pac-12 South Division only fuels their desire to surprise people this year.
8
comments on this story
"I think that just gives us a chip on our shoulder to play harder than we usually do," he said. "We have a really special team."
ACADEMIC ISSUES
Two players will not play this fall because of academic issues, including Devontae Booker and X'avier Shepherd. Junior college transfer Tevin Carter is still working to become eligible, which coaches believe will occur late next week.
This year, fall camp was capped at 105 players, although the roster will likely expand to 118 once school starts.
Twitter: adonsports
Email: adonaldson@desnews.com