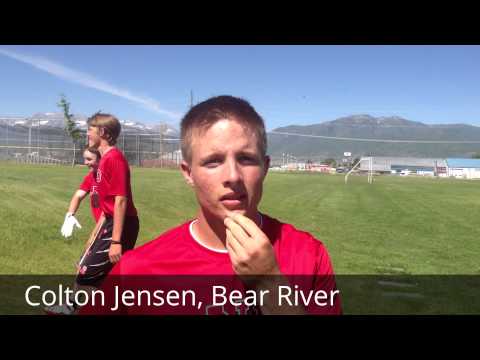 View 17 Items

Note: Bear River finished with a 7-5 overall record in 2012 and was third in Region 11 with a 4-2 record. It lost to Desert Hills 23-17 in the 3A quarterfinals.
2012 Bear River statistical recap
GARLAND — There's no shortage of optimism at Bear River High these days, and for good reason.
Now in his 12th season at Bear River, coach Chris Wise believes this year's collection of offensive linemen is the best he's had since 2004 — when the Bears won a 3A state title with a 13-0 record.
"Those guys were good 'cause they were huge," said Wise. "These guys are big and have great feet and they have experience."
Four of this year's offensive linemen are returning starters, and Wise said the fifth could've also been a starter but the coaching staff wanted him to focus on the defensive side of the ball last year.
Anchoring the group is Justus Wise, the coach's son. The three other returning starters are Branson Fonnesbeck, Braden Pugsley and Carson Gibbs. Parker Lewis is the lone newcomer.
Bear River averaged a little less than 30 points per game last year (ninth in 3A) behind that offensive line, and even though the Bears must replace standout quarterback Kyle Zundel, veteran leadership in the trenches is a great foundation to start with.
"Any time you have a good offensive line, you're going to be good offensively," said coach Wise.
That offensive line was overmatched in losses to Stansbury, Pine View and Desert Hills last season, and those will be among the same teams standing in the Bears' way this year.
Staying healthy will be key.
"I know I sound like a broken record, but up here it's about staying healthy. We're really working hard in the weight room and hopefully we can stay healthy that way because we don't have a whole lot of depth," said Wise.
The team definitely needs Jardee Nessen to stay healthy.
The senior is taking over for Zundel at quarterback, and he's trying to replace someone who rushed for 936 yards and passed for 1,819 yards last season. Wise said the offense will definitely need to be tweaked with the quarterback change.
"We're going to have to do it a different way. Zundel was playing QB because he was my best runner. Jardee is a good runner, but he's not as physical as Zundel," said Wise, who still believes the offense can be just as productive.
The return of Jeremie Selman is a big reason why. Now a senior, Selman is a powerful and fast back who rushed for 577 yards and seven touchdowns last year. He only had 88 rushing attempts, and if he stays healthy that workload may double or triple.
The other player Wise hopes to lean on offensively is senior receiver Colton Jensen. A year ago he hauled in 39 catches for 754 yards and six touchdowns, and bigger things are expected from the Wes Welker-type receiver.
"He's tiny, but tough as nails," said Wise.
Selman will be just as key on the defensive side of the ball as he's expected to start at defensive end opposite Lewis.
Finding a replacement at nose guard is the biggest concern defensively. The Bears were a top seven defense last year in 3A thanks in large part to Christian Lemus. He was a road block that could shut down both gaps. Wise acknowledges that it might take a nose tackle and a linebacker to replace Lemus' productivity.
In a region with run-first and run-often teams like Juan Diego, Stansbury and Park City, the Bears can't afford to be soft against the run if they hope to compete for the 3AA North title.
Bear River Bears at a glance
Coach: Chris Wise is entering his 12th season as Bear River's head coach, and he's one of the longest tenured coaches in school history. He's amassed a 68-56 record along the way, including state titles in 2003, 2004 and 2006. He's a graduate of Bear River High School.
Offense
(6 returning starters; Spread offense)
It all starts up front for the Bears, who return Justus Wise, Branson Fonnesbeck, Braden Pugsley and Carson Gibbs on the offensive line. The quartet should help ease the transition as Jardee Nessen takes over at quarterback. Colton Jensen was among the leading receivers in 3A last year with 754 yards on 39 receptions, and he'll definitely be targeted more frequently this season as perhaps the best possession receiver in 3A.
Defense
(6 returning starters)
Bear River graduated its four leading tacklers from a year ago, but there's experience defensively to absorb the absences. Taylor Lund is an outstanding outside linebacker for the Bears, while Pugsley will anchor down one of the middle linebacker positions. The defensive line will be led by Selman and Lewis. The secondary is a bit of a concern for Bear River, a big reason the team attended two 7-on-7 camps this summer to sharpen things up. Jensen will likely be called upon to fill one of those cornerback roles.
Coaches preseason 3AA North straw poll: Third
Deseret News 3AA North prediction: Third
Bottom line: With a strong offensive line, Bear River is certainly good enough to compete near the top of the 3AA North region this year. Whether it can actually win a region title hinges on back-to-back weeks in late September. A week after opening region play with what should be a routine victory against Tooele, the Bears host region favorites Juan Diego and Stansbury. A victory in either game would be huge for the program, whereas losses in each game could make things snowball the other direction.
Felt's Facts for Bear River High School
All-time record: 361-416-19 (91 years)
Region championships: 13 (1937, 1959, 1983, 1984, 1985 co, 1986 co, 1987, 1990, 1998, 1999, 2003, 2004, 2006)
Playoff appearances: 32
All-time playoff record: 36-29
State championships: 3 (2003, 2004, 2006)
State championship record: 3-5
Most played rivalry: 92 meetings with Box Elder dating back to 1923. Box Elder leads 65-25-2. Meet on Sept. 6.
Felt's Factoid(s): Bear River's 92 meetings with Box Elder makes the game the longest uninterrupted active rivalry in state history, having been played every season since 1923. The winner has taken home a traveling trophy, the Golden Spike, since 1959. ... BR recovered 10 fumbles — a state record — against Jordan in a 1981 Class 3A playoff game.
Bear River coaching history
2002-current — Chris Wise (68-56)
2001 — Jay Graft (5-4)
1998-2000 — Ryan Bishop (23-10)
1997 — Jeff Kilts (2-8)
1992-1996 — Doug Parry (34-22)
1988-1991 — Mike Rosky (26-16)
1981-1987 — Dan Cox (58-21)
1979-1980 — Mark Pierce (4-14)
1978 — Hal Lewis (2-7)
1976-1977 — Bill Jacobson (7-13)
1968-1975 — Don Peterson (20-50)
1959-1967 — Gerald Simmons (38-39)
1957-1958 — Donald Smith (8-10)
1955-1956 — Hess Peterson (6-11)
1954 — Wendell Hess (6-3)
1952-1953 — Howard "Tuff" Linford (7-9)
1946-1947 — Floyd Rasmussen (4-10)
1944-1945 — Moyle Knudson (2-9)
1943 — Mr. Leavitt (0-6)
1940-1942 — Carl Smith (0-19)
1937-1939 — Lyle Tripp (9-11)
1932-1936 — Vern Harris (7-17)
1927-1931 — Leo Walker (10-14)
1922-1926 — Unknown (6-12)
Deseret News Mr. Football recipients
2004 — Jason Zundel, QB
Deseret News MVPs the past 10 years
2006 — Garland Munns, RB
2003 — Jason Zundel, QB
Deseret News First Team all-staters the past 10 years
2012 — Justus Wise, OL
Comment on this story
2009 — Hunter Payne, LB
2007 — Jake Miller, DL
2006 — Tyson Rasmussen, QB
2006 — Tyler Hess, OL
2006 — Jake Miller, DL
2004 — Tony Martinez, RB
2004 — Dallas Miller, WR
2004 — Travis Harris, OL
2004 — Isaac Williams, OL
2004 — Brady Robbins, DL
2004 — Devin Gibbs, LB
2003 — Tyrell Marble, WR
2003 — Bart Bowen, OL
2003 — Isaac Williams, OL
2003 — Nick Zundel, DL
2003 — Joel Harris, LB
To view second team and honorable mention all-staters through the years, check out the Deseret News All-State Archives.
Follow Deseret News prep editor James Edward on Twitter @DNewsPreps