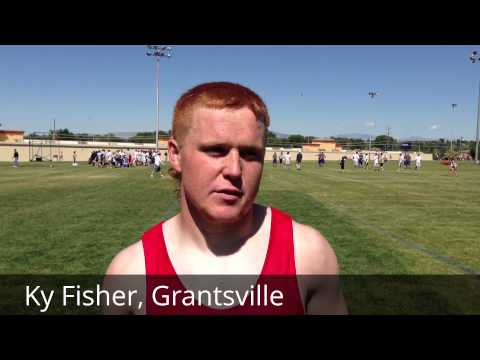 View 12 Items

Note: Grantsville finished with a 6-5 overall record in 2011 and was fourth in Region 11 with a 3-3 record. It lost to Juan Diego 34-0 in the 3A first round.
2012 Grantsville statistical recap
GRANTSVILLE — When a star football player goes down with a season-ending injury at a smaller school like Grantsville, there's rarely an adequate replacement. An underclassman is usually thrust into the starting lineup and everyone hopes for the best.
There's always a silver lining, though.
That underclassman ends up gaining valuable experience that can pay off the following season.
For Grantsville, that's the exact scenario that panned out last year when Max Cook suffered a non-football season-ending injury. Nephi Meono was immediately thrust into the starting QB spot while Noah Mecham became a starter at linebacker.
Neither were as productive as Cook would've been, but a year later the duo is part of a talented Grantsville team loaded with experience.
The Cowboys return eight defensive starters and four offensive starters as the program embarks on a new and more favorable challenge in the revamped 3A classification.
Gone are teams like Stansbury, Bear River and Tooele from the region schedule. They've been replaced by teams like Union, Carbon and Emery.
"There's been a lot of pros and cons of this splitting 3A. I'm a big fan of it," said Grantsville coach Tony Cloward. "My biggest complaint is I can beat those bigger schools occasionally, but doing it every single week wears down on my lack of numbers. Now I'm playing schools my same size who have to deal with the same things we deal with."
Any school would be thrilled to return the type of defensive personnel Grantsville has returning.
The Cowboys had a top five 3A defense last year — surrendering only 18 points per game — and eight of their starters are back.
"That was a very good defense for us," said an obviously excited Cloward.
Between standout defensive linemen Devin Adams, Jake Riding and Wyatt Smith, all-state caliber linebacker Ky Fisher, and then Meono and Dallin Williams in the secondary, the Cowboys could feature the best all-around defense in the new 12-team 3A classification.
At the heart of the defense is Fisher. He racked up 106 tackles his sophomore year and then 80 more his junior year — both team highs. The 16 rushing touchdowns he scored last year were also a team high.
"Ky is that unique blend of size, strength and speed. He's not real tall, but he's thick and he's fast. He's low to the ground and he's hard to get a good shot at," said Cloward. "He's probably the best football player I've coached at Grantsville, not necessarily the best athlete."
The biggest question mark for Grantsville in 2013 is finding guys to block for Fisher on offense, as all five O-linemen from a year ago graduated.
A couple of seasons ago that might've been a daunting challenge, but Cloward said the community is "growing some big boys finally.
"Even though we don't have a ton of experience in that category, we have tons to choose from. Our offensive line group in general is the biggest as far as talent and numbers that I've had since being at Grantsville," he said. "We have a lot to choose from. It's just finding the best five that work together and giving them experience in a hurry."
Two of Grantsville's first three opponents had losing records a year ago, which could make for a smoother transition for the varsity newcomers.
With that said, Grantsville is one of six or seven teams in the new 3A with realistic state title aspirations. The Cowboys will no doubt want to hit the ground running on Aug. 23, and with a dominant defense that's a very real possibility.
Grantsville Cowboys at a glance
Coach: Tony Cloward, a Grantsville alum, is entering his ninth season as Grantsville's head coach. He's amassed a 36-56 in those eight years.
Offense
(4 returning starters; Veer offense)
Nephi Meono is the returning starting QB, but he's got some competition in the form of junior Wyatt Barrus. Both will be on the field in some capacity, but Meono definitely has the edge based on last year's experience. All five offensive linemen in front of him will be new, though. There's plenty of talent at running back as well, led by Fisher at fullback. The coaching staff is also counting on big things from Alec Anderson, Wyatt Smith and Alex Meono in the backfield.
Defense
(8 returning starters)
Grantsville's in a great spot with eight returning starters from a top five scoring defense. Anchoring the group is Fisher and Meacham at linebacker. Defensive ends Jake Riding and Devin Adams will wreak havoc at the tackle spots, while Smith is a stud at nose guard. With some experience in the secondary, Grantsville could be even better than a year ago if a couple of quality starters emerge at linebacker.
Coaches preseason 3A North straw poll: Third
Deseret News 3A North prediction: Second
Bottom line: The lack of returning starters on the offensive line would've been a major concern in the old 3A, but not the revamped 3A. Grantsville used to be happy just to make the playoffs and possibly win a playoff game, but now the program has a realistic shot at winning a state championship. It won't be easy — especially with uncertainty on the offensive line — but the defense is more than capable of carrying the load.
Felts Facts for Grantsville High School
All-time record: 365-423-21 (96 years)
Region championships: 9 (1960, 1967 co, 1973, 1978, 1984 co, 1985, 1986, 1991 co, 1998)
Playoff appearances: 36
All-time playoff record: 39-33
State championships: 3 (1992, 1996, 1997)
State championship record: 3-5
Most played rivalry: 76 meetings with Morgan dating back to 1945. Morgan leads 46-28-2. Meet on Oct. 10.
Felt's Factoid(s): Grantsville holds the state record (tied with Clearfield) for season interceptions with 33 set in 1997. ... Cowboy Alan Mouritsen holds the season all-purpose yardage record, 3,287, set in 1997, and the career rushing TD record, 70, set from 1996-98. He also holds the record for career TDs, 77, and season TDs, 42 (1997).
Grantsville coaching history
2005-current — Tony Cloward (36-56)
2003-2004 — Les Hamilton (14-11)
1987-2002 — Kevin Butler (119-67)
1983-1986 — Bill Mikelson (33-10)
1966-1981 — Larry Harrison (65-85)
1964-1965 — Evan Crowther (9-6)
1957-1963 — Glen Rupp (21-30)
1953-1956 — Don Sandburg (4-22)
1951-1952 — unknown (4-5)
1949-1950 — Ken Linsday (7-7)
1934-1948 — unknown (18-90)
1933 — Sterling Anderson (0-6)
1915-1932 — unknown (42-46)
.....
Deseret News First Team all-staters the past 10 years
2012 — Skyler Cloward, OL
2011 — Skyler Cloward, LB
2008 — Austin Gumucio, LB
2005 — Jared Thompson, DL
2004 — Derek Erickson, TE
2003 — Zach Nelson, QB
2003 — Derrick Erickson, TE
2003 — Boone Bolinder, OL
2003 — Troy Prince, DL
2003 — Kevin Mouritsen, LB
To view second team and honorable mention all-staters through the years, check out the Deseret News All-State Archives.
Follow Deseret News prep editor James Edward on Twitter @DNewsPreps