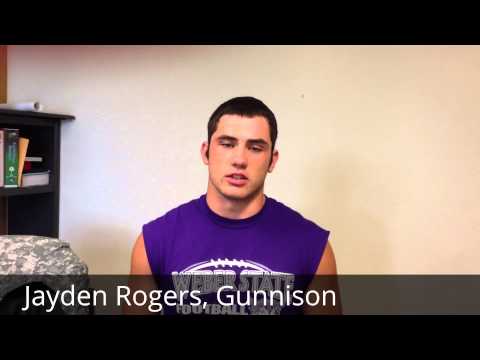 View 17 Items

Note: Gunnison finished with a 3-7 overall record in 2012 and was fifth in 2A North with a 3-4 record. It lost to Beaver 48-7 in the 2A first round.
2012 Gunnison Bulldogs statistical recap
GUNNISON — Throughout the summer, if there was a noteworthy 7-on-7 camp, Gunnison was probably there.
From the Ute Shoot to Wasatch's inaugural 7-on-7 to BYU's massive event, Gunnison was consistently there gaining experience that coach Yori Ludvigson hopes pays big dividends throughout the season.
Among Gunnison's strengths in 2013 is speed in the receiving corps and the secondary. As a result, Ludvigson wanted to give those kids as many reps as possible in what figures to be a busy season.
Offensively Gunnison hopes to spread it out and throw the ball regularly, while defensively Ludvigson plans on taking advantage of his athletic secondary by blitzing more regularly and using creative defensive schemes. The aggressive approach will put more pressure on those defensive backs to cover one-on-one, but the extra reps throughout the summer should make for a smoother transition.
Because realistically, with very little returning varsity experience a transition period is inevitable.
Gunnison returns one offensive lineman, one linebacker and a couple of receivers who caught about 10 passes a year ago. Beyond that, Gunnison has very little experience returning from last year's 3-7 team.
After giving up 69 points to South Summit in the regular-season finale and then 48 to Beaver in the first round of the 2A playoffs, perhaps a fresh start is what Gunnison needs.
Offensively, that's exactly what senior quarterback Tyson Moosman provides.
When Moosman showed up at Gunnison's first practice as a freshman four years ago, Ludvigson couldn't help but chuckle.
"He was the scrawniest kid," he said.
Perhaps not surprisingly, Moosman broke his arm before that season even started, but he still showed up to every morning workout and every practice. Three years later, he's ready to assume a role that once seemed impossible.
"Pound for pound he's one of the strongest kids on the team, just a self-made kid that's worked hard," said Ludvigson. "He can throw the ball better than I ever dreamed he could. He has pretty good speed so he can run some, which will be nice."
That type of work ethic is necessary if Gunnison's ever going to get over the hump and enjoy a winning season for the first time since 2005.
While Moosman was worked hard to put on the weight, junior Ryker Pickett has worked extremely hard to take off the weight — another example of a contagious work ethic that's rubbing off on the younger kids.
Pickett weighed 338 pounds at the start of last season, but this year he'll begin the season roughly 70 pounds lighter at 270.
"He's kicked it in, and realizes he has a chance to play college," said Ludvigson. "That's been a huge lift to these younger kids who feed off Ryker."
Among those younger guys will be starting offensive linemen Jayden Lyon and McCoy Roberts. Their inexperience along with everyone else after Pickett is the biggest question mark on offense this season.
"Those kids have to come together. We have to find out who they are out of seven or eight kids. Some of them will be small with no experience, but they're going to need to learn to fight and get after it," said Ludvigson.
The same will be necessary defensively. After Jayden Rogers, who started at linebacker a year ago, the front seven will be entirely new in 2013.
So much of what Gunnison did defensively the past couple of years relied on Braden Harris. Without the Utah State signee, other players will need to step up, but Rogers believes team chemistry will help as well.
"The biggest thing about this year's team is we work good as a team. We know what our weaknesses and our strongest points are. We know how to push each other and how to keep each other moving," said Rogers.
Gunnison Bulldogs at a glance
Coach: Yori Ludvigson is now entering his fourth year as head coach at Gunnison, where he's guided the team to an 8-19 record. Ludvigson is a graduate of Manti High School.
Offense
(2 returning starters; Spread offense)
Tyson Moosman takes over at quarterback for Bulldogs, and he's got a bit of experience in front of him and at wide receiver to help with the transition. Dagan Thomas and Jacob Hatch combined for 23 catches for 306 yards and four touchdowns a year ago. With Gunnison hoping to throw even more this year, that production should go way up. Jayden Rogers takes over at running back for Braden Harris, and he certainly knows what to expect after carrying the ball 35 times last year for 250 yards.
Defense
(1 returning starters)
Gunnison wasn't very good defensively toward the end of last season, so having just one returning starter might not be a bad thing. That one starter is Rogers, who recorded 29 tackles and had two interceptions last year at linebacker. Sophomore McKade Cox, who's a standout wrestler, has enjoyed a strong summer and could emerge as a regular contributor at linebacker. Newcomers Austin Pickett and Jordan Sorensen will start at defensive end, and the coaching staff believes they're athletic enough to make plays. A year ago, Gunnison's secondary was a bit of a liability, but with Thomas and Hatch roaming around back there, defense could actually be a strength.
Coaches preseason 2A North straw poll: Fifth
Deseret News 2A North prediction: Fourth
Bottom line: For a team that might start slow because of inexperience, Gunnison couldn't have asked for a more favorable schedule. The first five games of the season are all against programs the Bulldogs should be competitive with, and a 4-1 start certainly isn't out of the question. After the favorable start, the Bulldogs end the season with South Summit, Millard, San Juan and Summit Academy. If Gunnison is competitive in those last four games, and wins even just one, it could end up with a decent playoff seed. If it's not competitive in that final month, another blowout loss will likely send Gunnison into the winter.
Gunnison coaching history
2010-current — Yori Ludvigson (8-21)
Comment on this story
1994-2009 — Rhett Jackson (63-126)
1990-1993 — Ron Dalley (5-22)
Deseret News First Team all-staters the past 10 years
2012 — Braden Harris, RB/LB
2011 — Braden Harris, RB/LB
2010 — Jantz Jensen, TE/LB
2007 — Heston Neal, RB/DB
2006 — Taylor Ashton, RB/LB
2006 — Chad Satterfield, RB/LB
2005 — Ben Dalley, RB/LB
2005 — Joey Crane, RB/LB
2004 — Jack Pay, OL
2003 — Juan Salas, K
To view second team and honorable mention all-staters through the years, check out the Deseret News All-State Archives.
Follow Deseret News prep editor James Edward on Twitter @DNewsPreps